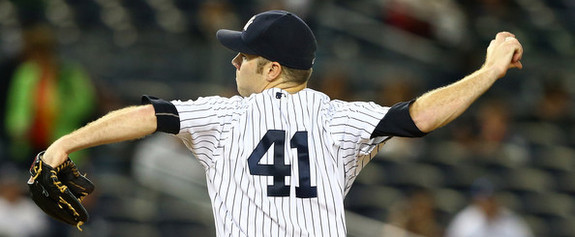 Earlier today we looked at the position player decisions the Yankees will have to make for their ALDS roster (meaning the last two bench spots), so now let's take some time now to look at the guys on the mound. The Bombers have carried eleven pitchers in pretty much every postseason series under Joe Girardi and I see no reason to believe they'll do something different now. Of those eleven spots, only two are really up for grabs. Here are the nine locks…
LHP CC Sabathia
RHP Hiroki Kuroda
LHP Andy Pettitte
RHP Phil Hughes
RHP Rafael Soriano
RHP David Robertson
LHP Boone Logan
RHP Joba Chamberlain
LHP Clay Rapada
It doesn't matter who the Yankees play in the ALDS, both the Orioles (Jim Thome, Chris Davis, Nate McLouth) and Rangers (Josh Hamilton, David Murphy, Mitch Moreland) have a number of quality left-handed batters. Carrying both Logan and Rapada is a given.
One of the last two spots should quite obviously go to David Phelps for two reasons. One, he's simply performed the best out of everyone else in consideration for a postseason roster spot and deserves it based on merit. Crazy idea, rewarding the guy who's earned the spot with his performance. Two, he's stretched out all the way to 80+ pitches and can be a true long-man out of the bullpen. I hope the Yankees won't need to use him in a long relief situation in a playoff series, but it's good to have that guy available anyway.
The candidates for the final spot are Ivan Nova, Derek Lowe, and Cody Eppley. I can't see Cory Wade or Freddy Garcia getting serious consideration given how they faded and performed poorly enough to lose their respective jobs during the regular season. Nova is the same boat, pitching so poorly in the second half that he lost his rotation spot to Phelps this past week. Considering that he has basically zero bullpen experience and didn't even make a tune-up relief appearance — remember A.J. Burnett made a relief appearance in Game 162 last season in advance of his playoff bullpen role — before the season let up, I can't see Nova making it. He strikes me as a guy the Yankees send to Tampa to workout and remain stretched out in case he's needed at a later point.
That leaves us with the veteran, playoff-tested Lowe and the rookie right-handed specialist Eppley. I think we can all see where this is going. Joe wrote about Lowe pitching his way onto the playoff roster yesterday, and given how Girardi has used him the last few weeks — for multiple innings in the important situations — he appears to have a big leg up on that final pitching staff spot. I don't even think this is a situation in which he would just make the roster and only pitch in emergencies/blowouts (think Chad Gaudin in 2009) either, I think Girardi trusts Lowe and will use him in relatively important situations. The Yankees know he can handle big situations from first hand experience, and again, there is some value in that.
Moreso than the last two bench spots, the final two bullpen spots seem to be open only in theory. Lowe and especially Phelps have outperformed the other pitching candidates and the way they've been used in recent weeks suggests that they've climbed in the pecking order. Those two simply deserve to be the on the roster over guys like Nova, Garcia, and Eppley. It's seems pretty clear to me that they simply deserve it over the other guys, and looking at those eleven names makes me feel pretty good about the staff the Yankees will carry into the postseason. That's a very strong rotation and a deep bullpen, certainly better than what they took in the ALDS a year ago.