As we wrap up our seemingly never-ending review of the 2012 season, it's time to look back on the last handful of position players. These are the guys who spend some time on the big league roster this year but not much, ultimately contributing little in the grand scheme of things.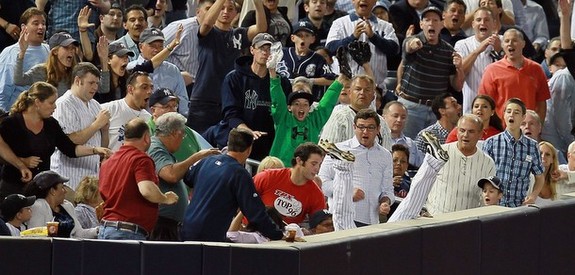 Dewayne Wise
He was sparingly used during his three months on the roster, but the 34-year-old Wise hit .262/.286/.492 (106 wRC+) in 63 plate appearances for the Yankees. He also retired both batters he faced while pitching in a blowout loss. The team originally recalled him to fill Brett Gardner's roster spot before cutting him loose following the Ichiro Suzuki trade. Wise went 9-for-18 with a double, a triple, and three homers during an eight-game stretch in late-June/early-July, but his greatest contribution to the club — besides the bunt that turned the season around — was his non-catch against Indians in late-June.
Chris Dickerson
Had the 30-year-old Dickerson not been on the minor league DL early in the season, chances are he would have been recalled to take Gardner's spot instead of Wise. He instead had to wait until rosters expanded in September, and he went 4-for-14 (.286) with two homers and three steals in his limited playing time. Most of his action came as a defensive replacement in the late innings. I like Dickerson more than most and think he can be a useful left-handed platoon outfielder who also provides speed and defense, but it's obvious the Yankees aren't interested in giving him an opportunity. For shame.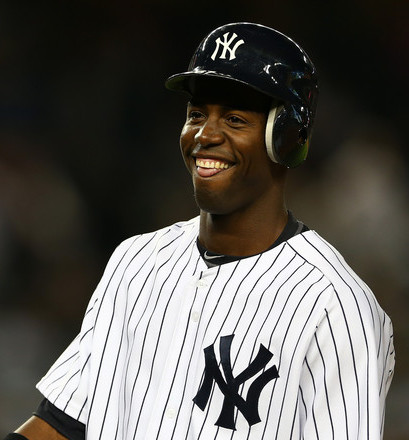 Melky Mesa
Mesa, 25, was the team's only true rookie position player this year. He came up when rosters expanded in September and only appeared in three games — one as a pinch-runner and two as a late-innings replacement in blowouts. Mesa did pick up his first career hit and RBI in his first big league plate appearance, singling on a ground ball back up the middle. His most notable play was a base-running blunder, when he missed the bag while rounding third base on an Alex Rodriguez single in extra-innings against the Athletics. Mesa would have scored the game-winning run, but alas. Rookie mistake.
Darnell McDonald
The Yankees got a little cute prior to the All-Star break, claimed the right-handed hitting McDonald off waivers from the Red Sox before heading up to Fenway for a four-game set. The Sox were set to throw three left-handed starters in the four games, so the 34-year-old figured to see some playing time against his former team. McDonald instead received just four plate appearances, made outs in all of them, and collided with Curtis Granderson in center field. A run scored on the play. Embedded Red Sox? Embedded Red Sox.
Ramiro Pena
Rakin' Ramiro was on the roster for less than a week this season. The Yankees called him up after Alex Rodriguez had his hand broken by Felix Hernandez in late-July, but he was sent back down following the Casey McGehee trade a few days later. In between, the 27-year-old infielder singled once in four plate appearances and got into two other games as a pinch-runner. Pena became a minor league free agent after the season, ending his seven-year stint with the organization.