Offseason surgery for three of the most important players on the team? Check.
A free agent class short on players who adequately fill the team's needs? Also check.
Ownership mandating a payroll reduction in the near future? Another check.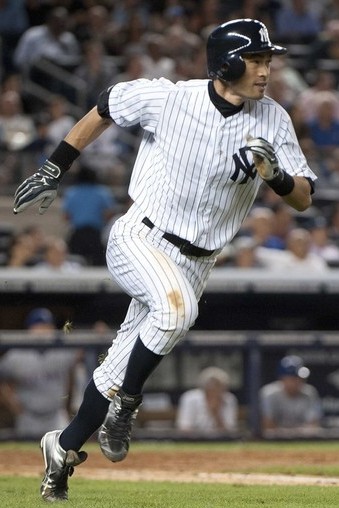 While re-signing the veteran trio of Hiroki Kuroda, Andy Pettitte, and Mariano Rivera to one-year contracts solves most of the team's pitching issues, the Yankees have a long hill to climb on the position player side. Russell Martin has already left for the Pirates and Nick Swisher will soon sign with another team while the Bombers give him a little "thanks for the last four years" pat on the behind but not a contract offer. The Yankees are open to discussing Curtis Granderson in trades, though if he'd done what he's done the last two seasons with say, the Twins, we'd be talking about him as a buy-low bounceback candidate.
Thanks in part to the draft and international free agent spending limits implemented by the new Collective Bargaining Agreement as well as lucrative new national television deals, teams have more money to spend than ever before these days. With no way to funnel it towards amateur players, all of that money is going to big league free agents this offseason. Hence a four-year contract (!) for Angel Pagan and a $5.5M guarantee for a 31-year-old Phil Hughes clone (Scott Baker) who didn't throw a single pitch last season. It's a good time to be a free agent, even a mediocre one.
Meanwhile, the Yankees are intentionally scaling back their payroll in an effort to save luxury tax and revenue sharing dollars in 2014. Although they could spend as much as they want (or are able to, really) in 2013, the team is fixated on one-year contracts to save those precious future dollars. One-year contracts are great in theory, but they limit the team's market severely. The Yankees are basically stuck digging through assorted veterans trying to hang on and guys coming off injury looking to rebuild value. The one-year gems like Kuroda are the exception, not the rule.
Moreso than at any other point in the last … I don't know, 15 years? … the Yankees have questions at more of the nine offensive positions than not. We have no idea who will play right field, no idea who will play catcher, no idea who will DH, and no idea how much Derek Jeter and Alex Rodriguez will be able to contribute following offseason surgery for significant injuries. These questions coincide with a plan to reduce spending while other teams are increasing their spending. The financial advantage the Yankees have enjoyed basically since the advent of free agency has been willfully eliminated at what might be the worst possible time. More questions than answers and limited solutions.