With each day that ticks off the calendar, the less likely it is the Yankees will spend real money to upgrade the roster. That could change in an instant of course, but the currently available options aren't all that appealing or worth big bucks. There are no legitimate starting catchers available, few quality DHs, and outside of Scott Hairston and his demands for a multi-year deal, no right-handed hitting outfielders of note.
The Yankees have been stocking up on miscellaneous right-handed outfield bats in recent weeks, or at least as much as signing Matt Diaz to a minor league deal and claiming Russ Canzler off waivers can be considered "stocking up," anyway. Melky Mesa is the team's best in-house option for the role, so I expect them to continue digging around for low-risk players to compete with these three in camp. Here are five such players who could presumably be had on minor league contracts.
Shelley Duncan
Fun Fact: Duncan actually started three games as the cleanup hitter for the Yankees back in 2008. That was the year after the big five homers-in-seven games binge put him on the map. The 33-year-old moved on to the Indians a few seasons ago and has hit .238/.316/.421 (102 wRC+) against left-handers over the last three years (92 wRC+ in 2012). As always, Duncan will draw walks (9.5% walk rate since 2010), strike out (24.8%), play poor defense in the outfield corners and at first base, and smash forearms. More than anyone else in this post though, Shelley can hit the ball out of any park when he does run into one. That just doesn't happen often enough.
Ben Francisco
Francisco, 31, has been typecast as a right-handed platoon bat over the years despite a negligible split — .247/.315/.408 (97 wRC+) against lefties and .252/.324/.380 (94 wRC+) against righties since the start of 2010. Having no platoon split is generally a good thing, but it doesn't help when the player is a below-average hitter overall. Like everyone else in this post, Francisco won't steal any bases or offer much help on the bases. He fits best in left field but can play right in a pinch and center in an emergency, so that's nice. Still, if you're looking for a platoon bat, it would be nice if he could, you know, actually hit well against pitchers of the opposite hand.
Lou Montanez
Once upon a time, the Cubs made Montanez the third overall pick in the entire draft (2000). He has just 323 career plate appearances in the show since then, during which time he's posted a 50 wRC+ overall with a .204/.234/.279 (31 wRC+) line against left-handers in a meaninglessly small sample. Over the last two seasons in Triple-A, the 31-year-old had tagged southpaws for a .345/.429/.525 batting line with a 8.1% strikeout rate compared to a 12.3% walk rate. More walks than strikeouts is always fun. Montanez has a ton of experience in all three outfield spots and actually played the middle infield once upon a time (drafted as a shortstop), but that ship has sailed.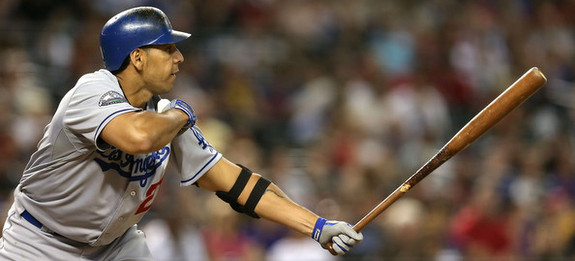 Juan Rivera
Another former Yankee, the 34-year-old Rivera had the worst season of his career in 2012 (81 wRC+ overall) while battling hamstring issues. He still managed a decent .260/.312/.433 (107 wRC+) line against southpaws, and over the last three seasons it's a .270/.329/.434 (109 wRC) line. Rivera's strength remains his ability to get the bat on the ball (12.9 K% and 84.2% contact rate since 2010) and be somewhat willing to work a walk (7.1 BB%), though he's butcher defensively both in left field and at first base. There's more big league experience here than with the other four guys in this post combined, but I'm not sure how much that helps Rivera's case at this point of his career.
Vinny Rottino
Rottino, 32, received 97 of his 110 career big league plate appearances with the Mets and Indians this past season. He owns a miniscule 43 wRC+ in the show, but that tells us nothing given the sample size. Rottino has tagged Triple-A southpaws for a .333/.383/.502 batting line over the last two seasons though, which includes an 11.4% strikeout rate and a 7.5% walk rate. He has a ton of experience at the four corner positions as well as first base and behind the plate, though he's just an emergency option at catcher. Still a nice skill to have. No one in this post offers as much position flexibility or as little big league experience as Rottino.