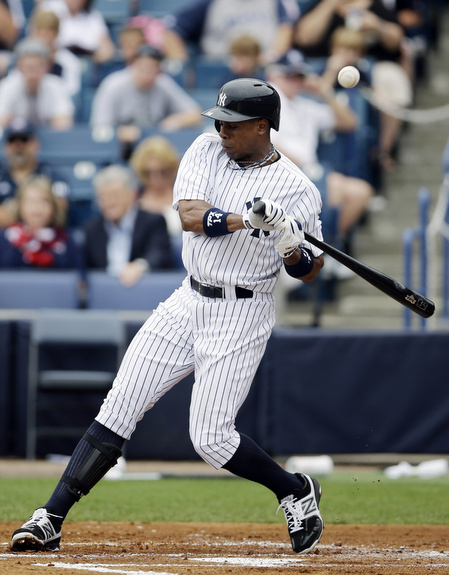 It took all of ten Spring Training innings for the Yankees to suffer the inevitable injury that exposed their … well … vulnerability to injury. Because the baseball gods have a twisted sense of humor, it wasn't one of the team's older or injury prone players who got hurt. It was the young-ish and generally durable Curtis Granderson, who will miss the next ten weeks thanks to an errant J.A. Happ pitch and a fractured right forearm. Assuming everything heals well, he'll return to the team in early-May.
The injury takes a huge bite out of New York's lineup, obviously. Granderson is one of the game's premier power hitters and that just can't be replaced. Joe Girardi will have to get a little more creative in an effort to generate runs, which is something I'm sure he'll enjoy. The speed of Ichiro Suzuki and Brett Gardner will be that much more important, ditto the continued health of Travis Hafner and Kevin Youkilis. Those two have combined for nine (!) DL trips in the last three seasons, but the Yankees have no choice but to keep their fingers crossed and hope they stay on the field through April.
Despite the initial shock of Granderson's injury, the Yankees do have time on their side. Opening Day is still more than a month away and the club does have some internal options to audition in camp. None of them are particularly appealing to me outside of multi-threat/contact-challenged Melky Mesa, but they might as well give the Zoilo Almontes and Ronnie Musteliers and the like a chance. It's not like other clubs are going to start offering up their spare outfielders out of the kindness of their heart, quite the opposite will happen. Trade prices have suddenly skyrocketed and now isn't the time for desperation.
Brian Cashman has been on the job a long time, so he's been here before. The Yankees lost Hideki Matsui and Gary Sheffield to significant injuries in the span of about two weeks back in May 2006, but it wasn't until the trade deadline that Cashman acquired Bobby Abreu. Melky Cabrera got his chance and took advantage (.360 OBP and 98 wRC+), which is what the Yankees could use now. Outside of Mesa or Almonte running into some fastballs and having a Shane Spencer-esque month, they're not going to be able to replace Granderson with a power hitter. Someone who can get on-base at a decent clip and not embarrass himself defensively is typical stopgap stuff. Cashman has always been patient in these situations and wouldn't expect anything different now.
The Yankees have a pretty small margin of error this season, so the impact of Granderson's injury is more dramatic than it would have been a year or two ago. The Bombers got worse this offseason while other clubs in the division improved, meaning the AL East might be a four-team race instead of the usual two or three. If Jeter's ankle takes longer to heal than expected, or Ichiro turns back in to the pumpkin he was from 2011 through the 2012 trade deadline, or one of Hafner or Youkilis gets hurt, the Yankees are going to have a very serious problem on their hands. Then again, so would most teams who lost multiple regulars. New York is more vulnerable because of their age and division though, a problem that has been exposed before the calendar even flipped to March.