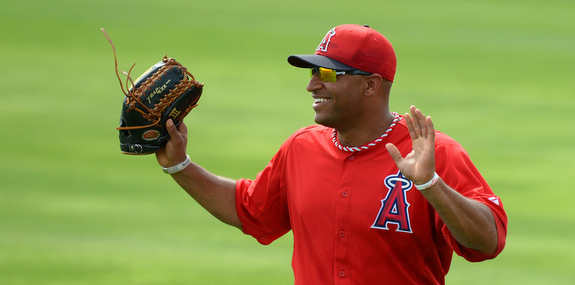 After a few days of waiting, Vernon Wells is officially a Yankee and will play against the Astros tonight. He was issued #56 — that will change before the start of the season since bench coach Tony Pena has worn that number for seven years now — and is playing left field and batting sixth. In fact, tonight's lineup sure looks like the Opening Day lineup* if you ask me. Here's the starting nine…
CF Brett Gardner
RF Ichiro Suzuki
2B Robinson Cano
3B Kevin Youkilis
DH Travis Hafner
LF Vernon Wells
1B Juan Rivera
SS Eduardo Nunez
C  Chris Stewart
And on the mound is the 2007 AL Cy Young Award winner, left-hander CC Sabathia. Here are the second string courtesy of Chad Jennings:
Available Pitchers: RHP Mariano Rivera, RHP David Robertson, RHP Joba Chamberlain, RHP Jim Miller, and LHP Vidal Nuno are all available. I'm guessing Nuno will be used in a traditional LOOGY spot — middle of an inning, lefty batter, maybe some runners on-base — as the team evaluates him as a potential Clay Rapada replacement.
Available Position Players: C Bobby Wilson, 1B Luke Murton, 2B Gil Velazquez, SS Jayson Nix, 3B Ronnie Mustelier, LF Ben Francisco, CF Melky Mesa, and RF Thomas Neal will all come off the bench.
Tonight's game is scheduled to begin at 7:05pm ET and can be seen on YES and MLB.tv (no local blackout). Enjoy.
* Yes, they're facing left-hander Jon Lester on Opening Day, but you get the point.