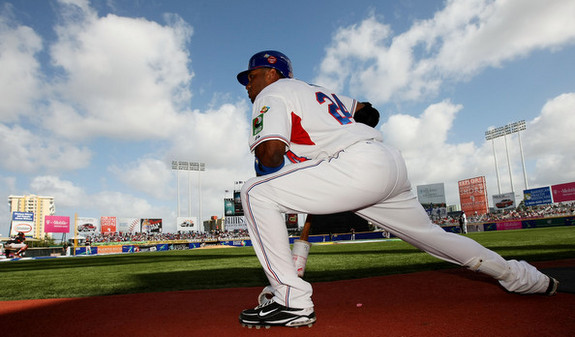 We're a few weeks into Spring Training now and the monotony has begun to set in. The meaningless games aren't as enjoyable as they were when camp opened and most of the top prospects have already been reassigned to minor league camp, so there isn't too much to get excited about. Happens every year around this time.
Today will be a little different though. The Yankees are playing the Dominican Republic team in a World Baseball Classic exhibition game at George M. Steinbrenner Field this afternoon, a Dominican Republic team that is managed by Yankees bench coach Tony Pena and anchored by Yankees cornerstone Robinson Cano. Pena's team destroyed — I'm talking eight runs on 12 hits in 2.2 innings — Cole Hamels in Phillies' camp yesterday, so I'm sure the club feels good about themselves right now. The game does count for anything but it will be fun to see Robbie out there on the other team, I'm sure the players are looking forward to it. Here's the starting lineup…
SS Eduardo Nunez
2B Jayson Nix
DH Travis Hafner
3B Kevin Youkilis
RF Juan Rivera
C Frankie Cervelli
LF Matt Diaz
CF Melky Mesa
1B Luke Murton
And on the mound is the former Hiroshima Carp ace, Hiroki Kuroda. Here is the day's second string, courtesy of Chad Jennings.
Available Pitchers: LHP Clay Rapada, RHP Jim Miller, RHP Preston Claiborne, RHP Cody Eppley, and RHP Tommy Kahnle are all coming out of the bullpen at some point.
Available Position Players: C Bobby Wilson, 2B Jose Pirela, SS Addison Maruszak, 3B Dan Johnson, LF Thomas Neal, and RF Zoilo Almonte are all scheduled to come off the bench. Murton, Mesa, and Hafner will apparently play all nine innings.
Here is the Dominican Republic lineup if you're interested. Starting for them this afternoon is … wait for it … lefty Vidal Nuno. How about that? Jennings says some Yankees relievers may come out of the bullpen for the Dominican Republic as well. These World Baseball Classic exhibitions aren't the most formal thing in the world, I guess.
This afternoon's game is scheduled to start a little after 1pm ET and can be seen on YES, MLB Network, and MLB.tv. There are no local blackouts. Enjoy.