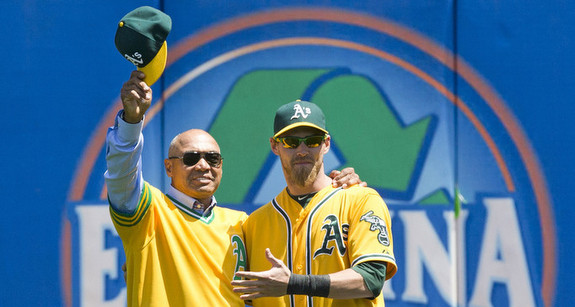 The Athletics haven't had much success at the latest incarnation of Yankee Stadium. Since the building opened in 2009, the reigning AL West champs have won just five of 19 games in the Bronx, winning just one of six total series. Oakland will be The House The Boss Built for three games this weekend.
What Have They Done Lately?
Although they lost their last game, the A's just took two of three from the division rival Angels. They had lost three straight series before that, all against AL East opponents. Oakland won 12 of their first 16 games, but they've since dropped nine of their last 13 games. All the winning stopped as soon as they had to play teams other than the Mariners and Astros. Funny how that works. The Athletics are 16-13 with a +20 run differential, good for second place in the AL West.
Offense
Manager Doug Melvin's squad is the highest scoring team in baseball, with a 5.59 runs per game average and 112 wRC+. Those are the best and third best marks in baseball, respectively. CF Coco Crisp (156 wRC+) is on the DL with a hamstring problem while CF Chris Young (81 wRC+) is day-to-day with a quad problem. He only plays against lefties anyway. SS Hiroki Nakajima and 2B Scott Sizemore are on the DL and have not played at all this year. You won't see them this weekend.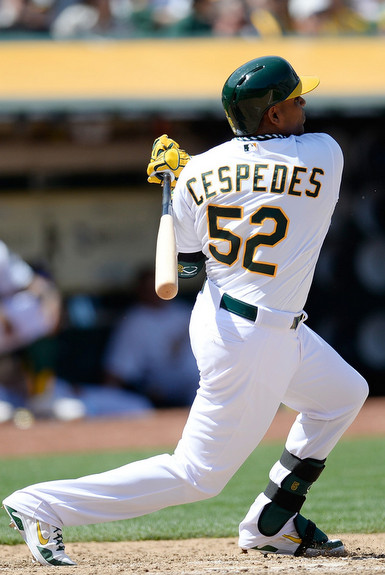 With Crisp and Young out, OF Yoenis Cespedes (118 wRC+) will man center field. He just came off the DL himself after dealing some hand issues. SS Jed Lowrie (158 wRC+) and 1B Brandon Moss (142 wRC+) give Cespedes some support in the middle of the lineup while 3B Josh Donaldson (146 wRC+) and LF/DH Seth Smith (141 wRC+) help from further down in the order. The A's also have an insanely productive catching platoon featuring lefty John Jaso (100 wRC+) and righty Derek Norris (121 wRC+). So jealous.
RF Josh Reddick (45 wRC+) usually sits against lefties, but he's been forced into the lineup everyday due to the Crisp and Young injuries. Right-handed hitting 1B Nate Freiman (70 wRC+) will get into the lineup against southpaws. IF Eric Sogard (73 wRC+) and UTIL Adam Rosales (120 wRC+ in limited time) join third C Luke Montz (98 wRC+) on the bench. Montz has just four plate appearances this year. The A's lead the big leagues in stolen bases (25), though most of that is Crisp and Young. They're middle of the pack with 28 homers. Oaktown can score some runs.
Starting Pitching Matchups
Friday: LHP CC Sabathia vs. RHP A.J. Griffin
Griffin, 25, had a nice half-season (3.06 ERA and 3.85 FIP) last year, but things haven't gone as well early in his sophomore campaign (4.65 ERA and 4.70 FIP). He doesn't miss many bats (6.68 K/9 and 17.4 K%) and is one of the most extreme fly ball pitchers in baseball (28.1% grounders), but he does limit walks (2.90 ERA and 7.6 BB%). That's always a plus. Griffin throws four pitches but is basically a three-pitch pitcher. His upper-80s four-seam fastball sets up a low-80s changeup and a hilarious upper-60s curveball. Here, look at that thing. Griffin throws a mid-80s slider but very rarely, like once or twice a game. The Yankees saw him twice last year, pounding him once (four runs in 4.1 innings) and getting shut down the other time (two runs in six innings).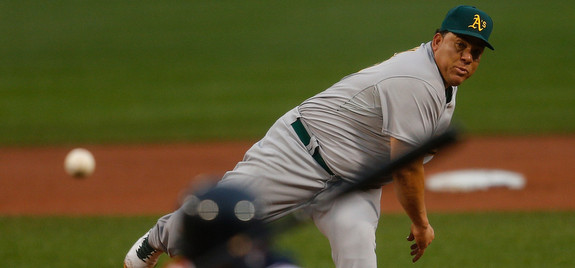 Saturday: RHP Phil Hughes vs. RHP Bartolo Colon
It's been a pretty crazy three years for the 39-year-old Colon, who went from off the radar to Yankees reclamation project to Athletics scrap heap pickup to busted for performance-enhancing drugs. He's pitched to a 3.38 ERA (2.68 FIP) in 32 innings across five starts since returning from his 50-game suspension a few weeks ago. Colon is a strike-throwing machine (0.28 BB/9 and 0.8 BB%), but his strikeout (5.63 K/9 and 16.1 K%) and ground ball (40.8%) rates have slipped a bit from when he was in New York. Low-90s four-seamers and upper-80s two-seamers are still his weapon of choice, as he'll throw his low-80s sliders and changeups less than 10% of the time combined. Surely you remember him pumping fastball after fastball two years ago. The Yankees saw Colon twice last year and handled him well both times, scoring ten runs in 12.2 total innings.
Sunday: LHP Andy Pettitte vs. RHP Dan Straily
This is Brett Anderson's spot, but the Athletics had to put the left-hander on the DL with an ankle problem last week. The 24-year-old Straily is taking his place, having made two previous starts this year. Between this year and last, he owns a career 4.44 ERA (5.66 FIP) with 8.70 K/9 (22.3 K%), 3.02 BB/9 (7.7 BB%), and a 30.9% ground ball rate in 50.2 innings across nine starts. Straily is primarily a two-pitch guy, using upper-80s/low-90s fastball and low-80s sliders just about 90% of the time. Low-80s changeups are his third offering. The Yankees did not face Straily at all last year, so they're going in blind.
Bullpen Status
Both teams were off on Thursday, so their bullpens are as fresh as can be this time of the year. The Yankees will replace the injured Joba Chamberlain (oblique) with right-hander Preston Claiborne prior to tonight's game, plus David Robertson is day-to-day with a hamstring issue as well. Check out our Bullpen Workload page for recent reliever usage details.
As for the Athletics, Melvin had a dynamite late-game trio at his disposal with LHP Scott Doolittle (4.00 FIP) and RHP Ryan Cook (2.24 FIP) setting up closer RHP Grant Balfour (4.78 FIP). RHP Evan Scribner (4.98 FIP) is the de factor long man while RHP Chris Resop (4.68 FIP) is the general middle innings guy. RHP Pat Neshek (4.73 FIP) and LHP Jerry Blevins (2.05 FIP) are the matchup specialists. It's a solid and deep bullpen, no doubt. My A's blogs of choice are Athletics Nation and Beane Ball.