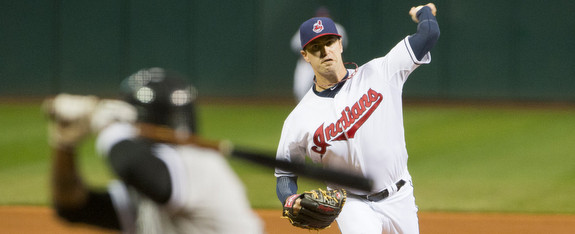 The Yankees have claimed left-hander David Huff off waivers from the Indians, the team announced. Fellow southpaw Francisco Rondon has been designated for assignment to clear room on the 40-man roster. A 25-man roster move will be made when Huff joins the team at some point in the next 72 hours. You might remember when he took an Alex Rodriguez line drive to the head in 2010.
Huff, 28, owns a 5.40 ERA and 4.88 FIP in 288.1 career innings spread across 52 starts and six relief appearances. His days as a starter are pretty much over and I assume the Yankees will try him out in relief. According to PitchFX, Huff sat right around 90 mph with a four-seamer as a starter, but that jumped into the 92-94 mph range in relief this year. His best secondary pitches are a low-90s cutter and a low-to-mid-80s changeup, which usually isn't a lefty specialist mix. A low-80s curveball is a distant fourth pitch. Lefty batters have tagged him for a .391 wOBA in his career.
Because he is out of minor league options, the Yankees can not send Huff to Triple-A without exposing him to waivers. Considering he made it all way to New York on waivers this time, he might go unclaimed if they decide to slide him through again a la Sam Demel a few weeks ago. If they decide to keep him around with the big league team for the time being, I guess Ivan Nova is the top send-down candidate. Shawn Kelley and Preston Claiborne have been too effective to send down in favor of a second southpaw.
Rondon, 25, was added to the 40-man roster after last season to prevent him from being exposed in the Rule 5 Draft. He had success out of the bullpen in 2012, but the Yankees moved him back into the rotation this year for whatever reason and the results were terrible: 7.46 ERA and 5.83 FIP in 35 innings while repeating the Double-A level. Rondon broke off some nasty sliders in Spring Training, and I suppose there's a chance he will get claimed off waivers since he's left-handed and has all three minor league options remaining.
As Joel Sherman notes, the Yankees were considering Huff in the first round of the 2006 draft. When the Indians grabbed him with the 39th overall pick, New York was left to take Joba Chamberlain with the 41st selection. Their interest in the southpaw was long-standing.