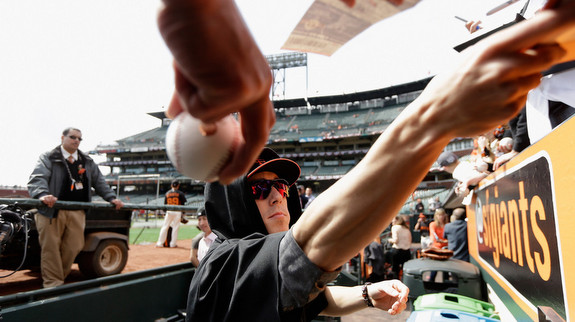 Like it or not, the Yankees will have to figure out a way to replace their all-world closer in six months or so. Not many players walk away from the game in the prime of their career like Mariano Rivera, but he announced his plans to retire during Spring Training and I would be floored if he didn't follow through. Mo doesn't strike me as someone who would go back on something like that.
There will be internal options and external options to replace Rivera. David Robertson is as fine a future closer as you'll find, but with Joba Chamberlain set to become a free agent and Mark Montgomery doing his best Kevin Whelan impersonation, the current backup closer plans are Preston Claiborne and Shawn Kelley. It's pretty clear at this very moment the Yankees will need to import a veteran reliever just to replace Rivera in the bullpen chain, not necessarily as closer. They're losing depth.
That's where two-time Cy Young Award winner Tim Lincecum comes into the play. The 28-year-old was one of baseball's most electric starters as recently as two years ago, but since the start of 2012 he has pitched to a 5.16 ERA (4.08 FIP) in 251 innings across 44 starts. His velocity has tailed off and the effectiveness of his offspeed pitches has suffered. He went from being unhittable to rather ordinary in a heartbeat. Lincecum will become a free agent this winter and the Giants haven't been shy about their readiness to walk away. They already got his best years, no need to pay for the decline.
Interestingly enough, Lincecum seems completely aware of this reality and is willing to admit he is no longer the pitcher he once was. Many players refuse to accept it and think they can maintain high level of performance even when their body says no. While talking with Andy Baggarly this weekend, Timmy said he would be completely open to pitching out of the bullpen in the future (while acknowledging he wants to continue starting this year).
"I'm always open. It's just, right now I don't want to be open to it," he said. "I'm sure if my career takes that turn, I'm definitely open to changes, especially if it's beneficial to the team I'm playing for … It's not like I don't think ahead.I think ahead about a lot of things in my life. I just don't think ahead in that way. … I'll play this season to its end and try to see what happens."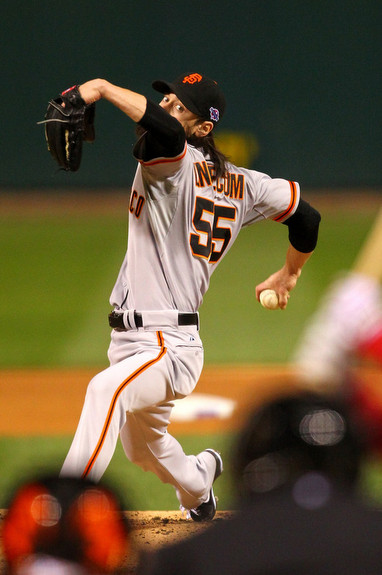 Although he's made just one regular season relief appearance in his career — that was part of some rain-related shenanigans back in 2008, when the Giants started a reliever in case there was a delay — Lincecum did pitch out of the bullpen in college. He used to start on Friday and close on Sunday for Washington, and he also spent a summer in the Cape Cod League as a reliever. It's not foreign to him.
More relevant is his bullpen experience last fall, when Lincecum was used as a multi-inning setup man during San Francisco's run to the World Series. He made five relief appearances in the postseason and threw at least two innings each time, allowing one run on three hits and two walks while striking out 17 in 13 innings. His fastball, which averaged 90.4 mph during the regular season, jumped to … 90.7 mph in the postseason. There was no velocity spike despite the change in roles.
"Last year, you're down there and you're running on adrenaline," said Lincecum to Baggarly. "The situation is a little different getting the call in the Major Leagues, in the playoffs, than in a Cape League dugout … Out of the bullpen, your focus is different. You're not thinking about lasting. It's, 'Go until they tell you to stop.' When you're starting, when you see your pitch count go up in a bad inning, that can be at the forefront of your brain. You know it's going to (limit how deep you can go). So I guess you could say it's a lack of pressing, when you're relieving."
I guess it was just a mindset thing rather than an improved stuff thing. He focused more on getting people out than being efficient and pitching deep into the game, emptying the tank rather than pleasing the pitch count gods. That mindset can change everything — pitch selection, willingness to pound the zone, willingness to waste pitches, all sorts of stuff. The sample size wasn't big obviously, but performances like this are tough to ignore. It's exciting to think about having that guy in the bullpen down the road.
Anyway, the Yankees are going to need to add a veteran reliever to replace Rivera, and Lincecum seems like someone every team would want to see in a bullpen. He's shown he can be a 1996 Mo-esque multi-inning setup man and bounce back well the following days, and I'm guessing he can be a one-inning closer just as easily. The Yankees value intangibles like postseason experience and dealing with the attention that comes with being a high-profile player, which is certainly the kind of stuff Lincecum brings to the table. He's been a rock star for years, he's used to both the praise and scrutiny.
Obviously there is a lot more in play here than just his effectiveness in relief. First, Lincecum would have to be willing to pitch out of the bullpen for an older team with few players his age. He might not be comfortable around so many veterans. I'm guessing he'll still a few offers to start as well, so he'd have to turn them down. As for the contract … who knows? There are no real comparables. That's the kind of stuff we can worry about after the season anyway. Lincecum's willingness to become a modern day Dennis Eckersley is definitely fascinating though, especially since the Yankees will be tasked with replacing their iconic closer.