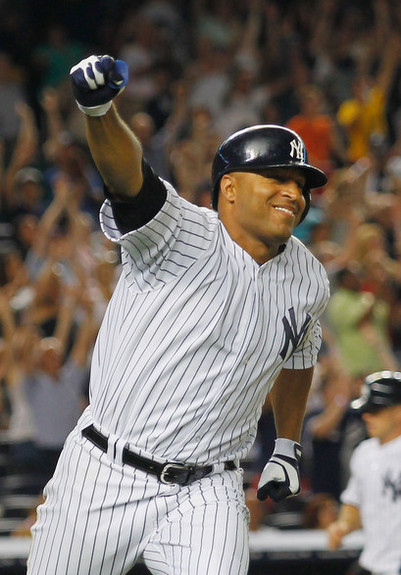 For the last 18 months or so, almost every move the Yankees have made has been geared towards getting under the $189M luxury tax threshold in 2014. They've gravitated towards short-term contracts, in some cases choosing future financial flexibility over roster quality. It's cost them on the field, but they are better positioned to get under the tax threshold.
The luxury tax, if you don't know by now, is based on the average annual value of contracts on the 40-man roster. Players who are added to the 40-man late (called up, trade, etc.) or taken off early (released, traded, etc.) have their "tax hits" pro-rated. Performance bonuses count against the tax as well, as does each team's portion of the league's player benefits. The benefits are expected to jump from $10.8M to about $12M for 2014. Just like that, the $189M threshold is really $177M.
This post is Part Two because I actually did a Part One once upon a time, but that was all the way back in January. Obviously a lot has changed since then and the payroll situation is worth revisiting. Let's start by looking at the 2014 contract status of every player currently on the 40-man roster. The salaries listed are "tax hit" numbers, not their actual take-home salary. That doesn't matter for the luxury tax calculation.
Under Contract For 2014 ($84.9M): Alex Rodriguez ($27.5M), CC Sabathia ($24.4M), Mark Teixeira ($22.5M), Ichiro Suzuki ($6.5M), Alfonso Soriano ($4M), Vernon Wells ($0)
Contract Options For 2014: Derek Jeter ($9.5M player option)
Arbitration-Eligible In 2014: Brett Gardner (third time), David Robertson (third time), Shawn Kelley (third time as Super Two), Jayson Nix (second time), Frankie Cervelli (first time), Ivan Nova (first time), Michael Pineda (first time as Super Two), Chris Stewart (first time)
Pre-Arbitration In 2014: David Adams, Zoilo Almonte, Manny Banuelos, Dellin Betances, Preston Claiborne, Luis Cruz, Ramon Flores, Corban Joseph, Brett Marshall, Melky Mesa, Eduardo Nunez, Vidal Nuno, David Phelps, Jose Ramirez, Austin Romine, Nik Turley, Adam Warren
Potential Bonuses For 2014 ($37.5M): A-Rod ($6M each for 660, 714, 755, 762, and 763  career homers), Jeter (up to $7.5M based on awards)
Free Agents After 2013: Robinson Cano, Joba Chamberlain, Curtis Granderson, Travis Hafner, Phil Hughes, Hiroki Kuroda, Boone Logan, Lyle Overbay, Andy Pettitte, Mariano Rivera, Kevin Youkilis
Some fancy accounting at the time of the trades brought Soriano's and Wells' tax hits way down. Wells is actually free, and had MLB allowed it, the Yankees would have actually received a $2M credit against the luxury tax because of the way the money was structured. That won't happen though, he just counts as zero dollars against the tax.
Given his self-proclaimed "nightmare" season, I have to think Jeter will exercise that player option. It's very tough to see him opting out and getting more after looking very much like a 39-year-old shortstop whose body is broken down this summer. He could try it and maybe the Steinbrenners will cave, but it would surprise me. Also, that extra $7.5M in bonuses is really $7M because he won't trigger any incentives this year. All told, Jeter's current contract can realistically only max out at $16.5M next year.
According to the Collective Bargaining Agreement, that player option year is treated as a one-year contract if exercised. It does not get lumped together with the first three guaranteed years of Jeter's contract and averaged out. The bonuses are reachable but some ($4M for AL MVP) are more reachable than others ($500k for Silver Slugger). They're in the contract though, and the Yankees have to account for them. Could you imagine barely staying under the threshold all year only to have Jeter blow it up by winning the MVP or something? That would be hilarious.
Anyway, adding Jeter to the "under contract" guys gives us a guaranteed $94.4M for seven players, or $101.4M when accounting for the $7M in bonuses. That leaves the team $75.6M under the $177M "real" threshold to fill 33 40-man roster spots. Fifteen of those spots will go to the extra guys stashed in the minors, where they make much less than the big league minimum. I've seen those spots estimated anywhere from $2-5M total, so let's stick with the high-end and be conservative. Now the Yankees are at $70.6M to fill 18 big league roster spots.
Barring something completely unexpected, a big chunk of that money will go to Cano. His tax hit could end up in the $20-25M range. Suddenly we go from $70.6M for 18 spots to $45.6M for 17 spots. If the Yankees trust Pineda in the rotation and go with Stewvelli behind the plate again, they could fill eight of those 17 spots on the cheap with the arbitration-eligible guys. Gardner, Robertson, and Nova will be the highest paid arb guys, but none will get more than $6M or so and Gardner's the only one who will realistically approach $5M. That trio could pull in $15M total on the high end, the other five guys about $7-8M total, just spit-balling. That brings us to $22.6M for nine remaining roster spots.
To use his words, the pink elephant in the room here is A-Rod. If his suspension is overturned, he and his $27.5M tax hit — he's only 13 homers away from his first $6M bonus, so the team would really have to prepared for a $33.5M tax hit — will be on the roster and splitting time between third base and DH. If his suspension is upheld and he misses the entire year (believed to be the most likely scenario, but who really knows?), suddenly the team has an extra $27.5M to play with. They will need a replacement third baseman, however. The difference between a suspension and no suspension is $22.6M for nine roster spots or $56.1M for ten roster spots. It's the difference between digging through second tier free agents or going on a nice little free agent shopping spree in the winter.
For the sake of argument, let's say the team re-signs Cano, Jeter picks up his option, and A-Rod does indeed wind up missing the entire season due to suspension. This is the roster they'd be looking at based on the guys they have under contract/control:
| Catchers | Infielders | Outfielders | Rotation | Bullpen |
| --- | --- | --- | --- | --- |
| Cervelli | 1B Teixeira | CF Gardner | Sabathia | Robertson |
| Stewart | 2B Cano | RF Ichiro | Nova | Kelley |
| | SS Jeter | LF Wells/Soriano | Phelps | Claiborne |
| | 3B Nix | OF Mesa or Almonte | Pineda | Nuno/Warren |
| Designated Hitter | IF Nunez | | Nuno/Warren | Betances |
| Wells/Soriano | IF Adams or Cruz | | | ? |
| | | | | ? |
There's plenty of room for improvement with that roster, so having that $56M-ish to spend is more necessity than luxury. A legitimate starting catcher, a starting third baseman, an outfielder better than Ichiro/Wells/Soriano, a veteran starting pitcher or two, and a handful of relievers would be on the offseason shopping list. If A-Rod is not suspended, they still need all of that stuff (except for a third baseman), but will have only half the money to spend.
The Yankees have an awful lot of cash coming off the books this offseason, which is a very good thing as far as the payroll plan is concerned. The downside to having that money free is all the holes they have to fill. There's a reason all that money is available — a whole bunch of important, centerpiece-type players are becoming free agents. The offseason should be fun because there figures to be busy with lots of moves, but make no mistake: the Yankees are not in a good position to get under that luxury tax threshold and remain competitive if A-Rod misses anything less than the entire season.