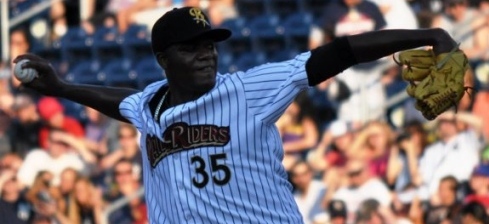 It has now been more than 20 months since the Yankees acquired Michael Pineda (and Jose Campos) from the Mariners for Jesus Montero (and Hector Noesi), and they're still waiting to get some actual big league production out of the deal. Campos missed most of last year due to injury and is still in the lower levels of minors while Pineda has been out following major shoulder surgery. So far, the only useful thing to come out of that trade for New York was an open 40-man roster spot. It's been a disaster to date, but luckily there's time to change that.
Because he spent all of 2011 in the big leagues with the Mariners and all of 2012 on the Major League DL with the Yankees, Pineda came into 2013 with exactly two years of service time. The Bombers activated him off his rehab assignment and optioned him to Triple-A Scranton on July 7th, which was the 99th day of the season by my unofficial count. Pineda is sitting on two years and 99 days of service time at the moment, which is written 2.099 in baseball jargon.
Back in April, Ryan Galla of CAA Sports projected the Super Two cutoff at 2.119 of service time. The latest Collective Bargaining Agreement lowered the Super Two cutoff, which is one of the few things the players got out of the owners. More money for a select few players. Pineda has already been in Triple-A long enough to delay his free agency — he won't be eligible until after the 2017 now — but delaying his arbitration clock is a little trickier because the team only has 20 or so days on the big league roster to play with, and that would be cutting it very close.
The regular seasons for the four full season minor league affiliates end no later than September 2nd, and of those four teams, only Double-A Trenton will go to the postseason. They haven't clinched anything yet, but they have a six-game lead and 20 games to play. The Short Season Staten Island Yankees end their season on September 4th, but they aren't going to the playoffs. The two Rookie GCL Yanks teams end their regular seasons on August 29th and it's very likely one or both will go to the postseason. Those playoffs are very short though, a one-game series in round one and best-of-three series in round two. They'll be over before you know it.
Pineda is currently on the Triple-A Scranton DL with tightness in his shoulder, but it's nothing serious and it was reportedly last week he would be shut down for 7-10 days as a precaution. Today is day nine, but I doubt he'll jump back into the RailRiders rotation. The Yankees will probably have Pineda ease back into things, first by playing catch on flat ground before advancing to the bullpen and a simulated game, something like that. His return to game action may still be two weeks away, when the minor league season just about ends.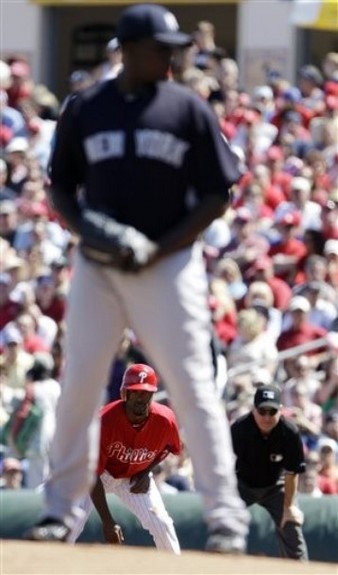 The Yankees end their regular season on September 29th, so the earliest they could activate Pineda and prevent him from getting those 20 extra days of service time is September 10th. Remember, that 2.119 figure is just a projection and my 2.099 figure is just an estimate, so that 20-day number should be taken with a grain of salt. If the Yankees want to keep Pineda in the minors as long as possible, they could send him to Double-A Trenton when healthy and hope they have a long playoff run, or they could just keep him on the DL and work him back very slowly. The latter gives them much more flexibility, obviously.
Now, there are some wildcards here beyond the uncertainty of that 20-day number. One, do the Yankees even care about Pineda's arbitration clock? His free agency has been pushed back and that's the most important thing. All this time missed due to injury means his first year arbitration raise would be relatively small, maybe putting him in the $2-2.5M salary range for 2014. Remember, he was an All-Star with Seattle back in the day, and that alone will earn him a nice raise. There is a carry over affect though, avoiding arbitration in 2014 doesn't just save the team money next year, it saves them money from 2015-2017 as well. With the plan to get under the $189M luxury tax threshold looming, every saved dollar counts.
Two, the Yankees do want to try to get into the postseason. Their chances are small right now — 6.3% according to Baseball Prospectus — but they've been able to string together some wins of late and who knows where they'll sit in two or three weeks. If they're close enough to make a run, having Pineda on the team could help their cause. They have already indicated a willingness to use him out of the bullpen down the stretch, but Pineda could also give them another start if Phil Hughes continues to be un-pitchable.
Three, how does the team feel about the trade? Are they desperate to get Pineda to the big leagues so the swap looks like less of a disaster? I'm guessing no. They wouldn't have optioned him to Triple-A in July if that was the case. The Yankees seem to be focused on getting him healthy and ready for Spring Training 2014. All of this stuff will impact the team's decision about whether to try to delay Pineda's arbitration clock next month, which will be easier said than done. This is already a second lost season, but maybe they could salvage it by further manipulating his service time.