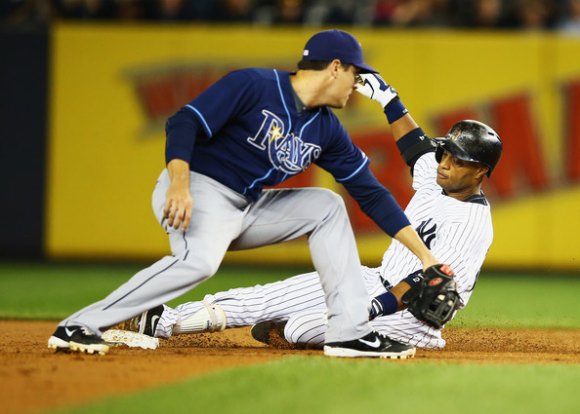 With focus on Jacoby Ellsbury and his new $153 million contract, the Yankees acquired another player last night. As many of us slept or vented our feelings about Ellsbury, the Yankees were working on a deal with Kelly Johnson. It's a mere $2.75 million for one year, or about 1.8 percent of Ellsbury's contract. But Johnson could be the kind of player the Yankees need to help round out their big-name roster.
During his tenure with the Rays last year, we got a glimpse at Johnson's versatility. When he came up with the Braves in 2005 he played left field, but after he returned from Tommy John surgery in 2007 (more on that in a moment) he seemed entrenched at second base. That's where he played for most of the next six seasons, until he hit free agency. When he signed with the Rays, though, he divided his time among four positions: 50 games started in LF, 14 at 2B, 12 at 3B, and 2 at 1B in addition to 18 at DH. That's the kind of multi-positional player the Yankees have needed for years.
To date the Yankees have signed three free agents, and all three bat from the left side of the plate. That might seem odd for a team that got the league's worst production from right-handed hitters in 2013. But Johnson can hold his own against same-handed pitchers. For his career he displays no real platoon split, and has actually OPS'd about 10 points higher against left-handed pitching. In recent years he's performed better against righties; last year he hit all 16 of his homers against righties, though he did have a .337 OBP against lefties.
Johnson's greatest attribute might be his durability. After missing the 2006 season after undergoing Tommy John, he's spent just one stint on the DL, missing 17 games in 2009 with wrist tendonitis. Other than that he's missed just a few games here and there with nagging injuries, although that has totaled just 11 games, not counting his DL stint, since the start of 2007.
One other interesting tidbit about Johnson is his increased production with runners in scoring position. His career OPS jumps from .762 overall to .808 with runners in scoring position — and he matched that .808 OPS with RISP last season.* As friend of RAB Tommy Rancel notes, this might be due to Johnson's pull tendency. While, as we've seen with Mark Teixeira and others, teams will shift the infield on guys like Johnson, they're less able to do that with runners in scoring position. The extra gaps give him enough room to knock through some ground balls.
*Even better, he hit only 3 of his 16 homers with RISP, and another 4 with a runner on first. In other words, he produced runs from nothing, and additionally knocked in runners with singles, 21 of them, with ducks on the pond. That seems like an ideal distribution to me. Homers are always welcome, and HR with RISP can often mean many runs, but singling in scoring position runners while hitting bases empty homers does have a certain intuitive value.
As long as the Yankees have signed Johnson as a guy who can play different positions on different days, the relationship should work. Johnson has proven himself versatile and durable over the years, traits the Yankees certainly must value after 2013. His ability to hold his own against both lefties and righties means he can reasonably play both sides of the platoon. If, on the other hand, Cano leaves and Johnson becomes his replacement, the Yankees have a lot more work to do. But that was the case with or without Johnson. At least with him they have someone who can competently play the position.