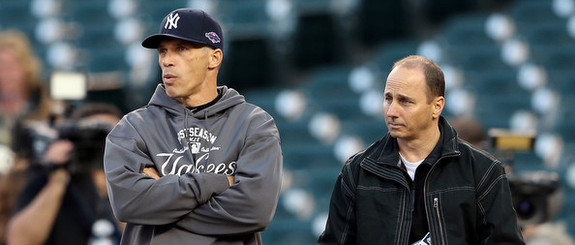 For the second time this off-season the Yankees lost an irreplaceable player. In Mariano Rivera they lost not only the greatest closer the league has ever seen, but they lost a leader and a legend. Even if David Robertson steps up and holds down the closer role for the next five years, he will never measure up to Mariano — by no fault of his own, of course. There is simply no way to replace a player like Rivera.
In Robinson Cano, who signed with the Mariners, the Yankees lose the best second baseman in the league. His presence and legacy might not measure up to Rivera, but his on-field production accounted for a greater portion of the Yankees' success in recent years. Being the best at his position means that he is necessarily irreplaceable. In order to improve the roster, the Yankees will have to find reinforcements at other positions.
The void at second base
At second base the Yankees can only stanch the bleeding. They do have Kelly Johnson in the fold, but he's probably not an ideal option as an everyday second baseman. He can hit a little, but much of his value comes from his ability to play second, third, and maybe a little left field. If Alex Rodriguez is suspended — a huge if that will color the Yankees' moves going forward — then acquiring another infielder becomes crucial.
On the free agent market, Omar Infante sits awaiting an offer. During the course of his 12-year career Infante has been pretty average with the bat, a 93 career OPS+. Since 2008 he's been perfectly average with a 100 OPS+, balancing seasons in the 90 range with some in the 110 range, including a career-best 113 OPS+ last year. He's no Cano; he's not even a Neil Walker. But he'll likely come on a short-term contract and provide a decent combination of offense and defense.
The Yankees have been connected to Stephen Drew as well, though he'll cost more in salary and years than Infante. He'll also cost the Yankees a draft pick, not a huge consideration considering how many they've already given up (and received back for Cano and Granderson). Last year Drew put together a nice comeback season for the Red Sox, a 111 OPS+. Like Infante, he's been up and down, with the result right around league average. He also had enormous home/away splits last year (.859 OPS at Fenway, .687 on the road), though playing in Yankee Stadium could keep his production high at home.
On the trade market, Howie Kendrick's name has come up a few times this off-season on MLBTR. With two years and just under $20 million remaining on his contract, Kendrick could be an enormous bargain — which is why the Angels probably won't trade him without getting back a starting pitcher. The Yankees need starters themselves, so chances are they couldn't send one to Anaheim.
Supplementing at third base
Chances are the Yankees won't make any big moves at third base. With Johnson in the fold they can wait until the Alex Rodriguez outcome. But if the Padres make Chase Headley available at the winter meetings next week, the Yankees will have to listen. He's a guy who can potentially make a big impact on the lineup.
A heralded prospect in the mid-00s, Headley has held his own at pitcher-friendly PETCO Park, producing a 115 OPS+ in his six seasons. He hit a bump in the road in 2010, but bounced back with 120 and 145 OPS+ seasons in 2011 and 2012. Last year he fell off a bit, perhaps due to an injury that cost him about 20 games, but his numbers were still solid. San Diego is rumored to be listening on him, since he'll reach free agency after the season.
There are two ways to look at this. The first is that any acquiring team will over pay in prospects. They're getting just one year of Headley, though perhaps there is value in actually having him on the team, in that they might have an easier time re-signing him (obviously not guaranteed). The other side is that good third basemen are hard to find. The Yankees have a fine prospect in Eric Jagielo, and Headley could help bridge that gap.
Replacing offensive production
Even if the Yankees manage to trade for Headley and sign Infante, they'll still be at a net loss on offense. Yes, adding Brian McCann and Jacoby Ellsbury help, but the Yanks could still use a little more punch on offense. That's where one of the remaining free agent outfielders comes into play.
Earlier in the week it appeared that Carlos Beltran was about to sign elsewhere. Rumor had it that a team had offered him three years and $45 or $48 million, which is beyond where the Yankees were willing to go. Yet he hasn't made a move yet. He could still be a target for the Yankees, taking reps in the outfield and at DH.
Shin-Soo Choo could come into play as well. Even after the Yankees signed Ellsbury we heard that they weren't out on Choo, likely as insurance in case Cano left. Acquiring Choo at this point would either push Alfonso Soriano to almost-full-time DH, or lead to a trade of Brett Gardner. Neither seems ideal, but both could help.
By the numbers, Choo looks like he belongs on the Yankees. He has a career .389 OBP, and has broken the .400 mark twice in the last four years. He's had just one bad year in his six as a full-time player, and even then he was above average. He might require an Ellsbury contract, but there is perhaps no more effective move in replacing Cano's offensive production.
As for what to do with the outfield surplus, either move could work. Keeping Gardner and Ellsbury atop the order and in the outfield will pay off greatly. Soriano has said that he prefers to play the field, though his defense is probably just average. There will be chances to sit Gardner, or even Choo, against lefties, so Soriano will still see time in the outfield.
Trading Gardner only works if they can fill another immediate need. That's tough, since he's a free agent after the season. But if they can use Gardner to pry Kendrick from the Angels, or combine him with prospects to get a No. 3 starter from another team (perhaps Cincinnati and Homer Bailey?) the trade could be worth exploring. It's much easier to find a guy who can DH 50 or so games (Mark Reynolds?) than it is to find a mid-tier starting pitcher or second baseman.
Augmenting the pitching
Even if Cano had re-signed with the Yankees, they would have had to address the pitching situation. We've heard that they'll be in heavily on Masahiro Tanaka, but the new posting system could complicate matters. Tanaka is still the Yankees best option, but they'll have increased competition, since any team that bids the maximum $20 million will be able to offer him a contract. That makes the situation much less like Yu Darvish, where he could only negotiate with the Rangers. I'd expect Tanaka's deal to call for more guaranteed money at fewer years — perhaps five years, $75 million, compared to Darvish's six years and $60 million.
Re-signing Hiroki Kuroda does help matters, but he's not providing even half of the 400 innings Brian Cashman admits he needs this off-season. And, being realistic, the Yankees need more than that. Given CC Sabathia's poor 2013 and Ivan Nova's up-and-down career, they could use as many pitchers as possible. Again, with the signing of Choo they could shop Gardner for a starter. They could also take a flier on Brett Anderson, in whom they've expressed interest. Still, many more innings are required for a quality 2013 pitching staff.
As Mike and I have both outlined, the free agent crop doesn't look particularly inspiring. Ubaldo Jimenez has produced a combined two good seasons to date, and has been middling to terrible the rest of the time. Matt Garza has been okay, and could work depending on what kind of contract he ends up signing. Bartolo Colon? That's a pretty big risk, despite his recent success. Ervin Santana? I'm a bit worried about his homer tendencies in Yankee Stadium. Signing Tanaka and trading for a starter seems to make the most sense, but as outlined above they might prove difficult. The Yanks might have to choose from among these players.
In the bullpen, Grant Balfour seems like a logical target. He pitched well with the Rays before signing a successful free agent contract with the A's. He's a bit older now, but on a two-year deal could provide setup help, or even close. Few other free agent relievers make sense, since they're not very good. The Yanks will just have to hope they have enough internal reinforcements.
(Plus, by augmenting the rotation, they can bump someone like David Phelps to the bullpen, where he might be more effective and valuable anyway.)
Clearly the Yankees have a lot left to accomplish this off-season. Finding ways to compensate for the loss of Cano will comprise a multifaceted plan that covers not only second base, but third base, the outfield, and the starting rotation. Given the pace at which this off-season has moved, don't be surprised to see the Yankees start to make moves, perhaps by the time this post goes live.