I've been milking the mailbag teet during the holidays, but posting will be back to normal next week. This week's (final) mailbag is eight friggin' questions long. Remember to use the Submit A Tip box in the sidebar to send us anything and everything.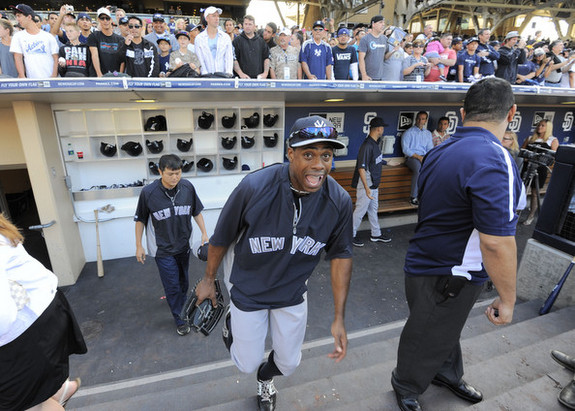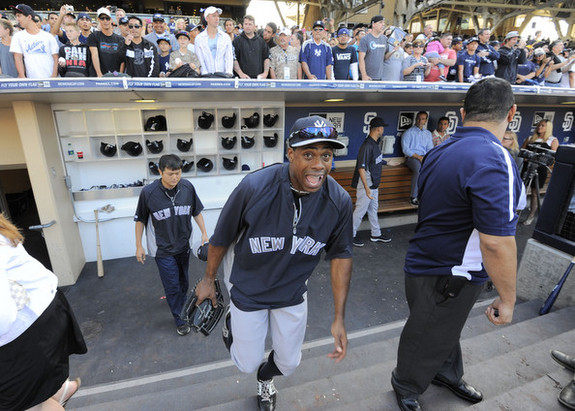 Shane asks: Recently, a report came out saying that the Yankees can dip under $189M midseason. It only matters where you finish. Would this method work in 2013? I know the luxury tax was in the $175M range but who could they have traded to dip below the $175M in 2013? Would this be at all possible by trading Curtis Granderson and Hiroki Kuroda and not trading for Alfonso Soriano? How close could they have gotten to that number?
Joel Sherman wrote an article earlier this week suggesting the Yankees could conduct a sell-off this summer if they're not contending in an effort to get under $189M, but that would really surprise me. They didn't spend $300M+ this winter (and counting) to hold a midseason fire sale. Sherman seems really hell-bent on the whole $189M idea.
Anyway, the Yankees finished last season with a $234,227,890 payroll for luxury tax purposes, so getting under the $178M threshold would have meant selling off at least $56,227,890 (!) worth of players in season. That seems damn near impossible, but let's look anyway. To make the math easy, let's assume the firesale happened at the exact midpoint of the season. Here's what they would have had to do to get under the luxury tax threshold:
Not trade for Soriano: $6.7M saved
Trade Granderson: $7.5M saved
Trade Kuroda: $7.5M saved
Trade Robinson Cano: $7.5M saved
Trade Phil Hughes: $3.575M saved
Trade Ichiro Suzuki: $3.125M saved
Trade Boone Logan: $1.575M saved
Trade David Robertson: $1.55M saved
Trade Joba Chamberlain: $0.9375M saved
Trade Shawn Kelley: $0.4675M saved
Trade Jayson Nix: $0.450
Add all of that up and they would have saved … $40.88M. Still another $16M or so to go, not counting the salaries they would have had to pay to replace all the players they traded, which would add up to a few million even if the replacements were earning the minimum. I guess they could have traded Andy Pettitte ($6M saved) and Mariano Rivera ($5M saved), but even that would have left them short. Same deal with trading CC Sabathia ($12.2M saved) or Mark Teixeira ($11.25M saved), but moving those two would have been very hard because they stunk and were hurt, respectively. Plus they have no-trade clauses. I don't see any way the Yankees could have realistically gotten under the $178M luxury tax threshold in 2013 through a midseason firesale.
Cameron asks: Managers and coaches sign contracts like players, but when a coach underperforms we always see them get fired in the middle of a contract. However, when a player underperforms or becomes an issue (obviously the extreme example being Alex Rodriguez), they never get "fired" or let go. The team just has to deal with it or try to trade them. Is there a difference in the contracts that doesn't allow that? Do teams still have to pay the remainder of a manager's salary when they get fired?
Well, I suppose releasing or designating a player for assignment is like firing them, and that happens all the time. Obviously cutting ties with a lower salary player is easier to swallow, and the same is true of managers or coaches. And yes, teams absolutely still have to pay managers and coaches if they're fired in the middle of the contract. The only real exception is if the guy leaves for a pormotion — the Yankees don't have to pay ex-bullpen coach Mike Harkey after he left to become the Diamondbacks' pitching coach, for example. That's a mutually agreed upon thing.
Travis asks: Just thinking outside the box, I'm sure he has never played there before, but could Carlos Beltran be cross-trained at first base to help alleviate some position issues and create more roster flexibility?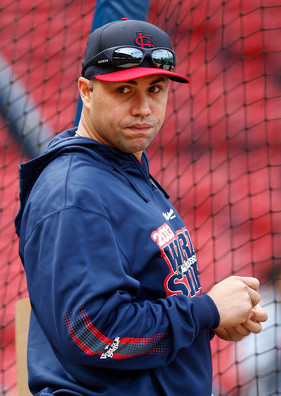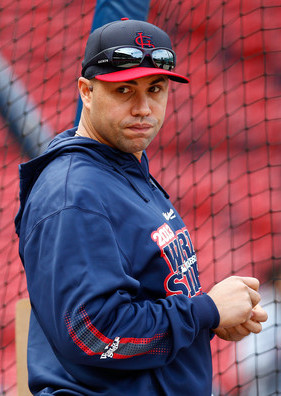 Sure, it's possible, but I think first base is tougher than most people realize. Whenever I think about moving a player to first late in their career, I always remember Gary Sheffield looking like he had never played baseball in his life when the Yankees stuck him there in late 2006. Teixeira still has three years on his contract and I assume Brian McCann will put in some side work at first base, but if he's up for it, there's no reason not to have Beltran take ground balls and learn the position. I would be surprised if he was still an outfielder in the final year of his three year contract, so having first base as a possibility would unclog that seemingly inevitable DH logjam.
Jeff asks: Looking back on Cano's time with the Yankees made me remember that he kind of came out of nowhere without a lot of hype. Do you see anyone in the Yankees system flying under the radar right now or could have a breakout year? Will we ever see anyone emerge and have success like Cano and Chien-Ming Wang did or do we know too much about the team's system?
Nova fits into this category as well. Heck, I don't think I ever ranked him on one of my Preseason Top 30 lists. As long as Major League Baseball is being played, there will be guys who come out of nowhere to be big contributors*. Some of them will even be Yankees. Baseball is weird like that.
* To be fair, Cano and Wang were well regarded prospects. The Yankees didn't give Wang a $1.9M signing bonus back in the day out of the kindness of their hearts. Both guys simply became better big leaguers than expected, Cano especially.
Among the guys in the system now, I think Peter O'Brien and Rob Refnsyder have a good chance of exceeding expectations. O'Brien's power is legit and Refsnyder is one of those major college program "he just knows how to hit" players. Guys with power and guys who consistently put up strong offensive numbers tends to get plenty of chances. Among the arms … maybe Daniel Camarena? I've always liked him and command lefties with a good changeup seem to stick around forever as long as they're healthy.
Dave asks: There's been a lot of talk of the Yankees' lack of a third baseman. I feel like people seem to have forgotten that J.R. Murphy was once a catcher/third baseman a few years back. Do you think there's a chance the Yanks move him back there now that McCann is the catcher going forward and hope that he (Murphy) can become an offensive-minded infielder?
There was talk about moving Tyler Austin from right field and back to third base at this time last year, but unlike Murphy, that was a move up a defensive spectrum that would have improved Austin's value. Moving Murphy out from behind the plate fills a more pressing need but makes him less valuable overall. Murphy has reportedly made a lot of progress defensively and he's now seen as a lock to remain at the position long-term. His bat really came around last year as well. There is always a need for quality catchers and I'd keep Murphy behind the plate. If nothing else, he's more valuable in a trade that way.
Anthony asks: Even though he was offered less total money, Shin-Soo Choo will earn more in Texas than he would in New York because of the income tax. For the Yankees to guarantee him equivalent earnings, they would have had to raise the value of their initial offer, thus incurring a larger hit against the luxury tax/payroll cap if the contract was agreed upon. Doesn't this seem a bit unfair for teams living in states with an income tax? Will MLB do anything about it?
Well, the team makes a conscious decision to be over the threshold and pay the luxury tax, so that's not MLB's problem. I don't know if they still do it (I assume they do), but I know at one point MLB cut checks to the Blue Jays each year to make up for the difference in exchange rate. That's a unique situation though.
I don't think MLB will or should do anything about the income tax situation. It's just one of those things that comes with having teams all around the country. Should MLB step in because the weather in San Diego has helped the Padres sign some players over the years? What about all the guys who come to New York because they think they can get better endorsement deals? The income tax situation is unfortunate for the Yankees but they have their own market advantages as well. MLB should stay the hell out of government matters, it's not their place (cough cough).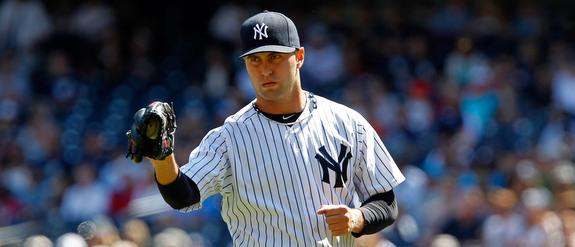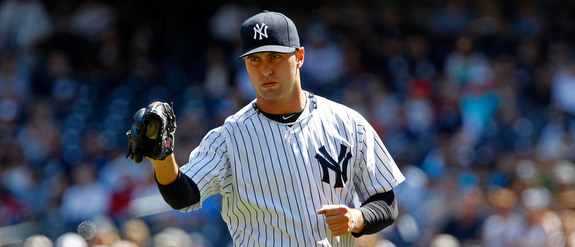 Anonymous asks: Who has better chance being on big league roster come Opening Day, David Huff or Cesar Cabral?
This is weird, because I think Huff is both more in danger of losing his 40-man roster spot but also more likely to be on the Opening Day roster than Cabral. He's out of minor league options and if he's still around in camp, his September work last year could give him a leg up on the second lefty/swingman role. Cabral can go to Triple-A without a problem and sometimes that work against a guy. Make sense? Either way, I'm certain we'll see Cabral on the team at some point in 2014.
Jamie asks: Asked a question about the differences in WAR on various sites two weeks ago. With that being said, if you had to pick two numbers for a position player (offense and defense — OPS+, WAR, UZR, etc.) and one for a pitcher (ERA+, WAR, etc) that best rated their value, which would it be and why?
WAR, particularly bWAR, is the easy answer for pitchers. It is based on actual runs allowed (not theoretical runs allowed/FIP like fWAR) with adjustments for ballpark, league, team defense, etc. If I can only pick one stat for hurlers, that would be it.
On the position player side, I'd go with wRC+ and DRS. I don't love UZR and Total Zone, which basically eliminates fWAR and bWAR. I'd want an adjusted-for-pretty-much-everything offensive stat, hence wRC+, and I prefer DRS to the other defensive stats. In a perfect world, I'd have access to all of them. But since I'm limited to one, DRS it is. Ultimately, the best way to evaluate a player is to look at everything, every stat plus scouting reports plus the eye test. The more information, the better.