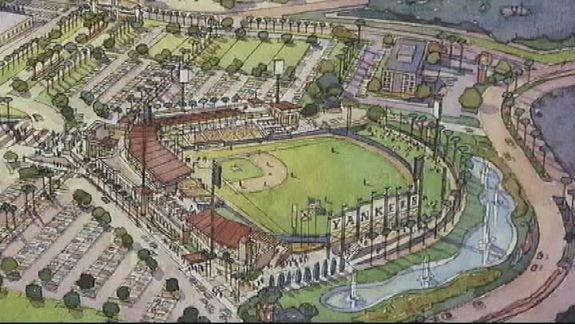 The Yankees have backed out of a deal that would have moved their High Class-A affiliate from Tampa to Ocala, reports WFTV Channel 9. Susan Latham Carr says the agreement is technically suspended until April, but it is unlikely to completed. Apparently the team withdrew their relocation plan after getting some resistance from the local community regarding a proposed tax hike that would have paid for a new ballpark. The city of Ocala is out the $300k it spent trying to woo the team.
"While we expected to bring the community together with this project, it has unfortunately become a source of division," said Ocala City Council President John McLeod. "They were a little taken aback at the first county commission meeting where they were expecting a little bit more united support, and they didn't get that. That's politics. That's the way things go sometimes."
The Yankees have been looking to move their High-A affiliate out of Tampa for a while now and this isn't the first relocation deal that has fallen through — a plan to move the club to Orlando fell apart back in 2010. The deal with Ocala, which was agreed to back in October, included a new $45M ballpark that would have been built in time for Opening Day 2016. A half-cent sales tax increase over the next ten years would have paid for the facility.
Relocating the High-A affiliate is all about finding a better and more lucrative market. The Florida State League has historically struggled with attendance and High-A Tampa averaged only 1,827 fans per game last season, fourth best in the league. They're stuck competing with the Rays, the NHL's Tampa Bay Lightning, and various collegiate sports. Moving the team a hundred or so miles north to Ocala would have eliminated some of that competition.
The Yankees will surely continue to look to relocate their High-A affiliate, but they are locked into Tampa for Spring Training. That isn't changing no matter what. The team still has a 12 years left on a 30-year contract that will keep them in Steinbrenner Field for Spring Training and Grapefruit League play.