Got five questions this week, basically half of the last few mailbags. Remember to use the Submit A Tip box in the sidebar to send us anything and everything.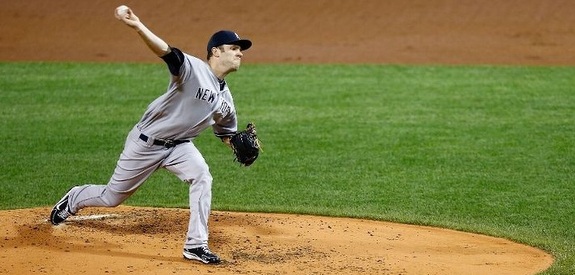 Jamie asks: Rather than the six-man rotation idea that always gets floated but never implemented, would the Yankees be best served limiting CC Sabathia and Hiroki Kuroda's workloads to 6-7 IP per start max and giving them a middle relief caddy like David Phelps?
Yes, I think so. Sabathia and Kuroda have averaged 6.93 and 6.48 innings per start with the Yankees, respectively, which is rather high. The Yankees have talked about reducing the workload on both guys recently and the easiest way to do that might be to treat them as six inning starters rather than seven inning starters. Phelps and Adam Warren would be obvious caddy candidates since they could throw two or three innings at a time out of the bullpen as middle/setup relievers rather than true long men. Sorta like mini-1996 Mariano Riveras. They could be kept on a somewhat regular schedule to make life a little easier as well.
The caddy system sounds great in theory but it would be tough to pull off if the other five relievers are regular one-inning guys. The Yankees would also need another veteran starter so they could stash Phelps and Warren in the bullpen full-time, and it doesn't seem like they're eager to add one. I really like the idea of having middle relievers who are used for multiple innings at a time, but no one ever does it though. The 2009 version of Al Aceves is a rarity these days.
Bill asks: Why has there been so little speculation about moving Derek Jeter to third base? It seems like the perfect answer to the third base problem and gets Ryan to short stop where his defensive skills would shine.
The snarky answer is that Jeter is Jeter and he'll play shortstop for the Yankees until he says he doesn't want to do it anymore, but I do think there are legitimate reasons for not making the move right now. He is coming back from some rather serious leg injuries and just starting taking ground balls on the dirt this week, so he is not particularly close to being in game shape right now. Jeter has never played a position other than shortstop in 22 professional seasons and third base would be an entirely new experience because the ball gets on you so quick at the hot corner. There would be a learning curve, perhaps a steep one, and asking him to change positions as he works his way back from major leg injuries might be too much for a 39-year-old. If he was perfectly healthy and able to start working out at third early in the offseason, it would make sense. Asking Jeter to go through a crash course at a different position following those injuries probably isn't realistic.
Pedro asks: What do you think about Oliver Perez?
Time for the Pitcher A vs. Pitcher B game. Everyone loves this, right? Good. Here we go:
| | IP | ERA | FIP | K% | BB% | GB% | HR/FB | RHB wOBA | LHB wOBA |
| --- | --- | --- | --- | --- | --- | --- | --- | --- | --- |
| Pitcher A | 53.0 | 3.74 | 3.26 | 32.3% | 11.4% | 30.6% | 9.8% | 0.335 | 0.304 |
| Pitcher B | 53.1 | 4.39 | 3.63 | 31.3% | 10.1% | 33.1% | 13.1% | 0.308 | 0.329 |
You're smart, you know one of those guys is Perez. He's Pitcher A. But what about Pitcher B? He is Perez's former Mariners teammate and current Yankees setup man Shawn Kelley. Perez and Kelley had almost identical seasons in 2013 — kinda freaky, no? — with the only differences being handedness and ballpark-effected homerun rates (which is why Kelley had a higher ERA and FIP). Could the Yankees use a left-handed version of Kelley? Sure. It wouldn't hurt given the current state of the bullpen. I don't know what an appropriate contract would be though. Scott Downs got a one-year deal worth $4M and I'm not sure I'd go any higher than that for Perez.
Mark asks: Do you have an overlay of the new Stadium on top of the old Stadium to see the subtle differences? Also, I know the minor league stadium in Tampa has the same dimensions as Yankee Stadium, but do the AA and AAA ballparks have them too? Wouldn't it just make sense?
I thought I would be able to create the overlay at Hit Tracker, but they only have the new Yankee Stadium. Here's an overlay I found on something called The Illuminatus Observor via Google Images: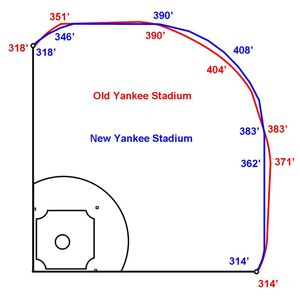 As you know, the biggest difference is in straight-away right field, where the new wall is as much as nine feet closer than the old one at some points. George M. Steinbrenner Field in Tampa has the same dimensions as the old Stadium, not the new one. It hasn't been modified since the new park went up. The various minor league affiliate ballparks all have their own unique dimensions:
| Level | Ballpark | LF | L-CF | CF | R-CF | RF |
| --- | --- | --- | --- | --- | --- | --- |
| Triple-A | PNC Field | 330 | 371 | 408 | 371 | 330 |
| Double-A | Arm & Hammer Park | 330 | ? | 407 | ? | 330 |
| High-A | George M. Steinbrenner Field | 318 | 399 | 408 | 385 | 314 |
| Low-A | Joseph P. Riley Jr. Park | 305 | 356 | 398 | 366 | 337 |
| Short Season | Richmond County Bank Ballpark | 320 | ? | 390 | ? | 318 |
I wrote about the four full season ballparks back in June 2011. They're all slight pitcher's parks overall except for GMS Field in Tampa, which is neutral compared to the rest of the Florida State League. All of those parks suppress homeruns though, extremely so in some cases. Arm & Hammer Park is right on the Delaware River and the wind makes it very tough to hit the ball out of the park to right field.
The Yankees don't actually own any of the minor league parks — they operate GMS Field but it is owned by the Tampa Sports Authority — so modifying the dimensions to match the new Yankee Stadium isn't a simple *snaps fingers* "okay let's do this" thing. The Triple-A, Double-A, and Low-A ballparks were all built long before those franchises became affiliated with the Yankees. It would be neat if every minor league park matched the big league park's dimensions, but it's not realistic or even essential as far as I'm concerned.
David asks: Which Yankees have no-trade clauses in their deal? Am I right that it's more than any other team? How big a problem do you think this obviously less than ideal practice is?
Here's the full list of Yankees with some kind of no-trade clause:
Five-and-Ten Rights: Jeter, Alex Rodriguez, Sabathia, Mark Teixeira
Full No-Trade Clauses In Contracts: Carlos Beltran, Kuroda, Brian McCann, Jacoby Ellsbury, Alfonso Soriano, Masahiro Tanaka
I haven't seen anything about Kuroda having a no-trade clause in his current contract, but he had one in his last two deals and I assume he has one again. That's ten 40-man roster players and nine who are expected to be on the Opening Day roster who can't be traded without their permissions. That's a lot. The Yankees are pretty liberal with no-trade clauses and I wonder how often that has given them an advantage in free agent talks when the offers are similar financially. Some other teams completely refuse to give out no-trade clauses.
Obviously no-trade clauses hinder flexibility and it would be awesome if no player had one, but the Yankees are in a different situation than most teams. They always try to contend and add big name players, not trade them away. How bad would things have to get for them to even consider dealing Ellsbury or Tanaka, for example? It's not like some team is going to offer a cheap, young superstar for either of those guys, so the no-trade clause rarely comes into play anyway.