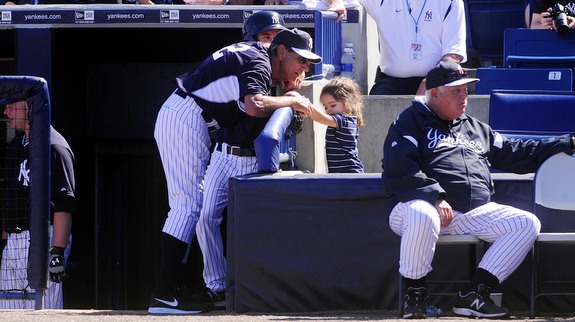 For the first time this year, the Yankees are playing a night game. Only six of their 31 Grapefruit League will be played at night and that seems low to me, but whatever. Day baseball is better anyway.
Derek Jeter is playing back-to-back games for the first time this spring, though he will only serve as the DH for the first few innings tonight. Two at-bats is my guess. The back-to-back games is something of a milestone following last year's leg injury fiasco. David Phelps, who I still think is the front-runner for the fifth starter's job, is making his second start of the exhibition season.
The Orioles are in Tampa for tonight's game after making the short trip up from Sarasota. As you might expect, their roster for the road night game is not exactly brimming with projected big leaguers. Jemile Weeks, Delmon Young, and starter Wei-Yin Chen are pretty much the only names casual fans may recognize. Here is Joe Girardi's starting lineup:
CF Jacoby Ellsbury
DH Derek Jeter
RF Carlos Beltran
2B Brian Roberts
3B Eduardo Nunez
C Frankie Cervelli
SS Brendan Ryan
1B Russ Canzler
LF Yangervis Solarte
And on the mound is the right-hander Phelps, who is likely scheduled for something like three innings or 45 pitches, whichever comes first.
Available Pitchers: LHP Matt Thornton, RHP Brian Gordon, LHP Cesar Cabral, RHP Chris Leroux, RHP Chase Whitley, and RHP Preston Claiborne are all scheduled to pitch. This will be Thornton's spring debut. RHP Bruce Billings, RHP Graham Stoneburner, LHP Jeremy Bleich, and SwP Pat Venditte are also available if needed.
Available Position Players: C Gary Sanchez, 1B Francisco Arcia, 2B Scott Sizemore, SS Dean Anna, 3B Zelous Wheeler, LF Ramon Flores, CF Mason Williams, RF Antoan Richardson, and DH Brian McCann will all come off the bench. Sizemore will be making his spring debut. C Jose Gil, C Peter O'Brien, C John Ryan Murphy, IF Corban Joseph, UTIL Jose Pirela, OF Adonis Garcia, and UTIL Addison Maruszak are all available as well.
The forecast for Tampa tonight calls for cloudy skies and temperatures in the upper-60s but not rain, thankfully. First pitch is scheduled for 7:05pm ET and the game can be seen live on YES, MLB Network, and MLB.tv. Enjoy.