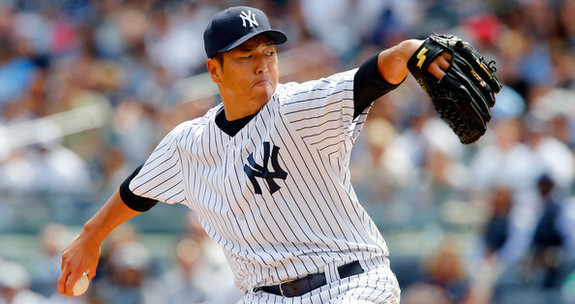 Thanks to Friday night's beatdown at the hands of the Angels, Hiroki Kuroda is sitting on an unsightly 5.28 ERA (4.26 FIP) in 29 innings through five starts this year. Obviously one disaster outing like that one will skew numbers this early in the season, but Kuroda did go into that start with a 4.07 ERA (3.58 FIP) in 24.1 innings. The runs allowed are a bit higher than what we're used to seeing from the right-hander, the fielding independent stuff right in line with past years.
Kuroda faced 25 Angels on Friday night and ten had hits, including six in two-strike counts. He allowed just seven two-strike hits total in his first four starts. Kuroda was having problems with his offspeed stuff in his previous start against the Rays, but he worked through that and turned in a representative outing (three runs in 5.2 innings). He had the same issue against the Angels but couldn't limit the damage.
"Overall my command was bad and all my pitches weren't good," said Kuroda to Brian Heyman following Friday's game. "Right now, there are certain pitches that are inconsistent. I need to make an adjustment and get them back. The biggest thing is to improve the quality of my breaking ball."
Kuroda does throw the occasional curveball but his slider is his go-to breaking ball. Has been for years. He uses the pitch mostly against righties (duh) while relying on his splitter against lefties (also duh), so it makes sense the righty-heavy Angels smacked him around on Friday. Same-side hitters have tagged Kuroda for a .351 wOBA in the early going this year, up from .266 last season. When the finish pitch isn't there, it's tough to put batters away. Same applies to every pitcher ever.
Here are the details on Kuroda's slider:
| | % Thrown | % In Zone | % Swings | % Whiffs | Horiz. Mvmt | Vert. Mvmt | mph |
| --- | --- | --- | --- | --- | --- | --- | --- |
| 2012 | 30.0% | 33.6% | 45.4% | 16.5% | 1.3 in. | 3.2 in. | 84.3 |
| 2013 | 25.1% | 33.2% | 46.0% | 16.1% | 0.5 in. | 3.3 in. | 84.5 |
| 2014 | 14.0% | 36.9% | 40.0% | 13.9% | 1.3 in. | 3.3 in. | 84.1 |
The movement and velocity of Kuroda's slider is right in line with his first two seasons as a Yankee — the 0.5 inches of horizontal movement last season is the outlier compared to the rest of his career, according to Brooks Baseball — but he's throwing considerably fewer of them this year, which suggests a lack of faith in the pitch. Kuroda admitted his slider hasn't been good and pitchers tend to shelve pitches they are struggling to execute. When he has thrown it, he's catching more of the plate and hitters aren't swinging and missing.
Kuroda is not overpowering and he uses his slider as a chase pitch, both to get swings and misses and weak contact. He outperformed his FIP and posted a below league-average BABIP every year from 2011-13, classic signs of a guy who generates weak contact. Kuroda is a unique pitcher in more ways that one. Now that his slider isn't behaving as it normally does, he isn't getting those whiffs and certainly isn't getting weak contact. When he's been hit, he's been hit hard.
The question now is why is his slider being so fickle? It could be any number of reasons and there's no way we could possible know from where we sit. Could be mechanics, could be the cold weather, could be something else. Age is an obvious concern — "I don't know. This is the first time I've been 39," he quipped to Andrew Marchand when asked if he's getting to be over the hill — but Kuroda's stuff doesn't appear to be diminished at all. His velocity and movement are fine, he's just not executing and locating. When he struggled late last year, Kuroda was making his pitches and still getting beat. He just isn't making his pitches right now, especially with the slider.
Kuroda doesn't lack a good fastball but he is definitely more of a crafty pitcher than a power pitcher. He needs all three of his fastball, slider, and splitter to be effective, and when one or more of those pitches doesn't behave, he's in for a real grind. The inability to locate his slider juuust off the plate to righties has left him without one of three primary weapons, and that's no way to succeed in the AL East. Kuroda has to make an adjustment — it's entirely possible he won't be able to make that adjustment at his age, but I'm not going to say that is the case after five starts — and get back to being a true three-pitch pitcher, otherwise he's in for more rough outings.