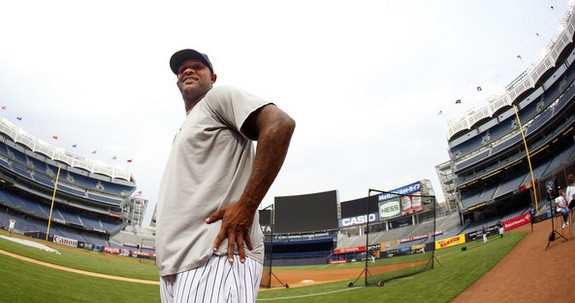 The Yankees welcomed Francisco Cervelli back a two-month stint on the disabled list yesterday, so all of their position players are now healthy. Three-fifths of the rotation remain out, and Ivan Nova isn't coming back this year following Tommy John surgery. Here are updates on the other two injured starters courtesy of Meredith Marakovits and Brian Heyman:
CC Sabathia (knee) threw a 25-pitch bullpen session on Monday, fastballs and changeups only. No sliders. He said he felt fine and will throw another bullpen session today. "We'll just continue to increase the amount of pitches and the pitches that he throws. If he gets through (today), then he'll probably throw another bullpen and we'll increase the number there. And then if he gets through that, eventually you start to see hitters and BP and then you get the game," said Joe Girardi, who said they have to build Sabathia back up like he just arrived to Spring Training. (It's common for pitchers to hold off on throwing breaking balls early in camp so they can build up arm strength.)
Michael Pineda (shoulder) is scheduled to play catch on Saturday. It'll be his first time throwing since suffering a setback at the end of last month. Like Sabathia, Pineda is basically at the start of his Spring Training routine. Expect the Yankees to be very careful with him during the rehab process given the nature of the injury and the fact that he's already had one setback.
The Yankees have already acknowledged that Sabathia and Pineda will be out until at least July and August, respectively. That makes perfect sense given where they are in their rehab right now.