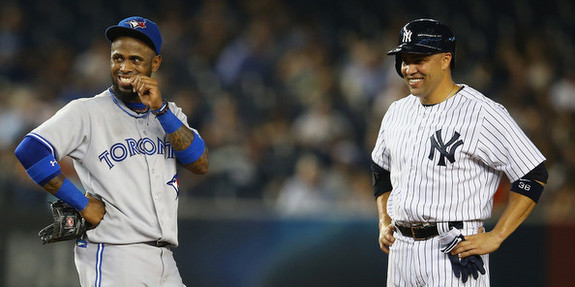 Last night's series opening win over the Blue Jays was close to textbook. Great outing from the starting pitcher, timely hitting, excellent bullpen work. That's how every game would go in a perfect world.
Tonight's game figures to be a little different. Toronto is starting their de facto ace in Mark Buehrle while the Yankees are running out a rookie starter in Chase Whitley who will face (by far) his biggest test as a big leaguer. These Blue Jays can hit, man. Don't let last night fool you. Here is the Blue Jays lineup and here is the Yankees lineup:
LF Brett Gardner
SS Derek Jeter
CF Jacoby Ellsbury
1B Mark Teixeira
RF Alfonso Soriano
DH Carlos Beltran
C Brian McCann
3B Yangervis Solarte
2B Brian Roberts
RHP Chase Whitley
It is pretty hot and slightly cloudy in New York this evening. There is no rain in the forecast. Tonight's game is scheduled to begin at 7:05pm ET and you can watch on YES. Enjoy.
Injury Updates: As expected, CC Sabathia (knee) threw his second bullpen session this afternoon. He threw another 25 pitches. Sabathia will throw again on Sunday and will stretch it out a bit, likely to 30-35 pitches or so.