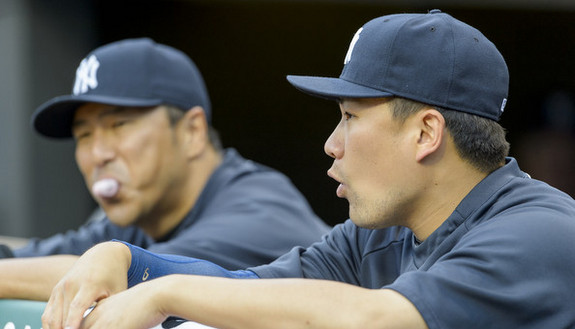 The Yankees were dealt a pretty significant blow yesterday, when what they called elbow inflammation landed Masahiro Tanaka on the 15-day disabled list. He returned to New York for an MRI and will soon travel to see team doctor Dr. Ahmad, who is currently in Seattle for a conference. Even though the team does not have a full diagnosis, Joe Girardi indicated to reporters the situation was serious enough to warrant a DL stint with or without the upcoming All-Star break. Argh. Here are some scattered thoughts.
1. Everyone is thinking it, so let's just come out and say it: the prospect of losing Tanaka to Tommy John surgery is terrifying. (There have been so many Tommy John surgeries this year that I don't know how someone could not think about it.) The timing of the procedure would especially suck — Tanaka would miss the rest of the season and at least the first half of next season. Considering how prone the Yankees are to setbacks the Yankees would likely be conservative during his rehab, he might not return until next August or September. I'm getting way ahead of myself here, but like I said, it's hard not to fear the worst whenever a pitcher goes down with an elbow injury these days. My fingers are crossed and I am really hoping for the best. Things will be a little tense until Ahmad gets a chance to look at Tanaka.
2. The Yankees have not yet announced who will start in place of Tanaka on Sunday — the 15-day DL stint means he will also miss at least one start after the All-Star break, but they can figure that during the break next week — and it seems like Chase Whitley will be the guy unless he is needed out of the bullpen again at some point between now and then. The Yankees can't recall Bruce Billings because of the ten-day rule — they used Tanaka's injury to call up Zoilo Almonte, so they can't use that to bring Billings back early — and right now Triple-A Scranton's scheduled starter for Sunday is TBA due to a recent rainout and subsequent doubleheader. It might just be a bullpen game the day before the All-Star break. Two or three innings from Whitley, two or three innings from David Huff, two innings from Adam Warren, etc. Yikes. This team needs the four-day break in the worst way right now.
3. If Tanaka does have to miss an extended period of time for whatever reason, the Yankees will have to consider selling at the trade deadline more seriously than at any point in the last, I dunno, 20 years or so. Or at least consider not buying. That might be the Yankees' version of selling — not doing anything and standing pat. They are 13-5 in games started by Tanaka and 33-39 in games started by everyone else, and at some point the injuries become too much to overcome. That's what happened last year. They've lost four-fifths of their Opening Day rotation to injury (at least three to long-term injury) and there are too many underperforming everyday players in the lineup to compensate. The Yankees are not a move or two away from serious contention even with Tanaka. Remove him from the equation and it's damn near impossible. Make another small Brandon McCarthy for nothing to soak up some innings and save the bullpen trade, but give up something of value? No way. The organization prides itself on contending every single year and I can't imagine throwing in the towel on 2014 would be easy after spending all that money over the winter, but losing Tanaka for an extended period of time would be the straw that breaks the 2014 Yankees camel's back.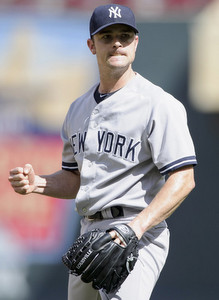 4. Now, in the unprecedented event that the Yankees do decide to sell before the deadline, who exactly can they market? David Robertson for certain since he's due to become a free agent and literally every team could use another shutdown reliever. The Tigers, Dodgers, Angels, Braves, Giants, and possibly the Athletics would all have interest in Robertson, at the very least. I'm sure they would have no trouble finding a team willing to take Shawn Kelley off their hands too. Hiroki Kuroda has a full no-trade clause but might be willing to waive it for one of the two Los Angeles teams since his family still lives there. Brett Gardner would fetch a nice return but his contract makes him worth keeping around. Hard to see a team giving up enough to make trading him worth it. Other than those three, there's not much to offer. Brian Roberts and Ichiro Suzuki have no trade value, same with Brendan Ryan. Maybe a team would be willing to give up a Grade-C prospect for Kelly Johnson or Frankie Cervelli, but I doubt it. Point is, even if the Yankees do decide to sell at the deadline, their most marketable pieces are a rental reliever and a rental starter. The cupboard is pretty bare.
5. Without Tanaka, these Yankees are about a two out of ten on the watchability scale. That is true regardless of whether he misses the minimum 15 days or something longer. His starts along with Robertson and Dellin Betances innings are pretty much the only time I get excited to watch this team. That's just my opinion. I mean, yeah both Gardner and Jacoby Ellsbury have been awesome, but they aren't must-see television. The Yankees in general are a very boring bunch, mostly because they struggle to score and have no exciting young position players in the lineup everyday. Remember when we were trying to convince ourselves Yangervis Solarte was a guy? Yikes. You're welcome to feel differently and I hope you do, but man, to me this is the most boring and uninteresting Yankees team of the last 20 years or so. Maybe I'm just a grouch.