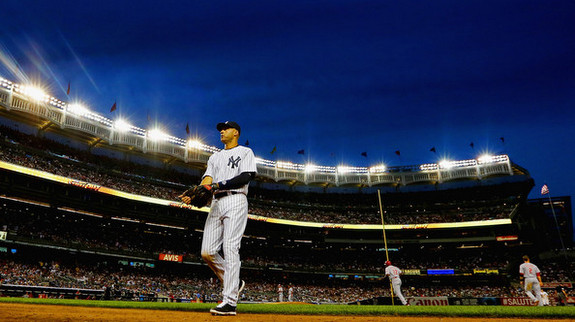 Yay, Yankees-Red Sox. Yay. The rivalry has definitely lost some luster through the years and that has been especially true this season, with the Red Sox quickly falling out of the contention and the Yankees slowly fading in the standings. Is it better to burn out or fade away? I'm thinking fade away. I prefer to have a September baseball game make me feel something other than complete indifference.
Anyway, the Yankees start a nice nine-game, ten-day homestand tonight, and they're going to need to win about seven of the nine games to have a chance at the second wildcard spot. That probably won't happen, but that's okay. It's worth a try though. Boston is out of it and they've been playing terribly of late, so let's start the homestand off on the right foot. Here is the Red Sox lineup and here is the Yankees lineup:
CF Jacoby Ellsbury
SS Derek Jeter
LF Brett Gardner
1B Mark Teixeira
RF Carlos Beltran
DH Brian McCann
2B Martin Prado
3B Chase Headley
C Frankie Cervelli
RHP Shane Greene
It is crazy hot and humid in New York. The sky is nice and blue, but I wouldn't exactly call this weather comfortable. It's like standing in soup. This evening's game will begin at 7:05 pm ET, and you can watch on either YES locally or MLB Network nationally. Enjoy the game, everyone.
Updates: In case you missed it earlier, the Yankees called up eight players now that rosters have expanded in September … tests came back clean on Masahiro Tanaka's sore arm and he has been diagnosed with fatigue … Ellsbury's big week earned him AL Player of the Week honors.