The 2014 season is over and it's time to look back at the year that was. Our old What Went Right/Wrong format has gotten stale, so it's time for a new preview format. We'll review individual players, performances, tendencies, and all sorts of stuff in the coming days and weeks.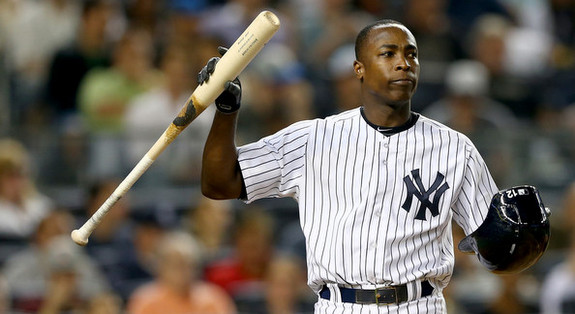 Coming into the season, there were many reasons to think the Yankees would have a better offense in 2014 than 2013. For starters, they committed more than $280M to the free agent trio of Brian McCann, Carlos Beltran, and Jacoby Ellsbury, each of whom brought a different dynamic to the lineup. The Yankees were also getting Mark Teixeira back from wrist surgery, and although Lyle Overbay filled in admirably last year, Teixeira at this phase of his career was still an upgrade.
On top of all of that, the Yankees would also have a full season of Alfonso Soriano. The club re-acquired Soriano at least year's trade deadline and he was a force in the second half, hitting .256/.325/.525 (130 wRC+) with 17 homeruns in 58 games after the trade. He hit exactly as many homers and drove in nearly the same number of runs (51 to 50) in 58 games with the Yankees as he did in 93 games with the Cubs. Returning to New York seemed to reinvigorate the 38-year-old Soriano.
Because of the Ellsbury and Beltran additions, the Yankees forced Soriano into an unfamiliar role. He was either going to have to play right field or serve as the DH to stay in the lineup — and, coming into the year, there was every reason to want him in the lineup everyday — but he didn't have much experience at either spot. In fact, Soriano had never played right field in his career until this year, and he had only 38 games of DH experience spread across the first 15 years of his career. He played DH only 14 times with the Cubs from 2007-13.
But, the Yankees painted themselves into a roster corner, so Soriano worked out in right field during Spring Training and also took some reps at DH to get familiar with sitting on the bench between at-bats. He opened the regular season as the regular DH while occasionally seeing time in left (whenever Ellsbury or Brett Gardner sat) and right (whenever Beltran sat). It wasn't until Beltran's elbow began to act up that Soriano moved into the field full-time — he took over as the regular right fielder in mid-May and was routinely taken out for defense in the late innings.
We can't trust such a small sample of defensive stats but I thought Soriano actually looked decent in right field, especially considering he had never played the position before. I mean, he wasn't great, but he made all the routine plays and occasionally surprised with a no-so-routine play. Opponents did run on his weak arm at will — runners attempted to take the extra base 12 times in 15 opportunities, a 20.0% hold rate that was well below the 46.4% league average — but that wasn't surprising. You knew other teams were going to test him at a new position.
Adjusting to life as a part-time outfielder and part-time DH was not going to be easy, but the Yankees were expecting Soriano to be their top right-handed power source and a consistent threat near the middle of the lineup. Instead, they got one of the worst offensive players in baseball. Soriano hit .242/.275/.414 (88 wRC+) with five homers in 138 plate appearances as he regular DH before hitting .194/.200/.306 (29 wRC+) with one homerun in exactly 100 plate appearances after taking over in right field following Beltran's injury. From May 5th through June 12th he went 16-for-83 (.193) with 37 strikeouts (43.5%).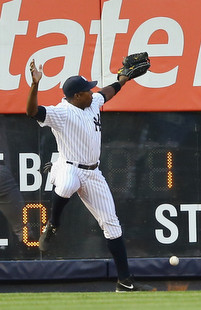 The end result was a .221/.244/.367 (64 wRC+) batting line with six homers in 238 plate appearances. Among the 349 players with at least 200 plate appearances in 2014, Soriano ranked 298th in AVG, 343rd in OBP, 228th in SLG, 316th in OPS+, 332nd in wRC+, 327th in strikeout rate, and 346th in walk rate. He struck out 71 times (29.5%) and walked six times (2.5%), including once intentionally. The Yankees were counting on Soriano to be a major weapon against lefties and he hit .249/.269/.416 (84 wRC+) against southpaws, which is both terrible and way better than the .204/.228/.336 (51 wRC+) line he put up against righties.
The Yankees finally pulled the plug on July 6th, designating Soriano for assignment to clear both a 25-man and 40-man roster spot for career minor league journeyman Bruce Billings. Joe Girardi had relegated Soriano to the bench for spot start study a few weeks before that, opting to use Ichiro Suzuki in right field full-time once Beltran returning and took over the DH spot. Soriano told reporters he would spend some time with his family before deciding whether to retire or continue playing, but we haven't heard anything since. No team showed interest in him even at the pro-rated portion of the league minimum.
Soriano was one of the most exciting players in recent Yankees history when he first came up all those years ago because of his speed and big power despite a rail thin frame. He returned to New York a decade later and had an excellent half-season in pinstripes in 2013 before things came crashing down in 2014. Maybe changing positions hurt his offense — to his credit, Soriano never complained about being asked to change positions — or maybe it was just old age. He is 38 after all, and he had already switched to a lighter bat with the Cubs to compensate for lost bat speed. Add in his plate indiscipline and it's not really a surprise he fell off the cliff so quickly.
The Yankees did improve their offense from 2013 to 2014 but not as much as expected for many reasons, including Soriano's sudden fall from grace. He wasn't even able to be a bench bat who played against lefties by the end. The fall of was that drastic. Maybe Soriano will decide to play again, but players his age usually don't get job offers after seasons like this, which included spending the last three months at home. In all likelihood, his excellent but not quite Hall of Fame worthy career is over, and that makes me sad.