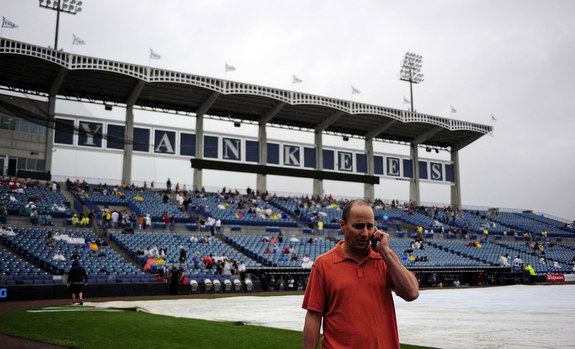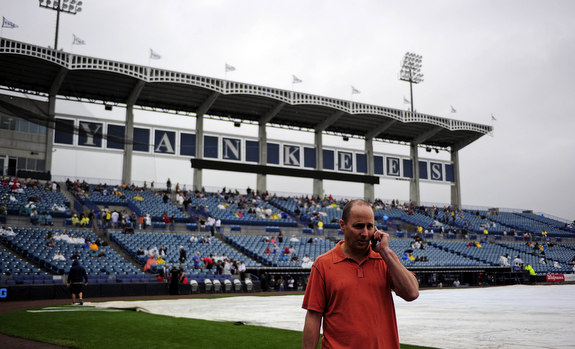 The dust is still settling following the end of the 2014 regular season, but the Yankees have already started their offseason by beginning contract talks with GM Brian Cashman. That's the very first item on the winter agenda — finding a GM, whether it's Cashman or someone else. Nothing can happen until the guy in charge is in place.
I have no interest in debating the merits of re-signing Cashman now. It's pretty clearly going to happen regardless of what you or I think. Instead, I want to get a jump on the offseason and free agency by looking at how much money the Yankees will have to spend this winter. It should go without saying this is nothing more than an estimation. Salary figures are available but luxury tax calculations are complex and we really have no idea how much the Yankees can or are willing to spend. All we can have is their recent spending trends.
Anyway, if you're worried the team may try to squeeze under the $189M luxury tax threshold in 2015 after back-to-back postseason-less years, don't. Alex Rodriguez's hefty salary comes back on the books and last winter's free agent signings make getting under the threshold all but impossible at this point. Ten players are either hitting free agency or retiring (Chris Capuano, Stephen Drew, Chase Headley, Rich Hill, Derek Jeter, Hiroki Kuroda, Brandon McCarthy, David Robertson, Ichiro Suzuki, Chris Young) but that still doesn't leave the team with much wiggle room. Let's break it down.
UNDER CONTRACT (ten players signed for $175.07M)
Players: A-Rod ($27.5M), CC Sabathia ($24.4M), Mark Teixeira ($22.5M), Masahiro Tanaka ($22.14M), Jacoby Ellsbury ($21.86M), Brian McCann ($17M), Carlos Beltran ($15M), Brett Gardner ($13M), Martin Prado ($10M), Brendan Ryan ($1.67M)
Just to be clear, those are luxury tax "hits" since that's the most most important number to the Yankees. Each player's actual 2015 salary may be different. The Yankees have ten players under contract next year and the scary thing is that they have no idea what they're going to get out of A-Rod or Sabathia, plus they'll be holding their breath every time Tanaka throws a pitch, at least for the first few weeks. Those ten players don't come with much certainty.
The only contract option the Yankees have to worry about this offseason is Andrew Bailey's club option. Forgot about him, didn't you? The team signed him to a minor league deal last spring then rehabbed him from shoulder capsule surgery this summer with an eye on getting him in their 2015 bullpen. The option is valued at $2.5M, so not much but not nothing either. Bailey did not pitch at all this year — Joe Girardi confirmed Bailey had a "few setbacks" in his rehab back in August — and the option isn't a slam dunk. He might have looked awful towards the end of his rehab, enough to scare the team away. We have no way of knowing.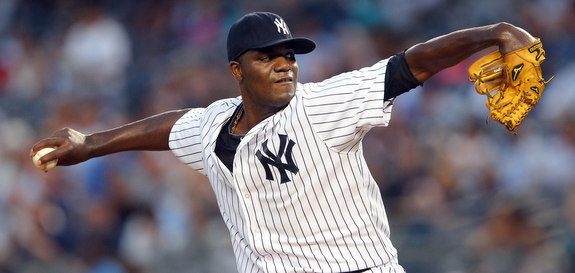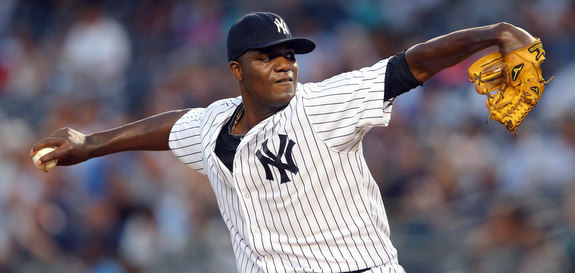 Arbitration-Eligible (seven players)
Players: David Huff (first time), Michael Pineda (first time), David Phelps (first time, Super Two), Ivan Nova (second time), Esmil Rogers (second time), Francisco Cervelli (second time), Shawn Kelley (fourth time, Super Two)
The Super Two cutoff this offseason is projected to be two years and 133 days of service time according to MLBTR, so Phelps will qualify at two years and 156 days. He should clear the cutoff comfortably even if the projection is off a bit. The Yankees managed to prevent Pineda from becoming a Super Two last year by sending him to the minors when his rehab was complete in July, but there's no more avoiding arbitration now. He'll get a nice raise in his first time through even after missing all that time.
Huff and Rogers are non-tender candidates. Huff won't get a big raise at all and, even though he pitched well this year (211 ERA+!), I don't think he's someone you go out of your way to keep. Rogers actually made $1.85M this past season and the Collective Bargaining Agreement says the Yankees can't pay him less than 80% of that next year, or $1.48M. No player has ever had their salary reduced through arbitration either. The Yankees may like Rogers' arm but there's no way they'll keep him at that salary.
Estimating arbitration salaries is damn near impossible, at least for me, but I'm going to ballpark it anyway:
Pineda: $3M, up from $500k-ish (awesome when healthy, All-Star in 2011)
Phelps: $2M, up from $500k-ish
Nova: $3.8M, up from $3.3M (hurt all year)
Cervelli: $1M, up from $700k
Kelley: $2.5M, up from $1.765M
Huff and Rogers non-tendered
Sound okay to you? MLBTR's crazy accurate arbitration projections are still a few weeks away, so this will have to do for now. If you don't like Cervelli and/or Kelley at those salaries, you still sign then them trade them, not non-tender them. They have some actual value. Not much, but some.
Anyway, my spit-balled arbitration numbers give us another $12M for five players on top of the $175.07M for ten players above, bringing us to $187.07M for 15 players. Considering I did nothing more than guess with those arbitration numbers, let's round it up to $188M and go with that. Round numbers are easy. Like I said earlier, this is nothing more than an estimation. In a few weeks we'll get a better idea of the arbitration salaries once MLBTR crunches the numbers.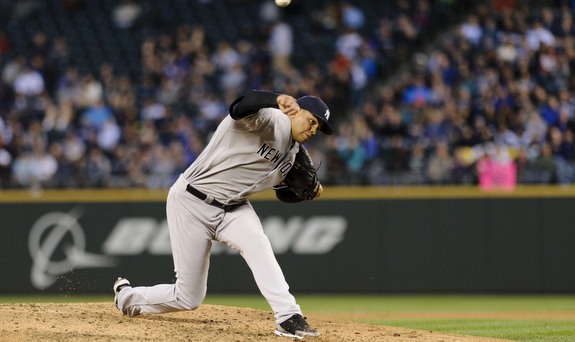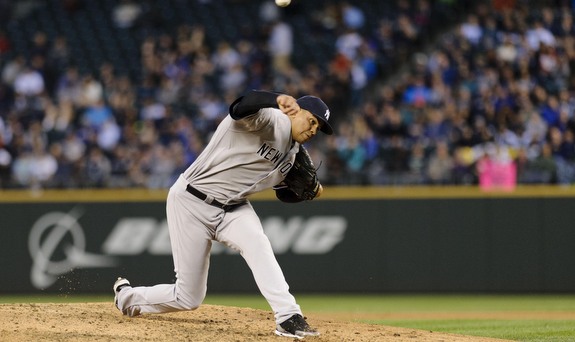 Pre-Arbitration (18 players)
Players: Manny Banuelos, Dellin Betances,  Jose Campos, Preston Claiborne, Ramon Flores, Shane Greene, Slade Heathcott, Bryan Mitchell, John Ryan Murphy, Eury Perez, Jose Pirela, Jose Ramirez, Antoan Richardson, Austin Romine, Gary Sanchez, Zelous Wheeler, Adam Warren, Chase Whitley
Richardson and Wheeler will likely be cut loose this winter, maybe Perez too. He is out of minor league options (I think) but could stick around all winter and come to camp to compete for a bench job. Then again, if the Yankees need a 40-man spot in the offseason, he'll probably get the axe. Either way, the pre-arbitration guys who get knocked off the 40-man roster will be replaced by more pre-arbitration players (Rule 5 Draft eligible players, waiver claims, etc.), so the salary numbers are a wash.
Of those 18 players, only Betances and Warren are locks to be on the Opening Day roster. Greene is a good bet to make the team in some capacity. Something would need to happen with Cervelli for Murphy or Romine to crack the big league roster. Claiborne and Whitley are classic up-and-down depth arms while Perez, Pirela, and Flores could compete for a bench job, I suppose. The rest — Banuelos, Heathcott, Ramirez, and Sanchez — are ticketed for the minors.
Like most other teams, the Yankees have a sliding scale for pre-arbitration salaries based on service time and awards voting, stuff like that. Warren and Betances won't make the league minimum next season even though the Yankees could technically renew their contracts at that salary. There's a relationship aspect to this. You don't want to upset players and agents by cheaping out with pre-arbitration salaries. Conservatively assuming $600k each for Warren, Betances, and Greene puts us at $189.8M for 18 players with this roster:
Catcher

Infielders

Outfielders

Rotation

Bullpen

McCann
1B Teixeira
LF Gardner
Tanaka
Betances
2B Prado
CF Ellsbury
Pineda
Warren
DH
SS Ryan
RF Beltran
Sabathia?
Kelley
?
3B A-Rod!
Greene
?
Phelps
?
Bench
Disabled List
?
C Cervelli
?
Nova
?
?
?
Some of those open spots can and presumably will be filled internally. Claiborne or Mitchell or Ramirez or Jacob Lindgren or Nick Rumbelow or any number of other reliever could work their way into the bullpen. Maybe Bailey and Huff too. Pirela or Perez could squeeze onto the bench. The Yankees do have some options in house but no long-term answers to any of those question marks. There's no shortstop to push Ryan to the bench, for example.
Aside from an injury-fueled outlier in 2013, the Yankees have opened the season with a payroll in the $195M to $210M range every year since 2008, give or take a few million here or there. That $189.8M covers 18 MLB roster players, though there will be another 15 players on the 40-man roster but not the active 25-man roster that count against the luxury tax. They're usually estimated at $2M (they earn lower salaries in the minors). There's also $12M or so in benefits every team must play. Now we're up to $203.8M for 17 active roster players plus Nova.
If the Yankees are going to stick to that $210M or so payroll limit, they have very little room to maneuver this winter. They need a shortstop (pushing Ryan to the bench), preferably another starter (pushing Phelps or Greene to the bullpen), and miscellaneous depth pieces at the absolute minimum. Retaining David Robertson and adding another starting caliber infielder at second and/or third base seem like two items that should be pretty high on the offseason to-do list as well.
The Yankees don't have nany pieces to offer in a cash-clearing trade either. Dealing Cervelli or Kelley is nothing more than rearranging furniture at their salary levels. Same with Phelps or even Pineda. To clear some real money, they'd have to trade Gardner or Prado, two of their three or four best offensive players. How do you trade them and realistically improve the team? I'm sure it's possible. I just don't see how. It would take some creativity and luck — not many clubs are willing to take on useful big money pieces in exchange for useful low-cost pieces. The Yankees are generally the salary dumpees, not the salary dumpers.
George King recently reported the "early industry vibe is the Yankees aren't going to spend big money this winter" and I totally buy that. Seems completely plausible after spending all that money last winter and winding up with a worse record and fewer runs scored. They took their shot(s) last offseason and may now focus on tinkering rather than overhauling. And, to be honest, the Yankees aren't one or two big free agents away from contending either. Figuring out how to get this club back on the right track without ballooning payroll will be one heck of a task for Cashman & Co.