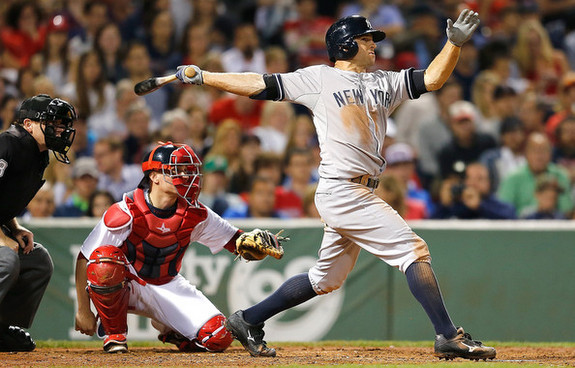 In what has become an annual tradition, it's time to look back at the longest Yankees' homeruns of this past season. Admittedly, this post has gotten a little less exciting in recent years as power around the league had dropped, especially in the Bronx. The number of 450+ blasts has gone down considerably. I guess that makes them more special.
The longest homer of the 2014 season in general belongs not to Giancarlo Stanton, but Mike Trout. He hit a ball 489 feet off Jason Vargas back in June. Here's the video. That's just ridiculous. By the way, that was the longest homer in baseball since this 494-foot Stanton blast in 2012. The last player to hit a 500+ foot homer was Adam Dunn back in 2008. Here's video of his titanic blast of Glendon Rusch.
As always, this post is made possible by the indispensable Hit Tracker, which tracks every homerun hit every season. It's truly awesome. No Yankee came particularly close to hitting the longest homerun of the season but that's not really surprising. Here are the longest homer posts for 2010, 2011, 2012, 2013 — there isn't much analytical value here, it's just appreciation of some monster dingers — and now, 2014:
t-5. April 12th: Kelly Johnson vs. Burke Badenhop (video)
t-5. July 29th: Brett Gardner vs. Nick Martinez (video)
t-5. August 3rd: Gardner vs. Craig Breslow (video above)
We've got a five-way tie for fifth place. Johnson's homer landed in Monument Park and gave the Yankees an eighth inning insurance run, stretching their lead to 7-4 over the Red Sox. Gardner's blast on July 29th was his third homer in two games and the first in back-to-back games with a leadoff homer. I'm sure you remember when he went on that little homerun binge, right? A few days later he broke a 7-7 sixth inning tie with a solo shot off Breslow. It ended up winning the game. That was an ESPN Sunday Night Game at Fenway Park and one of the most exciting games of the year. Here's the box score. All three homers traveled 420 feet, though Johnson's measured 106 mph off the bat while Gardner's July homer measured 107.5 and the August homer measured 107.9.
4. April 12th: Brian McCann vs. John Lackey
This was part of what looked like McCann's big breakout after a rough start to the season. He opened his first year in pinstripes with a 6-for-37 (.162) skid before swatting two homers off Lackey in the team's 12th game of the year. His second homer of the game was the team's fourth longest of the season. It came on a hanging 2-1 curveball and landed in the Yankees' bullpen, extending their lead to 6-2 in the sixth inning. It had the good sound, the sound a homer is supposed to make. The two-homer game didn't exactly start a hot streak, but two-homer games are always great. McCann's blast traveled 421 feet and left the bat at 108.2 mph. His first homer of the game traveled 366 feet with an exit velocity of 97.1 mph, by the way. It was one among the bottom-third of the team's homers in distance this season.
3. August 29th: Chase Headley vs. Dustin McGowan
I remember all of the other homers in this post, but this one escaped me. I watched the video and still didn't remember it. But, it happened. Headley ambushed a first pitch fastball leading off the ninth inning, extending New York's lead to 6-3. It cleared the bullpen at Rogers Centre and landed several rows back in the first deck. It was Headley's tenth homer of the season and third with the Yankees. Also his second against the Blue Jays. The ball traveled 425 feet according to Hit Tracker and left the bat at 106.3 mph.
2. August 2nd: Mark Teixeira vs. Breslow
Teixeira came out of the gate with a barrage of homeruns this season, hitting nine in the team's first 41 games and 17 in their first 90 games. He went deep only five times after the All-Star break though, and one of those five was this towering blast off Breslow. I guess we have to give Breslow some props for serving up two of the Yankees' five longest homers of the year, don't we? Three of the eight homers he allowed this season were hit by Yankees. Anyway, Teixeira's solo blast traveled 427 feet with an exit velocity of 107.5 mph, which was enough to carry it over the Green Monster and onto the roof of a parking lot across Lansdowne Street. It stretched the team's lead to 5-3 in the fifth inning. Lot of long homers for insurance runs this year, apparently.
1. April 22nd: Carlos Beltran vs. Edward Mujica
Once again, Fenway Park. The Yankees did a lot of damage there this season, including scoring 24 runs in one three-game series in late-April. Beltran capped off the scoring in the first game of that series with the team's longest homer of 2014, a 434-foot shot that left his bat at 111.6 mph. It stretched the team's lead to 9-2 in the eighth inning — another long homer for an insurance run! — and landed about ten rows back in right field. This was Beltran at his best, getting into a hitter's count (3-1) and putting a sweet swing on a hitter's pitch. We didn't see enough of that Beltran this year, unfortunately. I think Teixeira's blast was more aesthetically pleasing because it literally left the ballpark and landed across the street, but Beltran's dinger cut through the cold April night early in the season to travel seven feet further.