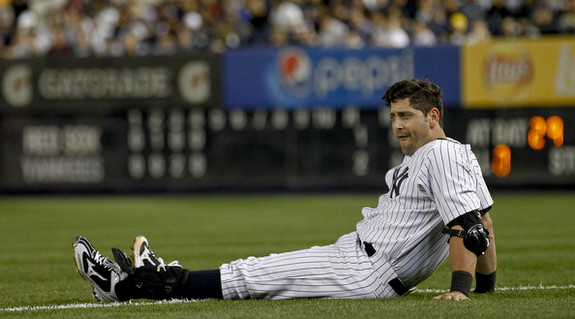 Once again, the Yankees held a faux-competition in Spring Training, this time for the backup catcher's job behind Brian McCann. Francisco Cervelli, John Ryan Murphy, and Austin Romine were competing for the job, though we all knew it was Cervelli's barring something unexpected. All three seemed to play in every Grapefruit League game as the Yankees showcased them for possible trades, but instead they kept all three. Cervelli opened the year as McCann's backup and both Murphy and Romine reported to Triple-A.
Francisco Cervelli
This past season was a typical Cervelli season. He put up very good numbers and not just by backup catcher standards — he hit .301/.370/.432 (128 wRC+) with two homers in 162 plate appearances. Cervelli also got hurt, which has unfortunately become the norm for him. He suffered a Grade II hamstring strain running out a ground ball on April 14th and was not healthy enough to return until June 17th. A series of migraines — the Yankees confirmed it was not a concussion — kept Frankie on the bench for two weeks in September as well.
Cervelli threw out a below-average 25% of attempted base-stealers and other stats say he was better than average at blocking pitches in the dirt (+0.9 runs) and framing borderline pitches (+1.47 runs per game). Like I said, typical Cervelli season. He showed promise with the bat and glove but again suffered a significant injury that limited his playing time. Cervelli has played in parts of seven (seven!) seasons with the Yankees and we still don't know who he really is. Can he sustain that level of offense and defense over a full season? It's trendy to say Cervelli could start for half the teams in the league but health is a skill and he doesn't have it.
The Yankees officially put an end to the Cervelli era yesterday by trading him to the Pirates for hard-throwing left-hander Justin Wilson. The move saves them a little cash, frees up the backup catcher's spot for a younger player, and gives them another bullpen option. Pittsburgh has a tremendous training staff and excels at keeping players healthy as Ben Lindbergh explained this summer, and they'll have their hands full with Cervelli. I'll miss his goofiness more than anything. The Yankees can be a bit dull and uptight, but Frankie played with a lot of energy and made me laugh. That alone made him worth a roster spot in my book.
John Ryan Murphy
When Cervelli went down with the hamstring injury, the Yankees called up Murphy to serve as McCann's backup for three months. He started out very well, going 11-for-27 (.407) with some pretty big knocks to drive in runs, but he cooled off after that and finished his limited tour of duty with a .284/.318/.370 (93 wRC+) batting line and one homer in 85 plate appearances.
Murphy started 21 games behind the plate and appeared in 30 overall. He threw out only two of 12 base-stealers (17%) and was below-average at blocking pitches in the dirt (-0.8 runs), but he only caught 201 innings. That's not much at all. StatCorner says he saved +0.18 runs per game with his framing, same as framing god Yadier Molina. I think that says more about the sample size and imprecision of the stats than Murphy.
As far as 30-game looks go, Murphy was about as good as you could expect from a 23-year-old catcher in his first extended taste of the show. The Yankees rave about his defensive work and they aren't the only ones. Most reports identify him as a big league caliber gloveman, if not now then soon. The Cervelli trade creates a clear path for Murphy to take over as McCann's backup, though, as we all know, the Yankees like to hold fake Spring Training competitions to keep the pressure on.
Austin Romine
If Murphy getting the call over Romine when Cervelli got hurt didn't convince you Romine had fallen on the organizational depth chart, the fact that he didn't even get a September call-up should have. The Yankees declined to call Romine up on September 1st and only called him up later in the month when Cervelli missed time with his migraines. Romine did appear in seven games this past season, going 3-for-13 (.231) with a double and throwing out the only runner who tried to steal a base against him.
After spending last season as the team's regular backup catcher, Romine was nothing more than an afterthought in 2014. The Yankees had him work out at first base in Triple-A as a way to improve his versatility — "Catching is my passion. But if they threw me at first, so be it. I can do it if it gets me in the lineup," said Romine to Brendan Kuty in September — but that doesn't figure to improve his standing in the organization all that much. Injuries and a lack of offensive development have stalled Romine's career. Unfortunately for him, the Yankees have a lot of catching depth, even after the Cervelli trade.