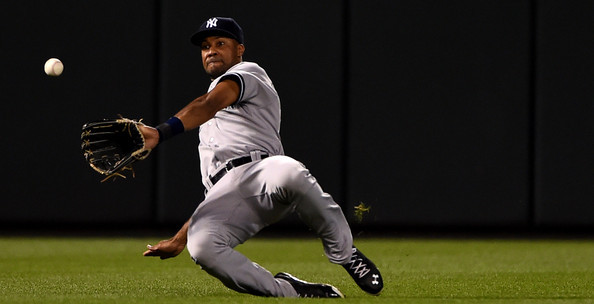 According to Jon Heyman, the Yankees and free agent outfielder Chris Young have mutual interest in a reunion. The team views him as a fourth outfielder. Both Brett Gardner and Jacoby Ellsbury are left-handed, plus Carlos Beltran has been way better from the left side of the plate these last few years, so a right-handed hitting fourth outfielder makes perfect sense.
Young, 31, hit .282/.354/.521 (146 wRC+) with three homers in 23 September games with the Yankees. He hit .205/.283/.346 (81 wRC+) with eleven homers in 111 games with the Mets before being released at midseason. Young is still an above-average defender in all three outfield spots and he'll even steal the occasional base. Some pop, some speed, good defense checks all the necessary boxes for a fourth outfielder in my book.
Young credited departed hitting coach Kevin Long for his late-season turn around — "I've been able to find some things here that can carry me for years to come," Young said to Dan Barbarisi in September — so there's at least a chance his big September is the result of tangible improvement and not just dumb luck. A one-year deal in the $2M to $3M range, maybe with incentives based on plate appearances, makes the most sense for New York.