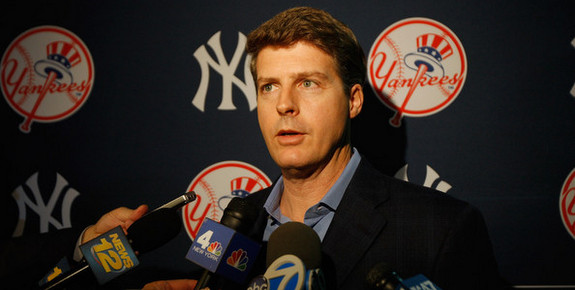 As you've surely seen by now, Kiley McDaniel recently wrote about the ways the Yankees use their financial might to secure top minor league free agents, such as Yangervis Solarte last year. Buried deep within that story was this little nugget about the team's finances:
A Yankees source told me they could break even financially with a $500 million payroll expenditure (including luxury tax) …
Whoa! That's one hell of a buried lede. McDaniel used to work for the Yankees back in the day so I'm sure he still has connections in the front office and whatnot. That's not something you can just make up and drop in a story, not if you want to be taken seriously.
Anyway, I can't even wrap my head around a $500M payroll. That's $20M per 25-man roster spot or $12.5M per 40-man roster spot. Since the $500M would include luxury tax, the actual team payroll would be $396.3M plus a $103.7M luxury tax bill. That's over $100M for nothing, just washed away into MLB's central fund. The Yankees could do that and break even, supposedly.
Now, that said, I'm not totally sure I buy the Yankees being able to support a $500M payroll, at least not on an annual basis. Maybe they could do it once and get away with it, but year after year? At this point, with attendance and ratings on the decline and the postseason far from a given, the revenue streams aren't what they were a few years ago. I don't have access to the team's books, so what the hell do I know, but a $500M payroll seems a little outrageous at the moment.
The Yankees hit the point of diminishing returns a few years ago — every additional dollar they spent on the roster was bringing fewer actual wins in the standings. Baseball is a zero-sum game, there are only so many wins to go around each year. Spend $500M on players and you'd presumably have a great lineup with a great rotation and a great bullpen. That makes you … the 1998 Yankees in the best case scenario? The best teams still only win something like 105-110 games a year at the most. That's baseball.
But let's have fun with this for a second. Say the Yankees were going to up payroll to $500M next year. That gives them roughly $190M to spend this winter when you consider their existing commitments and the luxury tax. That $190M could buy them Max Scherzer, Jon Lester, Chase Headley, David Robertson, Andrew Miller, Stephen Drew, Brandon McCarthy, Melky Cabrera, Yoan Moncada, and a bunch of lesser guys. They could also pay Alex Rodriguez to go away. They'd already be flushing $100M down the drain in luxury tax, so why not make it $120M? The team would be limited by roster size, not necessarily dollars.
Know what else would limit the Yankees? The talent pool. They could have all the money in the world to spend, but the free agent class is the free agent class. Better free agents won't just magically appear. Sure, the Yankees could use that big payroll to take on big contracts in trades, but the only contracts teams look to move are the bad ones. (MLB frowns on buying players from another team, in case you're wondering). Troy Tulowitzki has six years and $118M left on his deal. That's not bad in a world where Pablo Sandoval gets five years and $95M. Why would the Rockies just give him away for salary relief?
I'm sure more than a few people read the line in McDaniel's story and wondered why the Yankees don't just spend $500M on payroll. First and foremost, remember they are a for profit business. They aren't trying to break even. Secondly, a payroll that size comes with a lot of wasted dollars (in luxury tax) that don't appreciably improve their chances of winning the World Series. It'll add more regular season wins, sure, but only so many. They could add the same number without bumping payroll that high. The $500M is an extreme example, not a sustainable model for the Yankees or any team.
At some point in the near future, every team will have a payroll over $100M and it's only a matter of time before someone gets to $500M. It'll probably be the Yankees and I hope I'm around to see it. Spending that kind of money in this age, with free agency what it is and revenue presumably not what it once was, a $500M payroll doesn't make much business sense for the Yankees. It sure is fun to think about though.