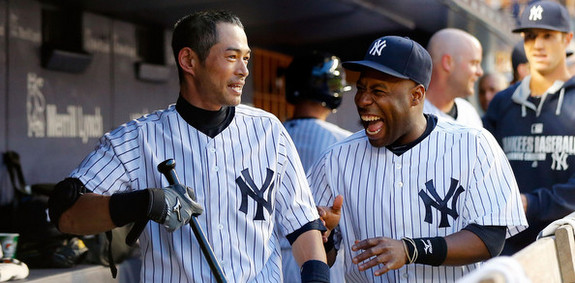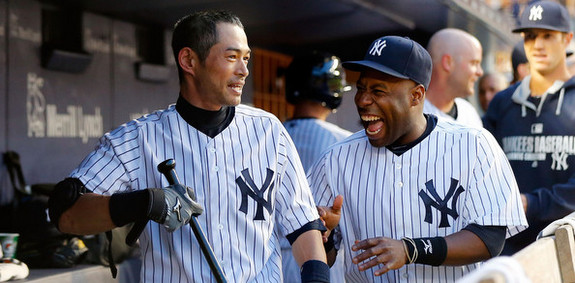 The Yankees have added outfielder Tyler Austin, right-hander Danny Burawa, right-hander Branden Pinder, and outfielder Mason Williams to the 40-man roster, the team announced. Today was the deadline to set the 40-man for the Rule 5 Draft and all four players would have been eligible. The Yankees have also sold utility man Zelous Wheeler's rights to the Rakuten Golden Eagles in Japan. There are currently 38 players on the 40-man roster, meaning New York can select up to two players in the Rule 5 Draft.
Adding Austin to the 40-man was the only no-brainer of the bunch. He had a huge second half with Double-A Trenton this summer and continued to rake in the Arizona Fall League. He played through a bone bruise in his wrist almost all of last year and again earlier this year, but it appears he's over it and had gotten back to where he was when he was one of the team's top prospects a year or two ago. Austin figures to open the 2015 season with Triple-A Scranton and could get called up at some point. If nothing else, he should be a September call-up.
Burawa is a pure reliever and has some of the nastiest stuff in the system with a mid-to-high-90s fastball and a vicious slider. He does have control problems (13.2% walk rate the last two years) and had to be demoted from Triple-A Scranton to Trenton this summer, but the Yankees have had some success figuring these guys out, with Shane Greene being a primary example. Pinder is another pure reliever whose stuff isn't as electric as Burawa's, but he had an excellent season in 2014. He is primarily a fastball-slider guy. Both Burawa and Pinder are expected to open 2015 with the RailRiders and could make their MLB debuts later in the season.
Williams both is and isn't a surprising addition to the 40-man roster. Surprising because he's been flat out terrible for two years running now — he hit .223/.290/.304 (66 wRC+) in 563 plate appearances with the Thunder this past season — and there are reports of major maturity and work ethic issues. Those guys usually aren't rewarded with 40-man spots. It's unsurprising because Williams is a top flight defender in center field and has high-end tools. He was arguably the organization's top prospect two years ago. The Yankees are obviously hoping he grows up a bit and unlocks some of his potential.
Among the players the Yankees opted not to protect from the Rule 5 Draft are first baseman Kyle Roller, left-hander Matt Tracy, and right-handers Mark Montgomery and Zach Nuding. All three pitchers could get selected. Montgomery's stuff has gone backwards the last two years but his slider still misses bats. Nuding throws hard and Tracy is both breathing and left-handed. As a reminder, any player selected in the Rule 5 Draft must remain on his new team's active 25-man roster all season, or be placed on waivers and offered back to his old team before going to the minors.
As for Wheeler, the Yankees didn't sell his rights to Rakuten — Masahiro Tanaka's former team — without his knowledge or out of the blue. Almost always in these situations, the player asked the team for permission to pursue a job overseas and has a contract lined up with a new club. Wheeler presumably did that and the Yankees let him go as a courtesy while also pocketing a little extra cash. Win-win for everyone.
Update: The Yankees received $350,000 for Wheeler's rights, according to Mark Feinsand.