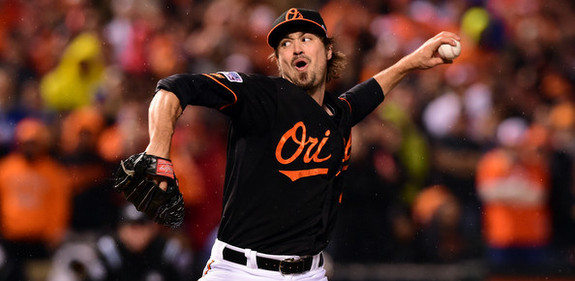 The Yankees had two elite relievers in their bullpen the last four years and they'll continue to have at least two elite relievers next year. New York has signed left-hander Andrew Miller to a four-year contract, the team announced. Jack Curry reports the deal is worth $36M total and Buster Olney says there are no no-trade or opt-out clauses. Bob Nightengale says Miller turned down a larger offer to come to New York.
Signing Miller does make it seem less likely David Robertson will return, but, for what it's worth, earlier today Brian Cashman told Dan Barbarisi the club has not ruled out signing both Miller and Robertson this winter. Either way, the Yankees will go into next season with Miller and Dellin Betances anchoring the late innings. Joe Girardi does like putting relievers in set roles, but we're a long way from worrying about who closes and who sets up.
The four-year, $36M deal is largest ever given to a non-closer reliever in baseball history. The previous record was Jeremy Affeldt's three-year, $18M deal with the Giants a few years ago. The Yankees did give Rafael Soriano a three-year, $35M contract a few years ago to go from Rays closer to Mariano Rivera's setup man. This is the first four-year deal for a non-closing reliever since the White Sox gave Scott Linebrink four years during the 2007-08 offseason. I honestly through Miller was going to end up with $10M to $11M annually.
Miller, 29, had a 2.02 ERA (1.51 FIP) in 62.1 innings last season with stellar strikeout (14.87 K/9 and 42.6 K%) and walk (2.45 BB/9 and 7.0 BB%) rates. He also gets plenty of grounders (46.9%) and held lefties to a .161/.206/.261 (.211 wOBA) batting line with 49.0% strikeout rate. Miller is no lefty specialist though — he held righties to a .142/.245/.202 (.208 wOBA) line with a 38.2% strikeout rate in 2014. Girardi can use him for full innings. Chances are this past season was a career year for Miller, but, as explained in our Scouting The Market post, he was very good from 2012-13.
The Tigers drafted Miller with the sixth overall pick back in 2006 — Miller was Adam Warren's teammate at UNC — then traded him to the Marlins as part of the package for Miguel Cabrera. It didn't work out in Florida and eventually he landed in Boston. It wasn't until Bobby Valentine got Miller to smooth out his mechanics, ditch his windup, and pitch exclusively from the stretch that he became the reliever he is today. That's pretty much the only good thing Valentine did for the Red Sox.
The Yankees addressed two of their biggest needs — late-inning reliever and shortstop — on Friday by signing Miller and trading for Didi Gregorius. They still need quite a bit of rotation help — more than before because they used Shane Greene to get Gregorius — and another infielder or reliever wouldn't hurt. There's still a long way to go before they're postseason caliber and there's plenty of offseason remaining, but the Yankees are better right now than they were 24 hours ago.