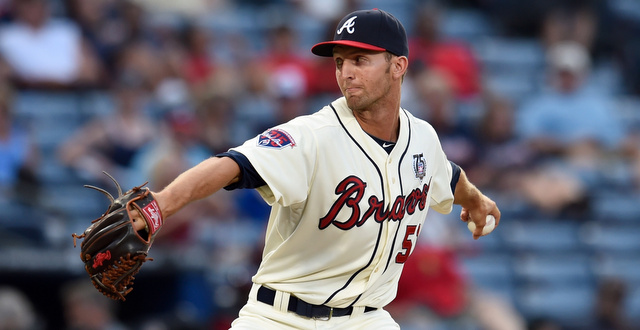 Last week, in their first transaction of the new year, the Yankees traded longtime prospect Manny Banuelos to the Braves for a pair of relievers, righty David Carpenter and lefty Chasen Shreve. Carpenter has been in the league for a little while now and will step right into Shawn Kelley's old setup role. Shreve, on the other hand, is a relative unknown with only 12.1 MLB innings to his credit.
The 24-year-old Shreve is from Las Vegas and he attended the College of Southern Nevada, where he was Bryce Harper's teammate in 2010. Harper hit 31 homers (with wood bats!) in 66 games as a 17-year-old against college kids and was drafted first overall that year. Shreve had a 5.57 ERA in 42 innings and was picked in the 11th round by Atlanta. Like a few other players on the team, Shreve benefited from the extra exposure as scouts flocked to see Harper.
Prior to the 2010 draft, Baseball America (subs. req'd) gave Shreve a one-sentence scouting report, saying he "was in the mid-80s last year and up to 91 this year, but he also battled arm injuries." Whatever those arm injuries were, they haven't hindered him as a pro. The Braves moved Shreve into the bullpen full-time immediately after signing and he averaged 68.1 innings from 2011-14, a full workload for a reliever. Here are his minor league stats, via Baseball Reference:
Year
Age
AgeDif
Tm
Lg
Lev
ERA
G
IP
H
R
ER
HR
BB
IBB
SO
WHIP
H9
HR9
BB9
SO9
SO/W
2010
19
-1.9
Danville
APPY
Rk
2.25
8
16.0
16
5
4
1
3
0
20
1.188
9.0
0.6
1.7
11.2
6.67
2011
20
-1.8
Rome
SALL
A
3.86
34
70.0
77
33
30
3
26
4
68
1.471
9.9
0.4
3.3
8.7
2.62
2012
21
-2.1
2 Teams
2 Lgs
A+-AA
2.66
43
64.1
61
24
19
3
33
2
57
1.461
8.5
0.4
4.6
8.0
1.73
2013
22
-1.8
2 Teams
2 Lgs
AA-A+
3.90
50
62.1
58
32
27
2
30
4
43
1.412
8.4
0.3
4.3
6.2
1.43
2014
23
-1.8
2 Teams
2 Lgs
AA-AAA
2.67
46
64.0
51
20
19
4
12
1
87
0.984
7.2
0.6
1.7
12.2
7.25
5 Seasons
3.22
181
276.2
263
114
99
13
104
11
275
1.327
8.6
0.4
3.4
8.9
2.64
Baseball America never ranked Shreve among Atlanta's top 30 prospects in their Prospect Handbook and it's easy to understand why — he has been young for his level every year of his career, yes, but he had a 3.48 ERA with forgettable strikeout (7.68 K/9 and 19.5 K%) and walk (4.07 BB/9 and 10.3 BB%) rates from 2011-13. Pair that with the "he was in the mid-80s last year and up to 91 this year" scouting report and he just wasn't all that interesting, even as a lefty.
That all changed during the 2014 season, when Shreve posted his best minor league strikeout (10.24 K/9 and 29.0 K%) and walk (2.79 BB/9 and 7.9 BB%) numbers. He was briefly called up to MLB in July and returned when rosters expanded in September. During his short MLB cameo, Shreve struck out 15 and walked three in his 12.1 innings while averaging 92.5 mph and topping out at 95.2 mph with his fastball according to Brooks Baseball. That's not the same "he was in the mid-80s last year and up to 91 this year" guy that was in the scouting report back in 2010.
Obviously there's the physical maturity factor — Shreve was a 19-year-old kid when Baseball America wrote his pre-draft scouting report back in 2010 and now he's a 24-year-old man who has been under the watch of professional coaches and instructors. He also changed roles and became a full-time reliever. Adding velocity during this phase of a career isn't exactly unheard of. There is a little more to the story, however. Jake Seiner explains:
Determined to start moving the other direction, he made a conscious decision to change who he was as a pitcher. In Spring Training (of 2014), he mentioned to M-Braves pitching coach Dennis Lewallyn that he was capable of throwing harder but had held back in past years to gain better control, like childhood heroes Greg Maddux and Tom Glavine. Lewallyn instructed him to rear back and fire more often, and a few months later Shreve was a Major League reliever. In the Minors, the 24-year-old left-hander posted a 2.67 ERA with 87 strikeouts in 64 innings.

"He was a guy that, the last two years, he was a crafty type guy who would move in and out," Holbert said. "He went from 88-89 to 93-94 or whatever it was, and it stayed.

"It was very strange, if you ask me. It was a different approach and a different way, but it worked out for him. I wish all those other years, we would've seen that same Chasen. Maybe he would've been in the Majors even sooner."
Shreve made a conscious decision to change who he was as a pitcher last year in an effort to advance his career, and it worked. Most guys have to learn to scale it back and not throw as hard as possible every pitch so they can improve their command. Shreve did it the other way. He started throwing harder and the result was more strikeouts, fewer walks, and a better pitcher.
There was a tangible reason for Shreve's improvement last year and that's exciting. Lefties who sit 92+ and touch 95 aren't all that common, even in relief. A total of 366 pitchers threw at least 40 innings last year, and of those 366, 172 averaged 92+ mph with their fastball. Of those 172, only 33 were left-handed. Shreve didn't come close to throwing 40 innings, but he did show that kind of velocity, and his change in approach gives us a reason to believe it's real.
In addition to his new fastball, Shreve also threw a mid-80s slider and a low-80s changeup during his MLB debut last year. (I've seen the changeup called a splitter in some places, but same difference. Both pitches accomplish the same thing.) Here's a look at that slider, courtesy of Shreve's only pitching highlight video at MLB.com:
Striking out Ryan Howard — especially as a left-hander — isn't exactly a tremendous accomplish, but that doesn't really matter. The slider looks like a decent offering based on that one-pitch sample, and since hitters swung and missed at it 16.7% of the time last year (MLB average for a slider is 15.2%), there's reason to believe it's a quality second pitch. The changeup had an even better whiff rate (18.8%), but he rarely threw it, so I'm just going to ignore it for now. Shreve has the requisite two-pitch mix to be a quality big league bullpener.
As for Banuelos, he was once the Yankees' top prospect — I ranked him number one in 2012 and number two behind Jesus Montero in 2011 — but has been derailed by elbow problems the last few years, including Tommy John surgery. He returned from elbow reconstruction last season and didn't look much like the pre-injury version of himself, though that wasn't entirely unexpected after missing nearly two full years. The Yankees talked Banuelos up all summer because that's what teams do, talk up their prospects, but other reports indicated he didn't look all that hot. Keith Law (subs. req'd) wrote there was "a big gap between his old 92-95 mph fastball with a little pop and the current 90-92 version" after seeing Manny in June, for example.
Clearly Banuelos' stock has dropped a bit because of the injuries, and, had he repeated his 2014 showing in 2015, his trade value next offseason would have been tiny. The Yankees used him to get a no doubt big league reliever in Carpenter and an interesting, suddenly hard-throwing southpaw in Shreve, who at this point in time appears to have more actual MLB value than Banuelos despite having a fraction of the name value. In fact, I would say Shreve definitely has more MLB value than Banuelos right now, not "appears to." If Shreve's velocity spike is real — and the conscious decision to simply air it out suggests it is — the Yankees may have landed themselves a quietly promising lefty bullpen piece with last week's trade.