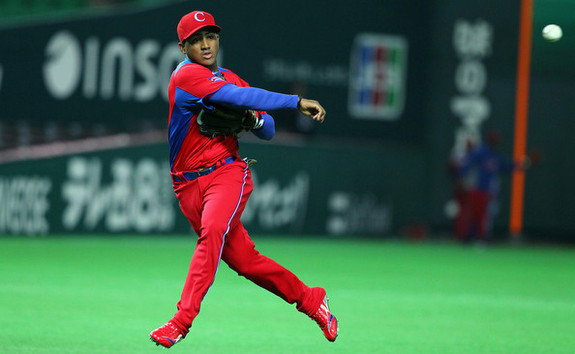 The alternative to Yoan Moncada is now free to sign. According to Jesse Sanchez, Cuban infielder Andy Ibanez has been declared a free agent by MLB and unblocked by the Office of Foreign Assets Control, so can now officially sign with a team. Infielder Hector Olivera has still not been cleared to sign, by the way.
Ibanez, who turns 22 in April, left Cuba last fall and held open showcases for teams in December and January with a few private workouts mixed in, according to Ben Badler. No word on which teams brought him in for a private workout, however. Here are Ibanez's stats from the Cuban league before defecting, courtesy of Baseball Reference:
Year
Age
AgeDif
Tm
G
PA
R
H
2B
3B
HR
RBI
SB
CS
BB
SO
BA
OBP
SLG
OPS
2011
18
-8.7
Isla de la Juventud
88
321
36
82
18
2
3
36
2
4
11
53
.278
.309
.383
.692
2012
19
-8.7
Isla de la Juventud
80
330
37
87
29
0
4
29
6
5
27
38
.300
.361
.441
.802
2013
20
-8.6
Isla de la Juventud
74
280
33
62
13
4
6
32
6
5
33
28
.267
.377
.435
.812
3 Seasons
242
931
106
231
60
6
13
97
14
14
71
119
.283
.348
.419
.767
Ibanez, a right-handed hitter, was the youngest player on Cuba's roster for the 2013 World Baseball Classic but he only received one at-bat during the tournament because the club had veterans all around the infield. Here's a quick little scouting report from Badler:
At 5-foot-11, 183 pounds, Ibanez has a thicker build for a middle infielder but he's athletic and has good body control. With fringy speed and an average arm at best, Ibanez isn't flashy, but he has a good internal clock and a high baseball IQ, fitting best at second base. Ibanez's power is mostly to the gaps, projecting as a doubles hitters rather than a big home run threat, but what's sold some scouts on him is his bat.

"He's a strong guy who doesn't have your prototype, ideal body for a second baseman, but he moves around well for his stature," said another scout. "And he performs. He's a good hitter. I liked his swing and the way he manipulated the bat."
Sanchez says the Yankees are one of seven teams with interest in Ibanez. "Ibanez is ready to sign and he could come to terms with a team once Moncada is off the board," wrote Sanchez. "There's the notion he could sign before Moncada because some teams consider him a less expensive alternative and want to get him into camp for Spring Training."
Because of his age and general lack of experience in Cuba, Ibanez is subject to the international spending restrictions like Moncada. No word on what it'll take to sign him, but the Angels gave infielder Roberto Baldoquin, who is considered a lesser prospect than Ibanez, an $8M bonus a few weeks ago. Maybe that means Ibanez will end up with $10M to $15M. Who knows. Either way, it'll be taxed at 100%.
It goes without saying Moncada should continue to be the Yankees' top priority based on everything we know. Ibanez is a secondary target who seems like a potential everyday second baseman, not a star, and that's something the Yankees could use long-term. Badler says Ibanez is likely to begin his pro career in either High Class-A or Double-A, so he's not an immediate impact guy. He's not the sexiest target, but he's a young player who fits.