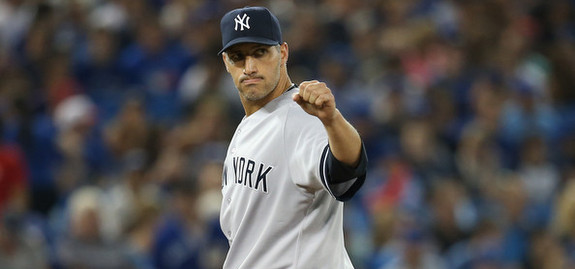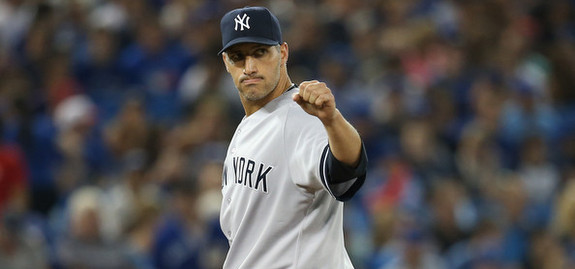 Andy Pettitte Day is coming to the Bronx on August 23rd. According to Josh Pettitte, Andy's son, the Yankees are retiring No. 46 and will honor Pettitte with a plaque in Monument Park this summer. The team has not made any kind of official announcement. (Here's a screen cap of Josh's tweet in case it gets deleted at some point. Something tells me this was supposed to be a secret.)
Over the last 18 months or so, various team officials said the Yankees are planning to honor former personnel in the coming years. Joe Torre's No. 6 was retired last summer while Tino Martinez, Paul O'Neill, and Goose Gossage received plaques in Monument Park. The club previously announced Bernie Williams will be honored in some way in 2015 as well.
In addition to Pettitte and Bernie, the Yankees are inevitably going to retire Derek Jeter's No. 2 at some point very soon. I have to think Jorge Posada will be honored in some way as well, either with a plaque and/or by retiring No. 20. Every one of these guys is an obvious and deserving candidate for some kind of honor in Monument Park.
Pettitte played 15 years with the Yankees, winning five World Series titles. He went 219-127 with a 3.94 ERA (115 ERA+) in pinstripes and is the team's all-time leader in strikeouts (2,020). Pettitte is third in on the Yankees' all-time wins list (219), third in innings (2,796.1), and third in pitching WAR (51.6). A case can be made he is the best starting pitcher in franchise history.
No. 46 will be the team's 18th (!) retired number. Nos. 1 (Billy Martin), 3 (Babe Ruth), 4 (Lou Gehrig), 5 (Joe DiMaggio), 6 (Torre), 7 (Mickey Mantle), 8 (Yogi Berra and Bill Dickey), 9 (Roger Maris), 10 (Phil Rizzuto), 15 (Thurman Munson), 16 (Whitey Ford), 23 (Don Mattingly), 32 (Elston Howard), 37 (Casey Stengel), 42 (Mariano Rivera and Jackie Robinson), 44 (Reggie Jackson), 49 (Ron Guidry) are all retired.