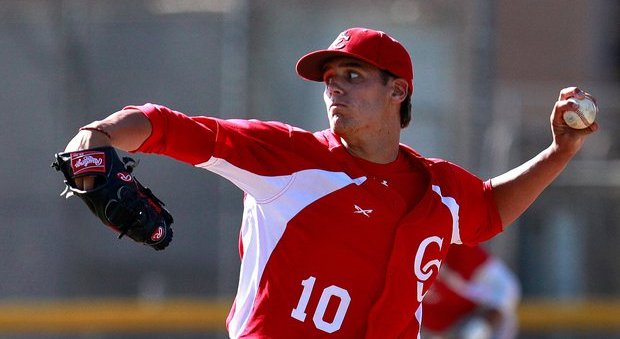 Less than a week after leaving his start for IMG Academy with what the umpire said was "tightness in his arm," top 2015 draft prospect Brady Aiken underwent Tommy John surgery on Wednesday. Aiken made the announcement himself on The Players' Tribune, Derek Jeter's site. What a world. (Jeter and Aiken have the same agent, Casey Close.)
Aiken, 18, was the first overall pick in the 2014 draft. He agreed to a $6.5M bonus with the Astros, but Houston backed out of the deal after they looked at his elbow during the physical and got scared. Aiken opted to do a post-graduate year at IMG so he could enter the 2015 draft rather than go to college and wait until the 2017 draft. Here's a snippet of Aiken's post at Jeter's site:
Since last summer, a lot of people have wondered how I could have turned down a multi-million-dollar signing bonus after being picked first in the Draft. Now, I know they'll probably be wondering about it again. I can honestly say I don't regret not signing. It was a very difficult decision, but it also was an informed decision based on circumstances only a few people know the truth about. My family and I planned for all the possible outcomes. We weighed the pros and cons, talked with friends and mentors and doctors whose opinions we value and discussed it over a number of family dinners. This wasn't a decision we made lightly.
Gosh, how bad does that make the Astros look? This 18-year-old kid just had his arm cut open and the first thing he did was type out an article saying he doesn't regret passing on their multimillion dollar offer.
Anyway, there is plenty of recent precedent for teams drafting a player with an injured elbow in the first round. Just last season, both ECU RHP Jeff Hoffman and UNLV RHP Erick Fedde had Tommy John surgery in May, then still went 9th and 18th overall in June's draft, respectively. The Nationals took California HS RHP Lucas Giolito with the 16th pick in 2012 knowing he would likely need Tommy John surgery, which he did two innings into his pro career.
The Yankees selected NC State RHP Andrew Brackman with the 30th overall pick in the 2007 draft knowing he would need Tommy John surgery, so they've rolled the dice on an injured player before. They also selected Florida JuCo RHP Shane Greene in the 2009 draft while he was rehabbing from Tommy John surgery, though he was a 15th round pick, not a first rounder. Point is, teams are willing to roll the dice of top pitching prospects with bad elbows. Hoffman, Fedde, Giolito, and Brackman were all considered top 10-15 prospects in their draft classes before getting hurt, like Aiken.
Scouting director Damon Oppenheimer said last summer the Yankees tend to lean towards college players, but Aiken seems right in New York's wheelhouse as a big (6-foot-4, 205 lbs.) lefty with command of a mid-90s fastball, a power curveball, and an excellent changeup. I was thinking that sounds a lot like young Andy Pettitte, then I remembered Keith Law (subs. req'd) called Aiken a"pretty good version of the Kershaw Starter Kit." So yeah, Aiken's a great pitching prospect. When healthy, anyway.
Thanks to the compensation pick for David Robertson, the Yankees have a $7.885M bonus pool for this year's draft, the sixth largest in baseball. If Aiken indicates a willingness to sign and the Yankees are willing to roll the dice, they have the money to make it work. They'd have to go cheap with other picks to compensate, but it's doable. The real question is whether the Rangers (fourth overall) or Cubs (ninth) will bite and take Aiken before New York's first pick (16th overall). Those two clubs appear most likely to gamble on Aiken given their bonus pools and draft tendencies.
For what it's worth, both Keith Law and Jim Callis say they still expect Aiken to be a first round pick this year.