I was planning to make this a shorter than usual mailbag because the regular season has started and there are game recaps and DotF to worry about, yet I still managed to answer eleven questions. Go figure. The "For The Mailbag" form in the sidebar is the best way to send us questions each week. We get to as many as we can.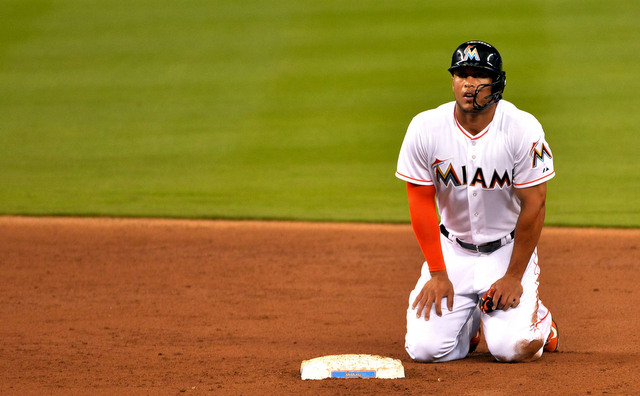 Jeff asks: Your first round pick analysis got me thinking. Can you provide some players that were drafted after the Yankees' picks that would have been a better choice knowing what we know now?
Sure, but let me be clear: this is no kind of serious analysis. "They took this guy when they should have taken that guy," is the worst kind of "analysis" you'll find. It's pure hindsight and it foolishly assumes the player would have developed the same exact way in a different organization. They're almost always going to be someone better. We can do this for just about any team, any year.
Alright, so anyway, let's just look back at the star players the Yankees passed on in the draft in recent years. I'm only going to look at the five-year stretch from 2005-09 because a) this is a lot of work, and b) we don't have as much information on players drafted more recently. The 2005-09 crop includes players who should be in MLB by now. Here's the table:
| | NYY top pick | Shoulda took! |
| --- | --- | --- |
| 2005 | C.J. Henry (17th pick) | Jacoby Ellsbury (Red Sox, 23rd) |
| 2006 | Ian Kennedy (21st) | Jeff Samardzija (Cubs, 149th) |
| 2007 | Andrew Brackman (30th) | Giancarlo Stanton (Marlins, 76th) |
| 2008 | Gerrit Cole (28th) | Craig Kimbrel (Braves, 96th) |
| 2009 | Slade Heathcott (29th) | Kyle Seager (Mariners, 82nd) |
That 2006 draft is debatable because you could argue Kennedy was (gasp!) the right pick there considering how long it took Samardzija to figure things out. Chris Tillman (Mariners, 49th) and Jon Jay (Cardinals, 74th) are other non-Kennedy options.
The 2007 draft really stood out. In addition to Stanton, some other players picked after Brackman include Todd Frazier (Reds, 34th), Josh Donaldson (Cubs, 48th), Jordan Zimmermann (Nationals, 67th), Jonathan Lucroy (Brewers, 101st), and Corey Kluber (Padres, 134th). That group shows just how unpredictable this player development thing can be. Donaldson and Kluber both changed organizations before breaking out and Donaldson had to move from catcher to third base for his bat to blossom. Stanton was a high school first baseman with major swing-and-miss issues. Hindsight is great though, isn't it?
Rob asks: Two related questions about Ty Hensley. Do you think because he's a pitcher he'd be less hurt by all that lost development time than a position player? Second, how will this impact the timing of the Yankees decision on if they have to add him to the 40 man roster? Do they get any time back from him being on the DL?
I'll answer the second question first: no. The injuries don't change his Rule 5 Draft timetable at all. Hensley will be Rule 5 Draft eligible following next season, and unless he comes back from Tommy John surgery and looks like Matt Harvey, I don't think the Yankees will add him to the 40-man roster. He's missed way too much development to think he can stick at the MLB level in 2016. This is a decision that is two years away though, so who knows.
As for the lost development time question, yes I think his chances of coming back are better than they would be if he were a position player. Historically, coming back from a long break as a hitter is very tough because hitting is so repetition based. Swings can be lost easily but not as easily found. That's why most conversions are hitters who become pitchers, not the other way around. Rick Ankiel wasn't particularly good in the second phase of his career (92 OPS+), but to do what he did was remarkable.
Tom asks: Did the Red Sox spend $95 Million for the worst 3rd baseman in the AL East?
Maybe! But you have to cherry-pick the stats to make it work. Here are four, you pick which ones you like the most. These cover the 2012-14 season:
| | 2015 Season Age | OPS+ | wRC+ | bWAR | fWAR |
| --- | --- | --- | --- | --- | --- |
| Josh Donaldson | 29 | 127 | 129 | 16.9 | 15.6 |
| Chase Headley | 31 | 123 | 123 | 13.6 | 15.3 |
| Evan Longoria | 29 | 125 | 125 | 12.6 | 12.3 |
| Manny Machado | 22 | 104 | 104 | 10.4 | 9.8 |
| Pablo Sandoval | 28 | 116 | 115 | 8.2 | 7.6 |
So Sandoval has been the worst of the five over the last three seasons. Does that mean he will be the worst over the next four years too? Who in the world knows. He's a unique player because of his offensive profile — contact-oriented switch-hitter who's much weaker from the right side — and his physique. You don't see players his size all that often, and certainly not playing a position like third base. Sandoval's really good! But the AL East is full of good third basemen and I don't think it's unreasonable to ask if he's the worst of the five.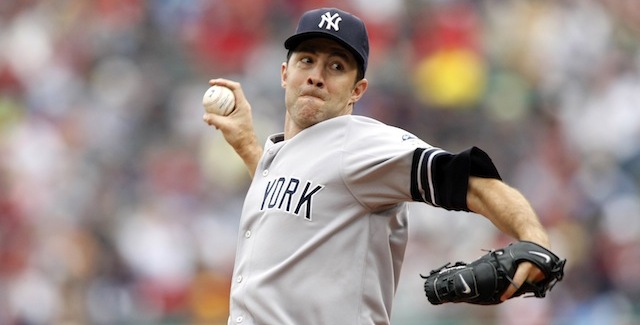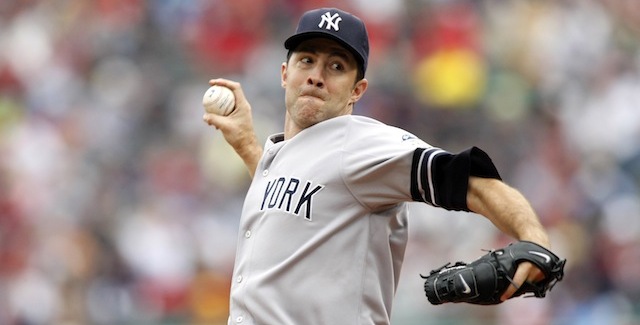 Rich asks: Looking back at the 2008 off-season, if Mike Mussina had not retired and made 30-34 starts in 2009, how would the Yankee's rotation have looked? Would they have signed A.J. Burnett? Plus, how would the post-season rotation look?
I think they would have signed Burnett anyway, but that's just me. Joba Chamberlain was the fifth starter to start 2008 and I think he would have wound up either in the bullpen or in Triple-A had Moose returned. Chien-Ming Wang went down pretty quickly with injury that year and the Yankees never did have a fifth starter after that — they cycled through Phil Hughes, Sergio Mitre, and Chad Gaudin for most of the year. Assuming Mussina pitched the way he did in 2008 (a big assumption, but let's roll with it), I think they would have gone with a four-man rotation in the postseason with Moose as the fourth starter. Who knows how that would changed things. As much as I love Moose, it's hard to see how bringing him back in 2009 would have made things better given how that season played out.
Mark asks: How do the Yankees claim such pride over having a hard throwing bullpen when at the same time they say velocity is not important when it comes to Masahiro Tanaka/CC Sabathia?
Have they said velocity is not important for Tanaka and Sabathia? I don't think they did. They've said they feel those two can be successful without mid-90s gas. Either way, throwing hard is better than not throwing hard. No one will argue otherwise. The harder you throw, the fewer runs you're likely to allow. The Yankees had the opportunity to rebuild their bullpen this winter, so they loaded up on hard-throwers. If they could have dumped Tanaka and Sabathia for healthier hard-throwers, they would have. But they couldn't, so they're stuck talking about how they can be successful without mid-90s velocity.
Joe A. asks: If Tanaka's new style proves to be ineffective 2 or so months into season, do you see them scrapping new style and just telling him to throw, elbow be damned?
Sure, but it's not really their choice. Ultimately Tanaka is throwing the pitches and he'll decide whether he really cuts it loose or not. I'm hopeful this is just a comfort thing, and as the season progresses and Tanaka and gets more comfortable with his elbow, he'll start letting it loose a little more. That's a process Tommy John surgery guys go through during their rehab, getting over that fear of throwing like they used to before surgery. There's a mental wall to break through. I don't know if that's the case with Tanaka, I just hope it is.
P.J. asks: How long before one or two of these extensions for players that still are under team control for years come back to bit the team on the butt?
They already have! Several pitcher deals haven't gone so well, which isn't surprising because pitchers break. That's part of the risk. Brett Anderson's deal with the Athletics and Scott Kazmir's deal with the Rays stand out. They didn't work out too well. Nick Blackburn's deal with the Twins was a total disaster, same with Ricky Romero and the Blue Jays.
On the position player side, the Elvis Andrus contract — which just started this year, by the way — looks pretty bad. He's gone backwards the last two years. The Vernon Wells and Alex Rios extensions didn't go as hoped for the Blue Jays and Nick Markakis just stopped developing and plateaued soon after signing long-term with the Orioles. Core guys are the ones I think you focus on signing, not complementary players. Sign Stanton but not Adeiny Hechavarria if you're the Marlins, know what I mean?
Nathan asks: With Yordano Ventura and Kluber getting locked up long term, should the Yankees look into extending Pineda this season and if he looks good, Nova?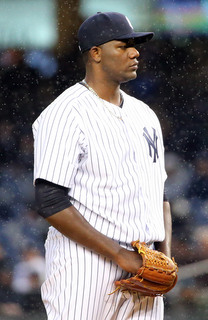 I don't think the Ventura and Kluber deals change anything for the Yankees*. Neither of those guys was due to hit free agency anytime soon and they didn't change the market all that much, if at all. If anything, the Rick Porcello contract changed the market. I like him, but I don't see him as a $20M+ a year pitcher. I think I said this in a mailbag a few weeks ago: if the Yankees want to go long-term with Michael Pineda, they have the flexibility to wait another year to see how he holds up physically. He's already had major shoulder surgery and he's under control through 2017, and the Yankees can afford to pay him anything. Unless he's willing to take a total sweetheart deal (five years, $35M?), I say wait another year and see where he's at.
* The Ventura deal is one of the few I really love. He has legitimate ace upside and the Royals got him for roughly the same guaranteed money the Phillies paid Kyle Kendrick through arbitration for the same five years of his career.
Brian asks: It seemed like Joe Girardi was heading toward choosing a closer then backed off. Is it likely that he had chosen Dellin Betances before the Spring, but he effectively lost the job based on performance? (Props to Girardi for handling the Spring if that's the case… it comes off looking like less of a stumble by Betances).
Girardi was talking about using co-closers even before the start of Spring Training and I don't think he dropped any hints about leaning one way or the other during camp, so this isn't something that came out of the blue. Dellin's rough spring could have absolutely played a role in not naming a closer, but the Yankees have shown they aren't a team that obsesses over spring results all that much. If Girardi was really concerned about Betances, I don't think he'd be willing to use him in close game early this season, which he's done already. My guess is they were planning to go co-closers all along unless either guy got hurt.
John asks: Do you think Hal Steinbrenner's patience is wearing thin with Brian Cashman and do you think a change in that position will occur if the Yankees don't make the playoffs for a third straight year?
Cashman just signed a new contract this offseason, so no, I don't think Hal's patience is wearing thin. If it was, he wouldn't have re-signed him. Now, does that mean Cashman will be safe if the Yankees miss the postseason again? Of course not. Someone will take the fall, and this stuff usually goes up the ladder. The hitting coach was fired last year, so the manager is next in line to go, then the GM is next to go after that. That's just how it usually works; I'm not saying that's what will happen. Unless the Yankees have a disaster season, like 70-92 or something, I expect Cashman to be back next year.
Steven asks: Obviously Rob Refsnyder's fielding is a legitimate enough concern to send him to the minors, but could another factor be service time, a la Kris Bryant? Also, would the Yankees do the same thing if in the Cubs' situation?
I think every team in baseball would do the same thing if they were in the Cubs' shoes. It's a no-brainer. You get an extra year of Bryant's peak and, even if he falls short of expectations and is merely good instead of great, that age 29 season is really valuable. Trading two weeks of Bryant now for a full year of him down the road is an easy choice. I hate the system, but the system is the system, and teams have to do what's best. It's a easy call.
As for Refsnyder, manipulating his service time could be a factor, though I think it's just a fringe benefit more than anything. The Yankees truly seem committed to giving Stephen Drew a chance to show last year was an anomaly, plus Refnsyder obviously needs more seasoning defensively, so Drew it is. I've said it before and I'll say it again: I see Refsnyder's career starting like Brett Gardner's, meaning he goes up and down a few times before sticking for good. In that case, his service time it what it is.