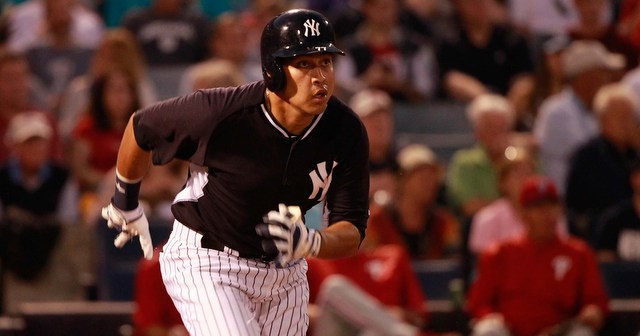 This spring, all eyes were on prospects Rob Refsnyder, Aaron Judge, and Greg Bird when Grapefruit League play opened. They're three of the Yankees' very best prospects and all could be in the big leagues sooner rather than later, especially Refsnyder. All three of them had strong Spring Trainings as well, at least offensively. This was a good spring to prospect watch. That's for sure.
While those three were doing their thing and others like Slade Heathcott, Luis Severino, and Jacob Lindgren were flashing their ability, outfielder Ramon Flores flew under the radar and had a productive spring. His overall Spring Training numbers weren't great (.239/.314/.413 in 51 plate appearances) but he finished very strong, going 7-for-18 (.389) with two doubles and a homer in the final two weeks, when big leaguers were getting most of the playing time.
Flores was one of the last cuts from big league camp and he went to Triple-A Scranton, where he hit for the cycle on Opening Day and had a two-homer game a week later. He has a .271/.340/.625 (188 wRC+) batting line with four homers in 53 plate appearances in the very early going, and has hit .251/.340/.473 (134 wRC+) with eleven homers in 324 Triple-A plate appearances overall since the start of last year. Flores would have played more with the RailRiders last summer had he not suffered a fluke ankle injury running the bases and missed more than two months.
Two years ago I aggressively ranked Flores as the fifth best prospect in New York's system — Baseball America has never ranked him higher than 12th in the system (also prior to 2013), for what's it worth — and said he is "a classic foul line-to-foul line hitter who will need to add some strength to turn his gap power into over-the-fence power down the road." Well the over-the-fence power has started the arrive. Flores hit nine homers in only 68 total games last year after hitting six homers in 136 games in 2013 and seven homers in 132 games in 2014. And he's already got four homers in eleven games this year. Development!
I consider Flores more of a high probability prospect than a high ceiling prospect, someone who is more likely to spend ten years in the league as a platoon left-handed hitting corner outfielder than someone who goes to a few All-Star Games at his peak. He's a Seth Smith type, basically. That's okay! That's a very useful player and someone the Yankees should be happy to have only the phone call away in Triple-A. You need depth players like that. The cheaper and more homegrown they are, the better.
The problem is the Yankees have no real spot for Flores on the roster. Not now and probably not next year either. Brett Gardner and Jacoby Ellsbury are two of the best players on the team, and, like it or not, Carlos Beltran's contract and track record mean he's going to have a very long leash. It's not going to take one injury for Flores to get a chance with the Yankees, it'll probably take two injuries because Chris Young and Garrett Jones are ready to step in if an outfielder gets hurt. It could happen, sure, but a lot needs to go wrong.
Right now Flores should be at the front of the line for a call-up, but there are other outfielders right behind him on the depth chart. Tyler Austin is also in Triple-A and has the advantage of batting right-handed, which the Yankees need more (both short and long-term) than another lefty like Flores. Judge is in Double-A and expected to be an impact player, not a role player like Flores. Jake Cave is also putting up numbers is Double-A and can legitimately play center field, unlike Flores. Heathcott and Mason Williams are trying to salvage their careers as well. Flores is at the front of the call-up line, but for how long?
These days we follow prospects from the day they sign their first pro contract, so it feels like Flores has been around forever, but he just turned 23 last month. He's exactly one year younger than Refsnyder, who is considered the shiny new toy with two years and change of pro ball to his credit. Flores does have only 73 career games at Triple-A to his credit, so a few more weeks with the RailRiders wouldn't be the end of the world, but, both short and long-term, it's tough to see where Flores fits with the Yankees unless they do something unexpected like cut Beltran or trade Gardner. Flores is a quality player who doesn't fit the current roster.
A trade is always possible but I'm not sure what the Yankees could get in return for someone like Flores, who's cheap and figures to be productive but is unproven at the MLB level and doesn't play a hard-to-fill position. The Tigers traded a similar player in Matt Joyce to the Rays for three years of Edwin Jackson during the 2008-09 offseason, but Joyce hit .252/.339/.493 (116 OPS+) with 12 homers in 92 big league games in 2008. He had some sort of MLB track record. Flores doesn't and it's hard to see how he'll get much of a chance to prove himself in New York anytime soon.
"(Flores is) a guy who's definitely on our radar. If something was to happen to one of our outfielders, I think he'd be a pretty strong candidate (to be called up)," said Joe Girardi to Ryan Hatch in Spring Training, and I totally believe it. Flores is the obvious call-up candidate if an outfielder hits the DL, but getting called up and actually playing are different things. Gardner and Ellsbury have to play, Young has earned some more playing time, and Beltran's leash is long. In just about any other organization, Flores would be forcing his way onto the MLB roster right now. Instead, he's stuck with the Yankees, where it'll take multiple injuries or a surprising trade of a veteran to get a chance.