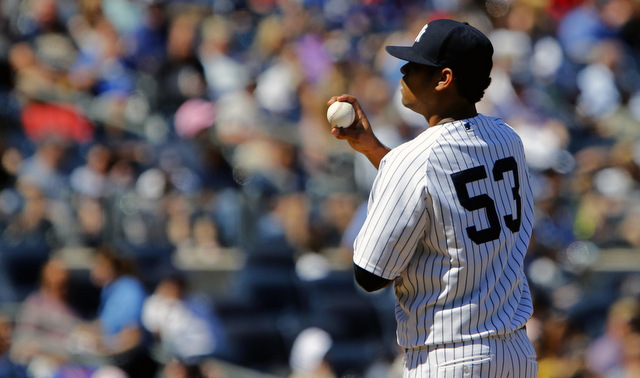 This should come as no surprise. During an MLB Network radio interview late last week (audio link), Brian Cashman confirmed the Yankees are indeed looking for another right-handed reliever. They're currently carrying two righties (Dellin Betances, Esmil Rogers) and five lefties (Andrew Miller, Justin Wilson, Chasen Shreve, Jacob Lindgren, Chris Capuano) in the bullpen, which is unusual, if nothing else.
"We lined up a lot of moves this winter to give ourselves a really deep bullpen, some of which have really paid dividends" said the GM. "Others, recently with the designation of David Carpenter, haven't. So, I need to probably find a right-handed arm. Not probably, I do need to find a right-handed arm for the bullpen here at some point. We have Miller, Betances, Wilson, Shreve, Lindgren, Capuano and Esmil Rogers as the long man.
"Really, outside of Dellin Betances there's only one right-handed arm out there and he's the long man, so I've got a number of lefties out there in Wilson and Shreve and Lindgren that all can get righties out. At least that's the benefit of those guys, so it's not as much of a pressing issued, but I certainly would love to get an arm that Carpenter I think is, but it's just not here in New York."
The five-lefty bullpen isn't necessarily a problem right now because, at the very least, four of those lefties can get righties out. The only real question mark is Lindgren, a rookie with only a handful of weeks in the show who is not yet in the Circle of Trust™. But still, it would be nice to have a more balanced bullpen, especially since the Yankees have series coming up with the righty heavy Nationals, Marlins, Tigers, and Astros.
The Triple-A options are plentiful — Jose Ramirez, Branden Pinder, Danny Burawa, and Bryan Mitchell are all on the 40-man roster — but it's unlikely any of those guys would jump right into any kind of high (or even medium) leverage role. The Yankees need a righty for the seventh inning, basically. What Adam Warren — or heck, even Shawn Kelley — was last season. That was the role Carpenter was supposed to fill.
It is worth noting right-hander Nick Rumbelow has started working longer stints in Triple-A — he's thrown at least two innings and 26+ pitches in four of his last five appearances — which is what the Yankees had Lindgren do before he was called up. Rumbelow has a 4.03 ERA (3.00 FIP) with a 27.1 K% this year after pitching to a 2.62 ERA (2.05 FIP) with a 34.0 K% at four levels last year, and he really impressed in Spring Training. That doesn't mean he is coming up, but Rumbelow has to be considered a bullpen candidate for now.
Pretty much no team is ready to sell at the moment — I'm sure the Phillies would trade Jonathan Papelbon today, but nah — so the trade market is thin. Free agent Rafael Soriano will throw for scouts on Thursday according to his new representatives at Octagon. He recently fired Scott Boras and is now working out for scouts, so you know he's itching to get back to work. As I said last week, there's no downside to signing Soriano if he comes cheap and is willing to accept a setup role. If he helps, great. If he stinks, you cut him and wind up right back where you started.
Right now, the lack of another right-handed reliever is not really hurting the Yankees. It's an inconvenience more than a major flaw. The middle relief has settled down of late mostly because Shreve has assumed more responsibility, so the Yankees aren't desperate either. Cashman's right though. They will need another righty reliever at some point this summer. Maybe Rumbelow can be that guy, maybe it'll be Soriano. Either way, I don't expect the five-lefty 'pen to last forever.