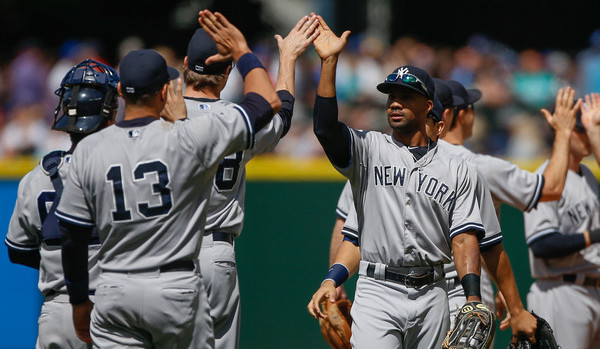 All things considered, the seven-game West Coast trip went pretty well for the Yankees. Yeah, they couldn't get out of their own way against the Athletics, but the three-game sweep of the Mariners was pretty sweep. Ditto getting Masahiro Tanaka back, especially considering how sharp he looked. Anyway, here are some thoughts on the off-day.
1. The Brian McCann injury is a problem. He's heading for an MRI today, and Joe Girardi told reporters yesterday that McCann has been nursing a sore foot for more than a week now. Apparently it became too much to take yesterday. McCann said it hurt most when he was squatting behind the plate, so yeah, that's a problem. Hopefully this is something that can be knocked out with some treatment and a few days on the bench. If not, do the Yankees call up Austin Romine or Gary Sanchez? Romine would have to be re-added to the 40-man roster, and whenever McCann comes back Romine would have to go through waivers to go back to Triple-A. Sanchez could go up and down no problem. I suppose this depends on the severity of the injury. If it's a short-term thing, Sanchez would be the easier temporary move. If it's a long-term injury — we're all hoping it isn't, obviously — jumping through those hoops to bring Romine back would be best. Either way, losing McCann would be a major blow. The Yankees need him both in the lineup and behind the plate, and that's coming from the world's biggest John Ryan Murphy fan.
2. Brendan Ryan is close to coming back soon — he's already played three minor league rehab games, including two at Triple-A — prompting Girardi to tell Chad Jennings earlier this week that he was "not so sure exactly what the move will be (to get Ryan on the roster), but our thought is when he's ready, we'll bring him back." David Carpenter getting designated for assignment yesterday clears a 40-man spot for Ryan, who has to come off the 60-day DL, and I assume Jose Pirela will be sent down to clear a 25-man roster spot. Pirela hasn't played well enough offensively or defensively to force the team to consider keeping him. As crazy as it sounds, Ryan might actually be the team's best utility infielder option at this point. He's not going to hit, we all know that, but he will at least catch the ball, something Pirela hasn't done. Gregorio Petit? He's basically the poor man's version of Ryan. After spending the last few weeks wondering where Ryan fit, it seems like there's a pretty obvious place for him on the roster right now. Funny how things work out.
3. The Carpenter move surprised me only because I didn't think the Yankees would sacrifice the pitching depth and cut bait on a previously reliable reliever they controlled for another three years after only 18.2 innings. I thought they'd simply send Jacob Lindgren down and keep running Carpenter out there, hoping he'd figure it out. I'm sure they'll be able to trade Carpenter for something before the ten days are up — nothing great, but something, and they might already have a deal lined up — but it sucks things fell apart so quickly. I am happy Lindgren is sticking around though, even if he's not in the Circle of Trust™ yet. That takes a little time. Look at Dellin Betances last year. I think Lindgren could be a real asset out of the bullpen for Girardi once he gets settled in and realizes he's a big league caliber reliever. It's a shame Carpenter didn't work out, but I am excited the Yankees showed so much faith in Lindgren. It would have been real easy to send him back to Triple-A.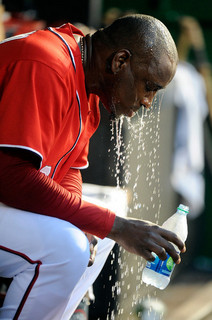 4. Now, that said, doesn't it make sense for the Yankees to at least explore signing Rafael Soriano? They only have two right-handers in the bullpen, one awesome (Betances) and one not so awesome (Esmil Rogers). That's not really a big deal because the various lefty relievers can get righties out, but we all know Girardi likes his matchups, so at some point he's going to bring Rogers into a high-leverage spot to get the right-on-right matchup. It's inevitable. Soriano had a 3.19 ERA (3.08 FIP) with a 23.4 K% with the Nationals last year, so while he's no longer the Soriano of old, he's probably better than Rogers and a more capable No. 2 righty complement for Betances. Soriano just fired Scott Boras, presumably because he's not happy he's still unemployed, so maybe he'd be willing to return to the Yankees on the cheap. One year and $2M or something along those lines. I don't see much of a downside. If he won't sign cheap, you don't sign him. If he will sign cheap, bring him aboard and see what he can do. If he stinks, you cut him loose and wind up right back where you started. At the very least, it's worth looking into Soriano and seeing if he's willing to sign cheap and pitch in a quasi-setup role. There's little downside.
5. Chase Headley's sudden inability to make routine plays this year is really annoying. It's just routine plays too, you notice that? He still makes great defensive plays all the time. The routine ones are becoming an issue. That to me suggests at least part of the problem is mental. Thinking is bad in baseball. Bad things happen when players start thinking. Ideally they would rely on instincts. When Headley gets an easy play, he's had trouble making it because there's so much time to think. When he's had to hustle to make a tough play, he's made it with no problem. Maybe I'm wrong, but that what it seems like to me. Headley's bat has come around of late (.300/.344/.450 in his last 22 games) and he still makes all the tough plays at third base, but the easy ones? They're an adventure. It's the weirdest thing. I think he'll get over it in due time. But man, this has been a surprise. I was not expecting to get nervous every time a ground ball is hit towards third base this season.
6. Didi Gregorius has been hitting better of late (.299/.340/.420 in his last 14 games) and lately it appears he is really focusing on hitting the ball the other way. He was jumpy at the plate earlier this season, trying to hook everything to right field, but now Gregorius seems more relaxed and is stroking the ball out to left. The data backs it up too. Here are Didi's spray charts before the start of the last homestand (the series against the Rangers) and since the start of the homestand, via Texas Leaguers. You can click the image for a larger view:

Since the start of the homestand 14 days ago, Gregorius has pulled just four balls to right field, with two leaving the yard and two others falling in for hits. Everything else has been hit to left and center fields, so I'm not going crazy. He is spraying the ball the other way more often now. Is it intentional? Who knows. It appears Gregorius is focusing on hitting the ball to the opposite while still being able to unload and pull a pitch with authority when he gets something to drive. This is something to monitor. Didi still makes dopey plays in the field, but his bat has slowly but surely coming around.
7. Given how well he's been hitting of late, I think the Yankees should play Garrett Jones in left field while Jacoby Ellsbury is out, at least against right-handed pitchers. I like Ramon Flores and think he's going to wind up spending like a decade in the show as a Seth Smith type, but Jones has game-changing power, and the Yankees are better off with him in the lineup than Flores right now. If McCann has to miss time with his foot issue, playing Jones in left becomes even more of a no-brainer. They'd have to replace the lost left-handed pop somehow. Jones was terrible in April, probably because he rarely played, but he's now 10-for-22 (.455) with three homers in his last nine games. Ride the wave, baby. Milk this hot streak for all its worth before he goes cold again. There will plenty of time to play Flores later in the season.