Got a dozen questions for the mailbag this week. If you want to send us any questions or links or anything, use the "For The Mailbag" form to submit it at any time.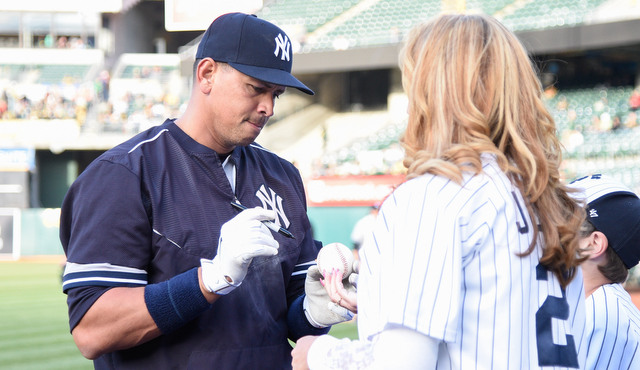 Vinny asks: Check out A-Rod's splits this season. He's batting over .300 against righties, and under .200 against lefties.
Yep. Alex Rodriguez is hitting .294/.365/.544 (151 wRC+) with nine homers against righties (he was hitting over .300 when Vinny sent the question in) and .190/.358/.429 (120 wRC+) with two homers against lefties. I think this is a sample size issue though — A-Rod has only 53 plate appearances (.214 BABIP) against lefties compared to 136 plate appearances (.323 BABIP) against righties. Rodriguez did have a big reverse split back in 2013 as well (131 vs. 82 wRC+), but again, he only played 44 games that season, and it's probably just sample size wonkiness. My guess is his right-left splits will even out as the season progresses, and chances are his numbers will be better against lefties than they are against righties come Game 162.
Christian asks: With David Carpenter being DFA'd in favor of demoting Jacob Lindgren and reports floating around that Luis Severino could be up by the All-Star break, do you see the Yanks possibly bringing up Severino in the bullpen and dumping Esmil Rogers? Maybe they really are going with talent over cost/veteran experience?
I definitely think it's possible Severino will be called up to work out of the bullpen in the second half. I don't know if he'll replace Rogers, but I'm sure it's on the table. As poorly as Esmil has pitched (4.94 ERA and 4.79 FIP), I've always felt there's value in having a veteran retread long man, someone Joe Girardi could abuse — perfect example: Rogers threw 35 pitches on April 9th then 81 pitches on April 10th in the 19-inning game, and that's not something you could do with a pitcher you're planning to have around long-term – without worrying. That said, I absolutely trust Girardi to not overwork a kid like Severino. Who Severino replaces will depend on who is pitching well at the time more than anything. Could be Rogers, could be Chris Capuano, could be Lindgren. Maybe Lindgren pitches himself back to Triple-A. We'll see.
Brian asks: Either I've missed that inning every game I've watched (and granted I am using MLB.TV as I've moved between seasons) but did YES get rid of the trivia question? Am I crazy?
I hadn't noticed this until you said something, but I asked around, and apparently they still have trivia questions, though it isn't an every game thing anymore. They ask on special occasions — "So and so reached this milestone, who is the last Yankee to do this?" sorta stuff —  and that's it. I'm not sure why it changed. I don't really miss it, though it was fun getting the answer right once in a while.
Chris asks: Dellin Betances has pitched in over 100 MLB games without taking a loss. Is this a record to start a career!?
Betances is 9-0 in 104 career appearances, but no, that is not the record to start a career. Not even close, really. The record for most appearances before suffering a loss belongs to a recent Yankee, lefty Clay Rapada. He is 8-0 in 152 career appearances and that streak is still active, though he hasn't pitched in MLB since 2013. Rapada is still bouncing around Triple-A and could resurface at any moment. As best I can tell, the second most appearances before the first loss is 105 games by ex-Pirates reliever Jeff Wallace, so Betances is right behind him.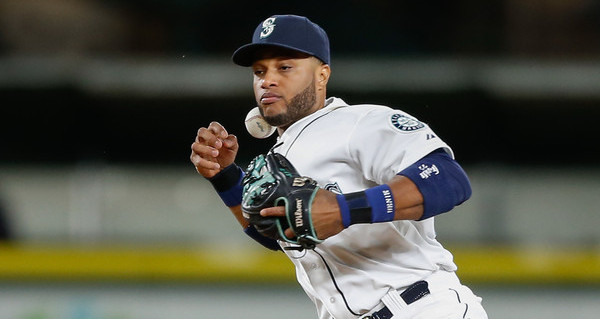 Dan asks: How much money would the Mariners have to eat for the Yankees to trade for Robinson Cano?
Gosh, I don't even know at this point. Last year my default answer was "enough to turn it into the seven-year, $175M contract the Yankees offered Cano," but I'm not sure that applies anymore. Robbie looked really bad in that last series, worse than I ever remember him looking when he slumped with the Yankees. And we're in June now, we have to start seriously asking if it is a sign of major decline or just a slow start. The aging curve for second basemen is not pretty historically. Cano is still owed ~$208M through 2023, but is he even a $150M player at this point? I think the conversation has to start there, with Seattle eating $58M, and I'm not even sure that's enough. I love Robbie, but man am I happy the Yankees do not have his contract on the books right now.
Sean asks: How are the Yankees doing in pitches per appearance? It seems like Brett Gardner, Mark Teixeira, and A-Rod are leading the way in that department.
Believe it or not, Teixeira is one of the worst Yankees when it comes to pitches per plate appearance. That surprised me, especially since he leads the team with 31 walks (only 29 strikeouts!). The MLB average is 3.80 P/PA this season. Here are where the Yankees regulars rank among the 169 hitters qualified for the batting title:
| | P/PA | MLB Rank |
| --- | --- | --- |
| Brett Gardner | 4.28 | 6th |
| Alex Rodriguez | 4.00 | 40th |
| Stephen Drew | 3.99 | 42nd |
| Chase Headley | 3.92 | 51st |
| Jacoby Ellsbury | 3.90 | 58th |
| Carlos Beltran | 3.88 | 64th |
| Brian McCann | 3.78 | 98th |
| Mark Teixeira | 3.77 | 100th |
| Didi Gregorius | 3.75 | 105th |
Carlos Santana leads MLB with an average of 4.46 P/PA while Jose Altuve ranks dead last at 3.10 P/PA. Altuve really likes to swing. The Yankees as a team are averaging 3.86 pitches per plate appearance, sixth most in baseball. Last year the Yankees ranked eighth (3.88 vs. 3.83 average) and the year before that they were 15th (3.84, exactly average). So the Yankees are doing a better job working pitchers this year, albeit slightly.
Nick asks: What is Jose Ramirez at this point? Is he even a decent bullpen prospect or is he the second guy to be DFA after Matt Tracy?
No, I don't think he's next in line to be dropped when a 40-man roster spot is needed at all. I imagine Jose DePaula, Gregorio Petit, and Danny Burawa are ahead of him at the very least (Tracy was outrighted off the 40-man yesterday). Ramirez is still walking too many guys (10.8 BB%) but he's missing bats (25.5 K%) and had a 2.49 ERA (2.58 FIP) in 25.1 Triple-A innings heading into last night's game. I still believe in the stuff — PitchFX had Ramirez at 94.6 mph with an 87.0 mph slider during his brief one-inning cameo earlier this year — and he has a minor league option left for 2016, so there's no rush here. Ramirez's prospect stock has taken a hit the last few years, no doubt about it, but he still has a live arm and I think he can be a factor for the Yankees out of the bullpen at some point.
Nick asks: What would a contract extension for Dellin Betances look like this offseason. Figuring he isn't the closer, would a 4-5 year deal make sense? Maybe around $4 million a year?
There are no good comparables for Betances, an overwhelmingly dominant setup man. Most pitchers this dominant wind up in the ninth inning, and saves do still pay around MLB. Dellin only has one year and 79 days of service time too.  Only two relievers have signed an extension longer than two years with fewer than three years of service time over the last six and a half years: Sean Doolittle (four years, $10M, plus two options) and Sergio Santos (three years, $8.25M, plus three options). That's it.
The Yankees have Betances under control though 2019, his age 31 season, plus Andrew Miller is going to be saving games for the foreseeable future. Dellin won't rack up enough saves to inflate his earning potential through arbitration. Also, Spring Training and early-April were a little reminder things can fall apart pretty quickly for Betances. We can't completely ignore his pre-2014 history. I'm not so sure the Yankees should rush to sign Dellin long-term. Tyler Clippard made $20.3M and Luke Gregerson made $10.3M during their final four years of team control as elite setup men, though Clippard was a Super Two. Betances won't be. So maybe four years and $16M or five years and $20M is reasonable if the Yankee do want to sign Betances long-term. That'll save the team some bucks at the end of his arbitration years, especially if Dellin takes over as closer at some point.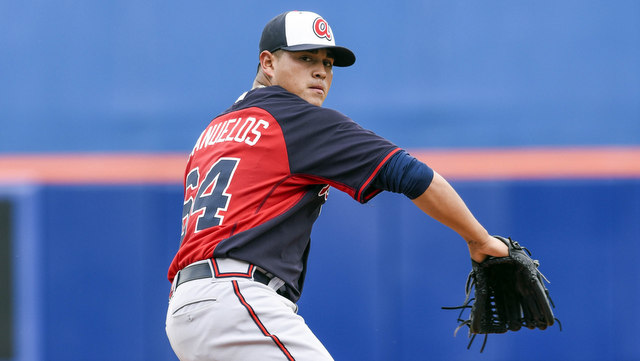 Zachary asks: Why did the Yankees give up so early on Manny Banuelos? It looks like he's pitching pretty well out in Atlanta and David Carpenter has unpredictably been horrendous. At the time of the trade, ManBan was 23, a former star prospect, coming off Tommy John surgery. Why not give the kid a couple of years before dispatching him for a middle reliever, especially since the Yankees were already signing Miller, have Betances and drafted Lindgren. Seems quite nonsensical.
I wouldn't say they gave up on him early. Banuelos was in the farm system for seven years before they traded him, and he's only gone backwards the last four years. Remember, Banuelos had a 3.75 ERA (4.15 FIP) with an unsightly 12.3 BB% back in 2011, his last healthy season before the elbow acted up, and we were all wondering where his trademark command went. Banuelos has shown nothing more than marginal improvement this year …
| | ERA | FIP | K% | BB% | GB% | HR/9 |
| --- | --- | --- | --- | --- | --- | --- |
| 2014 | 3.60 | 5.56 | 18.6% | 14.3% | 40.0% | 1.20 |
| 2015 | 2.93 | 3.55 | 20.7% | 10.4% | 43.2% | 0.34 |
… aside from the fluky low home run rate. There are no reports his stuff has improved or anything like that either. Banuelos is in his final option year so the Yankees couldn't "give the kid a couple of years" to work it out even if they wanted to. He he has to stick in MLB for good next year or be exposed to waivers. Carpenter flat out stunk in pinstripes, but Chasen Shreve has been really good, and what are the odds Banuelos was ever going to be as valuable to the Yankees as Shreve is right now? Banuelos is no longer the guy he was three or four years ago. Maybe he'll get back there are some point, but the Yankees opted to turn him into something useful before his stock fell any more.
David asks: When was the last time neither a Yankee or a Red Sox was voted onto the All-star team?
There were no Yankees or Red Sox players in position to start the All-Star Game when MLB released the latest voting update earlier this week. There were no Red Sox players in the starting lineup last year, so that's the easy part of the question, but the Yankees have had at least one player start the All-Star Game every year since 1999. Somehow they ruled the baseball world in 1998 but had no All-Star starters in 1999. Go figure. The last All-Star Game with no Yankees and no Red Sox players in the starting lineup was 1998. Weird.
Dan asks: Could the Yankees target Martin Prado for a trade?
Sure, I suppose they could. Prado has been kinda blah so far this year, hitting .287/.323/.370 (92 wRC+) with three homers and a career low walk rate (3.9%) for the Marlins, but that's enough to be an upgrade over Stephen Drew at second base even with the defensive hit. Prado's got about $18M left on his contract — the Yankees are paying $3M of his salary this year and next — through the end of next season, so he's probably overpaid at this point, yet he's still useful and could also be a backup at third base and another outfield option. The Yankees got two and a half years of Prado for Peter O'Brien last year, so it stands to reason one and a half years of Prado would cost less. Then again, the Diamondbacks seem to value O'Brien very highly. Very, very highly. For what it's worth, Joe Frisaro says the Marlins aren't planning to sell, which is something teams always say this time of year. Prado is on the radar but I'm not sure how realistic it is.
Frank asks: How long do the Yankees have Slade Heathcott under contract for? How does his one-year minor league deal that he signed this offseason effect his free agent eligibility?
It doesn't change anything, the minor league contract went away when the Yankees re-added Heathcott to the 40-man roster last month. (Players technically sign a new Major League contract that supersedes their minor league deal when they get called up and added to the 40-man.) This is Slade's first stint in MLB, so he came up with zero service time. The Yankees have him for the rest of this year plus another six years after that — Heathcott does accrue service time on the DL but he won't be up long enough to get a full season's worth of service time in 2015 — so through 2022 assuming he never goes back to the minors, which is unlikely.