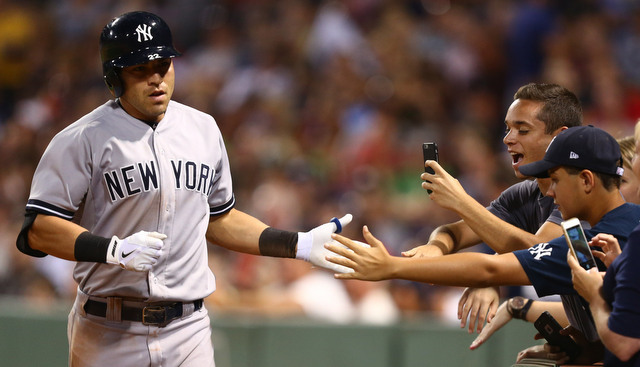 It's the final game of the first half of the 2015 season. Well, unofficially. The real halfway point of the season (Game 81) was last weekend. Today is just the final day before the All-Star break. The Yankees will be either 48-40 or 47-41 at the break this year after being .500 at the break last year (47-47). Hooray improvement! Still a long way to go though.
The Yankees dropped a somewhat boring game last night, the kind of game that will soon fade into the giant blob of baseball we forget each year. Nothing stood out about it aside from Rob Refsnyder's debut. This afternoon the Yankees can clinch the series win and head into the break having won three straight series and seven of their last ten games. That sounds good. Let's do that. Here is Boston's lineup and here is New York's lineup:
CF Jacoby Ellsbury
LF Brett Gardner
DH Alex Rodriguez
1B Mark Teixeira
RF Chris Young
C Brian McCann
3B Chase Headley
SS Didi Gregorius
2B Rob Refsnyder
RHP Nathan Eovaldi
More nice weather at Fenway Park. Nice and sunny but not oppressively hot and humid. Good afternoon to go to the park. Today's first half finale is scheduled to begin at 1:35pm ET and can be seen on YES locally and TBS nationally. Enjoy the last Yankees game until Friday, everyone.
Rotation Update: The rotation order to start the second half will be Masahiro Tanaka, Michael Pineda, CC Sabathia, Eovaldi, and Ivan Nova, the Yankees announced today. They have an off-day next Monday and could have used that to avoid the fifth starter until the ninth game out of the All-Star break. I'm somewhat surprised they're not using that to skip Pineda and control his innings.