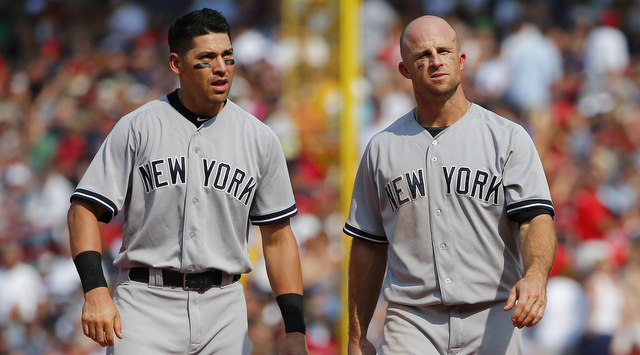 By know you know the numbers. The Yankees were held to one run during their three-game series against the Blue Jays — that run was scored on a cheap Yankee Stadium homer too — leading to back-to-back shutouts on Saturday and Sunday. They were held to three singles in each of those two games. It was ugly. The offense scored 90 runs in ten games and then four runs in their next five games. Baseball, man.
The slump won't last forever, we all know that, but the Yankees need it to end sooner rather than later to hold off the Blue Jays. The entire team stunk at the plate over the weekend, you can't really point your finger at one or two culprits, but it's clear who the Yankees need to get going the most: Jacoby Ellsbury and Brett Gardner. We saw it earlier this year. Those two are game-changers atop the lineup.
The numbers are not pretty. Ellsbury went 0-for-12 with a walk in the series against the Blue Jays while Gardner went 2-for-8 (.250) with a walk. (Gardner sat in favor of Chris Young against David Price.) You're usually not going to score many runs when the top two hitters in your lineup combine to reach base four times in a three-game series. The numbers since the All-Star break aren't much better.
Ellsbury: .170/.216/.330 (43 wRC+) with 22.2 K% and 5.1 BB% in 99 plate appearances
Gardner: .206/.329/.265 (74 wRC+) with 20.2 K% and 13.1 BB% in 84 plate appearances
That's a combined 183 plate appearances of gross from the two table-setters in the second half. Ellsbury and Gardner haven't even attempted a stolen base since the break — that's not necessarily a bad thing, but it is notable — and even with Gardner's nice walk rate, No. 3 hitter Alex Rodriguez has batted with a runner on base in just 34 of his 92 plate appearances in the second half, or 37%. It was 167 of 348 in the first half (48%). The AL average this year is 42%.
Gardner has a history of performing better in the first half — he's a career .283/.360/.421 (116 wRC+) hitter before the All-Star break and .242/.332/.359 (91 wRC+) after — though his second half performance this year is more of slump than a "this guy really sucks in the second half" thing. The chances of him hitting .206 with a .265 SLG the rest of the way are pretty damn small. Yes, he is a better hitter in the first half, and no, his performance these last few weeks is not his true talent level.
Ellsbury's second half performance is a little more concerning just because he's hasn't really hit since coming back from his knee injury. It's more of a "he hasn't hit since coming off the DL" thing as opposed to a "he hasn't hit in the second half" thing. The All-Star break is a convenient reference point but it is pretty arbitrary. Coming back from an injury isn't really arbitrary. We're talk about a player being physically compromised. Gardner's been bad since the All-Star break. Ellsbury's been bad since coming off the DL. There's a difference.
It's impossible to know whether the knee injury is having an impact on Ellsbury right now. It could just be a slump! Who knows? Ellsbury is not necessarily injury prone, but he does have a history of getting hurt and staying hurt longer than expected. Perhaps the knee injury is lingering and hurting him at the plate. It might even be a mental thing. The knee is healthy but he's changed his hitting mechanics to protect it. Something like that. It happens all the time, often subconsciously.
If the knee is behind Ellsbury's slump, well that could be either good or bad depending on how you want to look at it. It would be good in the sense that he has not lost any skills and will eventually get over the injury. We know what to point to. It would be bad in the sense that, uh, when will get over it? Injuries have a way of explaining things and making them more scary at the same time, especially a leg injury for a speed guy.
Regardless of whether Ellsbury's knee is causing his current slump, he and Gardner have not produced in the second half, and that's something that needs to change for the offense to get back on track. The Yankees dominated offensively for a few weeks earlier this season because those two guys were on base every other inning, it seemed. The sooner they get back on track — even just one of them getting on track would help — the sooner the offense gets back to normal.