The following is a guest post from Adam Moss, who you know as Roadgeek Adam in the comments. He's previously written guest posts on Tim McClelland, Frankie Crosetti, and the No. 26.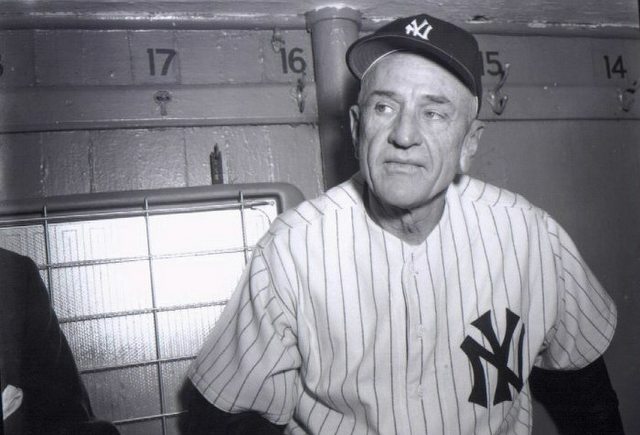 For many years, Yankee fans looked at the hiring of Joe Torre in the modern day mass media as an "Is George Steinbrenner crazy?" situation because Torre had never coached a winning team in his entire time as manager between the Mets, Braves and Cardinals. The New York Daily News famously had "CLUELESS JOE: Torre Has No Idea What He's Getting Into" headline by Ian O'Connor on the Sports Final version of the paper. As we know quite well, the Torre years ended up being some of the best in New York Yankees history.
However, this time, I want to talk about the hiring of another famous manager, No. 37, Casey Stengel. Similar to Torre, the young Stengel had not been very successful before being hired by the New York Yankees. Managing since 1925, originally for Worcester Panthers of the Eastern League, he had very few winning seasons, including none with the Brooklyn Dodgers, in which he recorded only a 208-251 win-loss record. In 1937, he wasn't even managing at all but was still being paid by the Dodgers. In 1938, he was the manager of the Boston Bees, but once again, showed mediocre results. His best season by far was the 1938 season, in which the team was one of two no-hit consecutively by Midland Park, New Jersey's Johnny Vander Meer, drawing a 77-75 (.507) record. That 1938 Boston Bees team was not made of many names, but a couple stick out: Vince DiMaggio (Joe & Dom DiMaggio's older brother) and Jim Turner, who ended up becoming Casey Stengel's pitching coach from 1949-1959.
Stengel's record in Boston was not even close to .500 for the rest of the seasons he was there, including a complete low in 1942 in which they recorded a 59-89 season. After 1943, he was out of the National League again and coaching in the minors. By 1946, he had gotten to manage the Oakland Oaks, where he won 321 games and lost only 236, including winning a championship in 1948 over the Seattle Rainiers. The Oaks, actually, were independent most of their time in Emeryville, California, except for a period of 1935-1937, when they were a farm team of the New York Yankees. (The Oakland Oaks soon moved to Vancouver, BC and became the Vancouver Mounties and continued to move to several cities afterwards).
The New York Yankees leading up to October 1948
The years of 1946 to 1948 were a bit strange for the Yankees, because they went through numerous managers in a short period of time. Longtime manager Joe McCarthy resigned on May 24, 1946 after 15 seasons of leading the team. McCarthy had been ill for quite a while, and had issues with pitcher Joe Page and team president Larry MacPhail. The legendary Bill Dickey took over after McCarthy's resignation and to make things worse, Dickey resigned on September 12. One of McCarthy's coaches, Johnny Neun completed the season in 1946. For a team with such managerial issues, you'd think they'd have performed poorly like McCarthy complained about in his resignation. The 1946 Yankees ended the season with an 87-67 record (.565), finishing 17 games back of the Boston Red Sox (who went 104-50).
Like a light bulb, the 1947 Yankees flipped a switch under new manager Bucky Harris. The Yankees acquired superstar pitcher Allie "Superchief" Reynolds from the Cleveland Indians on October 11, 1946 for Joe Gordon, a trade that almost never occurred because MacPhail was going for Red Embree (who was out of the league by 1949) until Joltin' Joe told him to make a trade for Reynolds. Aside of that, the Yankees had a budding catcher to replace the great Bill Dickey, Lawrence Peter "Yogi" Berra, who was wearing No. 36 at the time. There was also star shortstop Phil Rizzuto, future All-Star third baseman Dr. Bobby Brown and even Joltin' Joe DiMaggio, who had become a leader on the team. That 1947 team won the American League pennant by 12 games with a 97-57 record. They went to the World Series and defeated the cross-town Brooklyn Dodgers in 7 games, giving Harris his first ring since the 1924 Washington Senators. (The Twins-version for those curious.)
In 1948, the Yankees were a contender all the way to the end of the season, part of a huge race with the Red Sox and Indians. The 1948 season was famous for the the death of Babe Ruth at age 53 on August 16. Most of the 1947 championship team was still with the Yankees in 1948, including Red Embree, who MacPhail finally got for the 1948 season (after turning him down in 1946). Finishing a mere 2.5 games short of the World Series, the Yankees decided on October 4, 1948 to not extend Harris as the manager of the Yankees after a conference between Dan Topping, George Weiss and Bucky Harris determined they would not continue together.
Post-Bucky
So, now that Bucky Harris was out as New York Yankees manager, it was time to figure out who would replace him. A statement made by the Yankees indicated the new manager would come from outside of the team, eliminating Joltin' Joe, Tommy Henrich and coach/infielder Frankie Crosetti despite all being good candidates and Crosetti having a big fan in George Weiss. The statement dropped names such as Bill Skiff of the Newark Bears of the International League, Jim Turner (the former Boston Brave, now coaching for the Portland Beavers) and Dick Bartell, the manager of the Kansas City Blues of the American Association, which was the Yankees' Triple-A affiliate.
By October 11, the Associated Press had reported that it appeared Oakland's Casey Stengel, who had taken the team of "nine old men" to the Pacific Coast League championship, was a candidate. By the time these rumors had come to light, the names had changed a bit: Jimmy Dykes, Al Simmons, Stengel, Neun and Skiff were in consideration. It had announced the Yankees would make a choice in "a couple of weeks." It didn't take two weeks. The next day, October 12, the Yankees announced Casey Stengel had been given a 2-year contract to be manager. Stengel stated he was "delighted to be with the Yankees and not have much time to think."
Media Response
The 57-year old Stengel quickly received mixed support. Stengel had support of Tommy Holmes in the Brooklyn Daily Eagle, "Let's Hope Casey is Not Restrained" citing that Stengel had been a lifelong baseball player and manager and as a result should've been completely accepted by baseball. Holmes stated that when Stengel was the manager of the Dodgers, they had no farm and, somewhat ironically, no money. One of the major articles that came up was "Stengel Specialized in Laughing Off Bad Ball Clubs: Ol' Case May Have To Do Same Thing For Yankees" by Harry Grayson of the Newspaper Enterprise Association. The argument by Grayson was that players get older regularly and that the Yankees would become very much the same as what happened with Stengel's Brooklyn Dodgers: they'd get old. However, Grayson denied that as Stengel came with money and that only the St. Louis Browns would be selling.
A major criticism that was brought up by both Holmes and Grayson was Stengel's style of being not very serious when it came to the game. Stengel liked to spin stories quite a bit, including ones about a bird that flew out of Stengel's cap when he was standing at the plate, but Holmes' argued they were just spinning stories to make Stengel not look serious. There was also a story about Frenchy Bordagaray, an outfielder, threw a ball into one of Stengel's ears. Frenchy joked when he came in the dugout after saving the game that he should be allowed to hit Stengel in the ears every game for good luck, and as a result, Casey told him, "Tell you what George [Earnshaw, the pitcher], I will hold him and you bite him in the leg." Other articles called it a second chance for Stengel, who also had an issue with umpires in the days of games being called due to darkness, using a flashlight at the umpires to make a point.
Stengel's return to the Major Leagues had caused quite a bit of media buzz, and by October 21, Stengel told the Associated Press that he is taking a job with challenges, but he also laughed off the idea that "I got the job simply because of my close friendship with Del Webb and George Weiss." This new contract covered 2 years/$70,000 (1948 USD) and stated his wife could now work on the East Coast shopping. About a month on November 12, Grantland Rice of the Chino Champion, explained that the decision to fire Harris was a dumb one purely because Harris was a friend of MacPhail. He called the hiring of Stengel as a smart one, but only because it was preceded by a dumb one. He also stated that "Stengel is a high-grade manager who knows his trade. But there won't be as many laughing stories about Casey in 1949-not with the job he has ahead." Rice stated that the Yankees farm has been pretty bad the couple years prior and that he needed an outfielder, three new infielders, a catcher and three pitchers. This means working a team with Joltin' Joe, Henrich, Berra, Charlie Keller and Johnny Lindell.
Conclusion
Yeah, there wasn't as much negativity surrounding the Stengel hiring as there was in the Torre hiring in 1996 due to the lack of media coverage in that era, but the fact Stengel's hiring caused more than your normal stir for a manager, it was worth pointing out the similarity. Similar to Torre, Stengel became a dynastic manager for the Yankees along with pitching coach Jim Turner and third base coach Frankie Crosetti, leading the Yankees to seven championships in eleven seasons including 1949-1953 straight before being fired for "not needing his services," or, as Ken Burns argued, he was fired for turning 70. He became the manager of the newly-minted New York Mets in 1962, after being convinced out of retirement.
Stengel is a great manager in the history of the New York Yankees, but if not for the Yankees, you could argue he would've never made it into the Hall of Fame in 1966 because of the Veterans Committee. His record outside of the Yankees and the Oakland Oaks were absolutely terrible, but like Torre (who could've been in the HoF on player merits alone), he made his managerial career famous with the Yankees and no one would ever deny it.