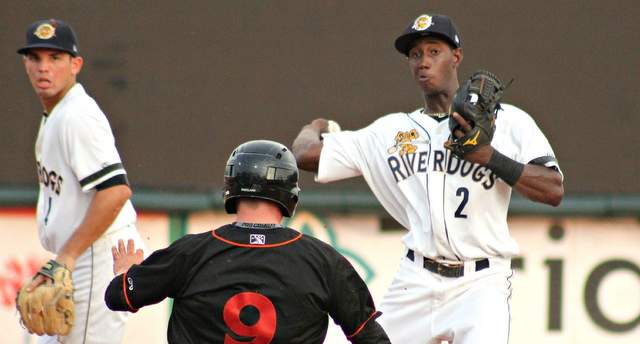 In just a few hours the Yankees and Blue Jays will continue their three-game weekend series at Yankee Stadium. Some runs and a win would be nice. Anyway, here are some links to hold you over until first pitch.
Mateo joins MLB.com's top 100 prospects list
Earlier this week, MLB.com released their midseason top 100 prospects list, which included two Yankees: RHP Luis Severino (No. 16) and OF Aaron Judge (No. 21). Now there's a third Yankees on the list. Braves RHP Matt Wisler lost his prospect eligibility the other day when he crossed the 50-inning rookie threshold, so Wisler fell off the list and SS Jorge Mateo jumped on as No. 100, according to MLB.com. As always, MLB.com's lists and scouting reports are free to read, so check 'em out. Mateo figures to crack the various top 100 lists heading into next season.
Remaining strength of schedule
The season is now exactly two-thirds complete for the Yankees, who currently sit in first place and have exceeded just about all expectations. Been a fun year, no doubt. Over at FanGraphs, Jeff Sullivan estimated strength of schedule for the rest of the season and found the Yankees have the fourth toughest remaining schedule in the AL. They are based on projections, not the number of games against teams over .500 or something like that.
The Royals have by far the easiest remaining schedule in the league — the AL Central is so, so bad — while the Athletics and Orioles have the toughest schedules. Don't count out the O's though! They're lingering the race. Also, if you're interested, SG at RLYW ran a bunch of simulations for the rest of the season, including how various outcomes of this weekend's series with the Blue Jays would impact the race. Check out. Super nerdy but interesting.
2012-15 Red Sox or 2011-14 Tigers?
This was a fun little post, again from Jeff Sullivan. He asks whether you would prefer to see your team have a four-year run like the 2012-15 Red Sox (one World Series and three last place finishes) or the 2011-14 Tigers (four first place finishes, one pennant, no titles). It's an interesting question!
My initial reaction was 2012-15 Red Sox because hey, flags fly forever. But, the more I thought about it, the more I started to lean towards the 2011-14 Tigers. There's something to be said for being consistently good and playing meaningful games year after year. That's what keeps us interested, at the end of the day. The Red Sox have been embarrassingly and unwatchably bad three of the last four years. It's not fun following a team that is out of the race in July year after year. Contending is cool. What do you think?