Good thing the Yankees are getting all this suckiness out of their system before the postseason, right? Right!? Hope so. I wouldn't call Tuesday night's 10-4 loss to the Red Sox ugly, but boy, this team looks totally worn down. Overmatched in almost every way of late.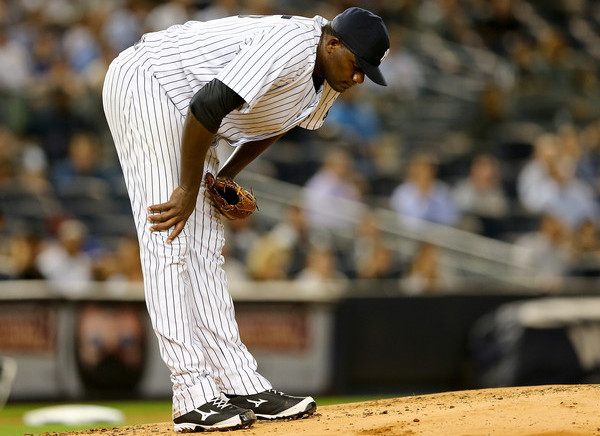 Big Mike Hole
Small Mike is here. The Red Sox led 6-0 seven batters into the game and were all over Michael Pineda. It was a loud rally. Falling behind 6-0 before you even get a chance to bat is a good way to discourage fans. Let's recap the carnage with an annotated play-by-play:


(1) For the second straight day, the Yankees starter got ahead in the count 0-2 on Mookie Betts, then gave up a leadoff double. Give Betts credit! He's had a good year. But yeah, giving up two-strike doubles to the leadoff hitter in back-to-back games is weak. Ivan Nova escaped thanks to some base-running blunders Monday night. Pineda had no such luck.
(2) I thought Xander Bogaerts hit a routine 6-4-3 double play off the bat, but the grounder was far too weak, and the Yankees got just the force at second. Bogaerts beat the relay by a mile. Maybe that was the sign things weren't going to go New York's way. The ball that looked like a routine double play was hit too weakly to complete the turn. He hit it too weakly. Baseball, man.
(3) David Ortiz missed a three-run homer by inches. Like two or three. It hit the tippy top of the wall in right field and stayed in the park. Carlos Beltran hasn't been good in the field this year and reacted awkwardly, but I don't think it's reasonable to say that was a catchable ball. It was smoked. Beltran was just caught in a weird spot and it looked worse than it did. Still, Ortiz missed a homer by inches.
(4) Travis Shaw's dinky little ground ball back to Pineda resulted in a run when Bogaerts beat Brian McCann's tag. It was close, so close the Yankees challenged the safe call, but I didn't see anything clearly showing Bogaerts was out. It was inconclusive at best. The Yankees have been insanely good at challenges this year — they came into the game 23-for-30 (76.7%) in challenges, by far the best success rate in MLB (Diamondbacks are second at 70.9%) — but that one was a whiff. Seemed like a leap of faith challenge.
(5) It goes into the record books as a double, but Brock Holt's double was nothing more than a single he stretched into a double. It was a routine single to center and Holt showed zero regard for Jacoby Ellsbury's arm. Didn't hesitate to challenge him at all and took the extra base. Ellsbury's hold rate has dropped from 48.0% to 44.8% to 42.5% the last three years. (That's the percentage of base-runners who take the extra base on a ball hit his way. MLB average for center fielders is 44.9%.) I wish there was a way to see a first half/second half split. It seems like opponents have been running on Ellsbury an awful lot the last few weeks.
(6) Ortiz just missed a homer but Blake Swihart did not. It wasn't a bomb — it landed a row or two back in the short porch — but it had a good sound off the bat. Another extra-base hit after Pineda was ahead 0-2 count too. Pineda went to a two-strike count on three of the first seven batters he faced and all three reached base. Three-run deficit? Okay. That's not good but it's not a disaster. Six runs? Yuck.
To Pineda's credit, he settled down and retired 16 of the final 18 batters they faced. (One of the exceptions was a Betts solo homer.) There are 13 pitchers in the bullpen, so the bulk innings weren't an issue, but quality innings? I'm not sure anyone who rode the bullpen shuttle this year is capable of providing those. As bad as he was in the first, Pineda was the team's best hope of keeping the Red Sox at bay the rest of the game. He finished the night with seven runs allowed on seven hits in six innings. Pineda didn't walk anyone and struck out four. An awful outing salvaged by soaking up six innings.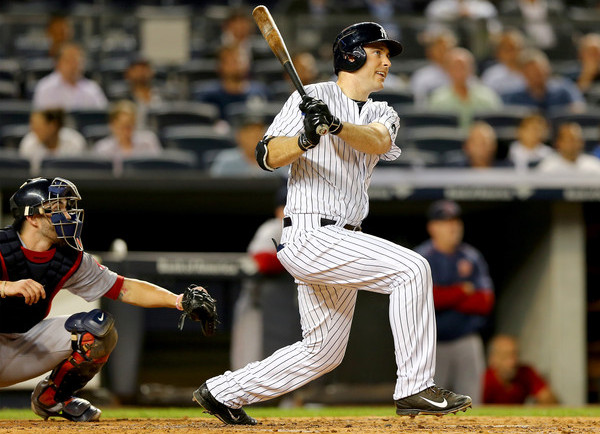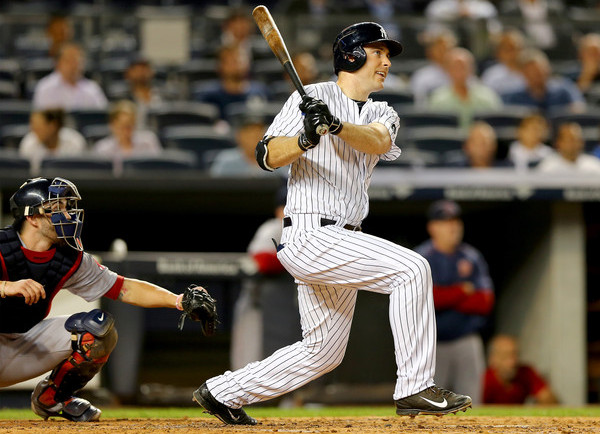 Battle Almost Back
Between that 6-0 deficit and the Yankees' recent offensive issues, it was easy to think the game was over after the top of the first. The Yankees have that Fighting Spirit though, and they rallied for four runs in the bottom of the first to make it a new ballgame. The four-run rally seemed to happen very quick too. Ellsbury single, Brett Gardner single, McCann run-scoring ground out, Beltran run-scoring double, Dustin Ackley two-run homer. Boom boom boom. They scored those four runs in a hurry …
… and then they didn't score the rest of the game. Their best chance came in the fourth, when Chase Headley beat out an infield single and Didi Gregorius was hit by a pitch to put the tying run on base. Ellsbury laid into a first pitch fastball, he hit it about as hard as he can possibly hit a ball, and Holt caught it on the warning track in right field. Almost. That would have given the Yankees a 7-6 lead. Instead, Betts hit the very next pitch of the game out to left for a solo homer and a 7-4 Red Sox lead. Quite the emotional roller coaster in the span of two pitches.
Following Ackley's two-run home run in the first, the Yankees had three (3) hits. Headley, Gardner, and Greg Bird had singles. That's it. Gregorius also drew a walk and was hit by a pitch, and Ellsbury reached on an error. So six of the final 30 batters they sent to the plate made outs. In their last seven games, the Yankees have scored seven runs after the fourth inning (five came Sunday!). They score early and then never again.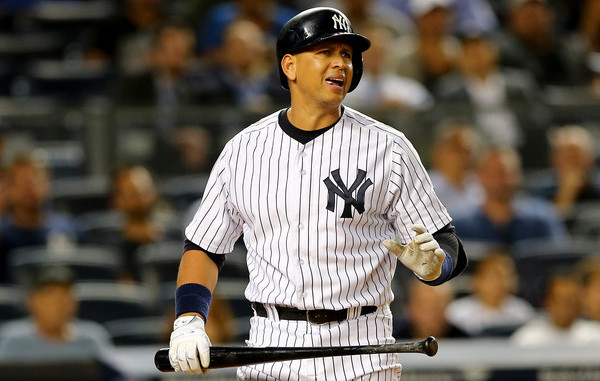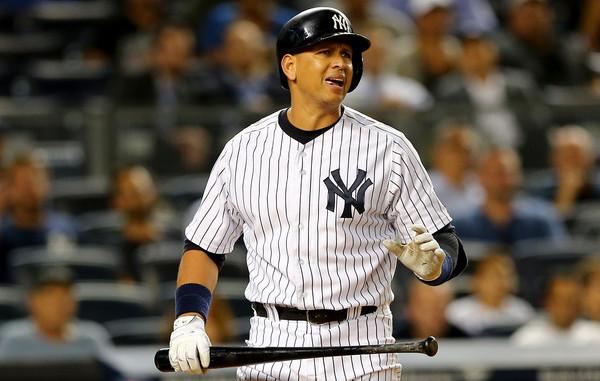 Leftovers
The Triple-A relievers let the game get out of hand, because of course. Bryan Mitchell escaped a bases loaded jam in the seventh, then gave up a two-run homer to Swihart in the eighth. Chris Martin allowed another run in the ninth. The Yankees are doing nothing well right now. Not a thing.
Gardner had two of the team's seven hits. Ellsbury, Beltran, Ackley, Headley, and Bird had the rest. Just the one walk, by Gregorius. Gardner also stole a base in the first inning, which helped create the four-run rally. Hey, four runs is maybe enough to win most nights. Just not when your starter gives up six in the first.
And finally, Alex Rodriguez heard boos at home for the first the time all season after he struck out in the eighth. It was bound to happen eventually. He hasn't hit much the last few weeks. I miss April.
Box Score, WPA Graph & Standings
Here are the game's box score and video highlights, and here are the season standings and postseason odds. The magic number for a postseason spot remains three as of this writing and the tragic number in the AL East is down to one. Next Blue Jays win or Yankees loss clinches the division for Toronto. Make sure you check out our Bullpen Workload and Announcer Standings pages. Here's the loss probability graph:

Source: FanGraphs
Up Next
Same two teams Wednesday night, in the third game of this four-game set. That's assuming the weather cooperates. Rain in the forecast. Masahiro Tanaka is scheduled to return to the rotation following his minor hamstring injury. Wade Miley will be on the bump for the BoSox. There are only two home games left in the regular season. RAB Tickets can get you in the door if you want to attend either one.