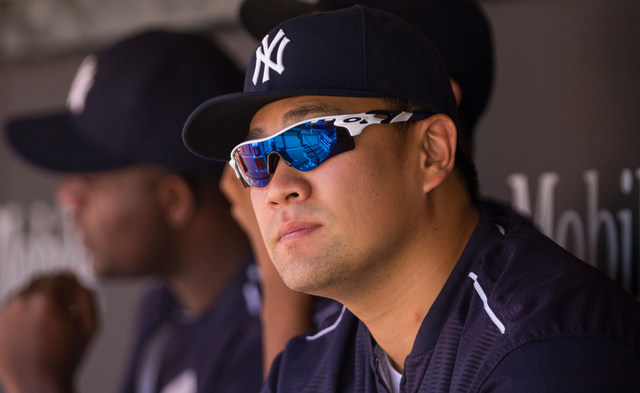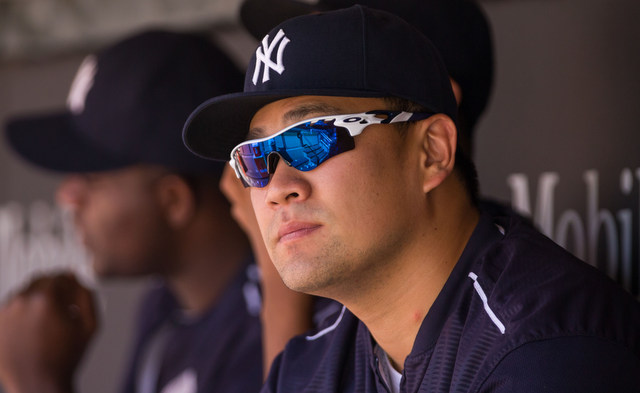 At some point soon, possibly later today, the Yankees will officially clinch their first postseason berth in three seasons. It's only a wildcard spot, sure, but a wildcard spot is better than nothing. Both the Royals and Giants went to the World Series after being wildcard teams last year, remember.
The wildcard game is considered its own distinct playoff round, which means it gets its own 25-man roster. It's not a regular season game, so no expanded rosters with September call-ups, but the Yankees would also be able to change their roster prior to the ALDS, should they advance. They can build a roster specifically for the wildcard game.
There have been 12 wildcard teams since the current system was put in place in 2012, and those 12 teams averaged 9.67 pitchers on the roster. Three teams carried eleven pitchers, three carried ten, five carried nine, and one carried eight. There's no need to carry all the extra starting pitchers, so teams have taken advantage and expanded their benches.
Whoever starts Game 162 for the Yankees on Sunday won't be on the wildcard roster. There's no reason to carry him since they won't be available for the wildcard game on Tuesday. It also wouldn't make sense to carry the Game 161 starter since he'd be on two days' rest in the wildcard game. Right now Luis Severino and Michael Pineda are lined up to start Games 161 and 162, respectively, though that can change.
Joe Girardi and the Yankees love to match up with their relievers, so my guess is they end up carrying ten or eleven pitchers in the wildcard game. I'd be surprised if it was any fewer but I suppose it is possible. Which ten or eleven pitchers should the Yankees carry in the wildcard game? Let's try to figure it out. Later today we'll tackle the position player side of things.
The Locks
Might as well start with the easy ones to get them out of the way. Masahiro Tanaka will start the wildcard game — he will return from his hamstring injury tonight and start with "no restrictions" (no pitch count, basically), putting him in line for the wildcard game with an extra day of rest — and we know Andrew Miller, Dellin Betances, and Justin Wilson will be in the bullpen. That's four of the ten or eleven spots right there. You can be sure Girardi would prefer not to use anyone other than those four in the wildcard game too.
If Tanaka's hamstring acts up tonight, my guess is the Yankees would rearrange their weekend rotation and go with either Severino or Pineda in the wildcard game. (Likely Severino given Pineda's dud last night.) CC Sabathia is starting tomorrow night and would be able to start the wildcard game on regular rest, though I'd be surprised if he got the call. Yes, Sabathia has pitched better of late, and he is the team's highest paid starter, but the Yankees wouldn't even run him out there against the Blue Jays in a regular season game. In a winner-take-all wildcard game? It would surprise me to see him out there if better options available (i.e. Severino).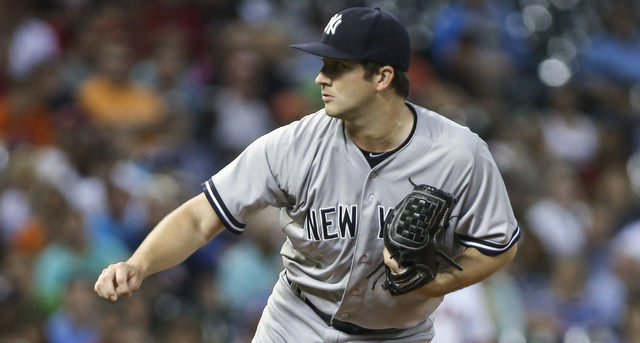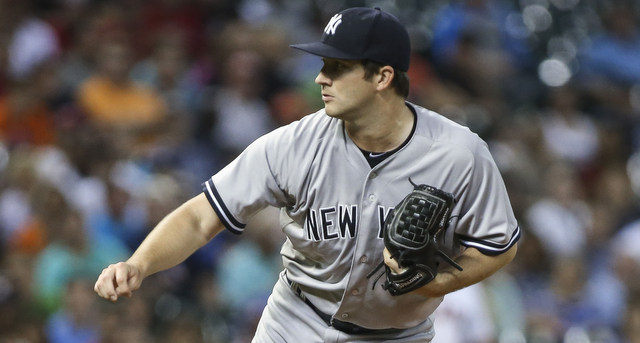 The Safe Bet
Given their need in middle relief and the fact they have four other starters for the postseason rotation, it makes perfect sense for Adam Warren to be on the wildcard game roster and ready for middle innings work. He is currently stretched out to 80+ pitches and lined up to start Friday, which means he'll be on three days' rest for the wildcard game. The Yankees could always cut Friday's start short — say three innings or 50 pitches, something like that — to make sure Warren is fresh for Tuesday. Unless someone gets hurt and Warren has to remain in the postseason rotation, I expect him to be on the wildcard game roster. He's too good not be in the bullpen for that game. So five of the ten or eleven pitching spots are claimed.
Whither Shreve?
Considering how well he pitched for most of the season, it's hard to believe Chasen Shreve's postseason roster spot is now in question. He's been that bad in recent weeks. Girardi has already reduced his high-leverage work, so Shreve's falling out of favor. Once the Yankees clinch, Girardi and the Yankees absolutely should use Shreve as much as possible these last few regular season games to try to get him sorted out, and those last few outings could easily determine his wildcard roster fate. Right now, given his overall body of work, my guess is he's on the roster.
The Extra Starters
Tanaka is going to start the wildcard game but it would also make sense to carry an extra starter or two in the bullpen, at the very least to serve as a long relief option in case things get crazy in extra innings. As I said, Sabathia would be on full rest for the wildcard game and could serve as the extra starter. Ivan Nova is another candidate — he started Monday and probably won't start again during the regular season — but I think it's more likely Nova starts Saturday or Sunday, leaving Severino or Pineda available for the wildcard game. I have a hard time thinking Nova will be on the wildcard game roster, but I guess it's possible. Do the Yankees need one or two extra starters? I guess that depends how the rest of the roster shakes out. For now I'm thinking Sabathia and another starter will be in the wildcard game bullpen.
The Rest of the Rest
Assuming Warren, Shreve, and two spare starters are on the wild card roster, the Yankees still have two or three pitching spots to fill to get their staff up to ten or eleven. They have no shortage of candidates, that's for sure. Andrew Bailey, James Pazos, Branden Pinder, Nick Rumbelow, Chris Capuano, Bryan Mitchell, Chris Martin, Caleb Cotham, and Nick Goody are all on the active roster at the moment. Those last two or three arms will come from that group.
Process of elimination: Goody is out because he's barely pitched in September, making only two appearances. He seems to be at the very bottom of the Triple-A reliever depth chart. Martin is basically one rung higher — he's made five appearances this month and three lasted one out. He's out too. Mitchell looked pretty sharp in short relief earlier this season but has not been all that effective since taking the line drive to the face. Can't afford to risk his wildness in a winner-take-all game. He's out.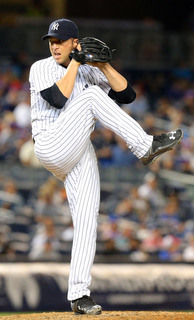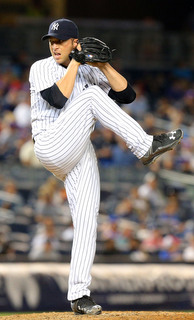 That leaves Bailey, Pazos, Pinder, Rumbelow, Capuano, and Cotham. Bailey is a Proven Veteran™ who Girardi has tried to squeeze into some tight spots of late. Sometimes it's worked (last Friday against the White Sox), sometimes it hasn't (last Wednesday in Toronto). Pazos and Capuano are lefties, and I thought it was interesting Capuano was used in a true left-on-left matchup situation Monday night (he struck out both batters). He warmed up again for a similar spot last night, but did not enter the game. Pazos has been okay — lefties are 2-for-7 with a walk against him this month — but not great. The next few days could be telling. If we see Capuano get more lefty specialist work, he'll probably be the guy.
Out of all the guys on the bullpen shuttle, Pinder has spent the most time on the big league roster this year while both Rumbelow and Cotham seemed to get chances to grab hold of a middle relief spot at various points. Neither really did. Both have shown flashes of being useful. Flashes shouldn't be enough to get them on the wildcard roster though. Right now, I believe both Bailey and Capuano will make the wildcard roster with the caveat that Capuano could get smacked around in the coming days and lose his spot. In that case I think they'd take Pazos as the emergency lefty specialist.
The mechanics of getting Bailey on the roster are simple. He was in the organization before August 31st, so he's postseason eligible, but he didn't get called up until September 1st. That means he has to be an injury replacement. The Yankees have three pitching injury spots to play with: Chase Whitley, Sergio Santos, and Diego Moreno. (The injury replacements have to be pitcher for pitcher, position player for position player. No mixing and matching.) Whitley and Santos had Tommy John surgery while Moreno had bone spurs taken out of his elbow. Bailey replaces one of them. Pazos would get one of the other two spots if he makes the roster.
Nathan Eovaldi (elbow) is in the middle of a throwing program but has already been ruled out for the wildcard game. The hope is he can join the bullpen should the Yankees advance to the ALDS. Probably should have mentioned that earlier. Anyway, so after all of that, here's my ten-man pitching staff guesstimate for the wildcard game:
Righties
Bailey
Betances
Nova (or Severino or Pineda)
Tanaka (starter)
Warren
Lefties
Capuano
Miller
Wilson
Sabathia
Shreve
That might be it right there. The Yankees don't have to carry an 11th pitcher. Ten is plenty — especially since both Sabathia and Nova/Severino/Pineda would be available for super long relief — and is right in line with the previous 12 wild card teams. If they do carry an 11th reliever, I think it would be a righty just to even things out. So … Cotham? Girardi has used him in some big-ish situations of late. Either way, the 11th pitcher's role on the wildcard roster would be what, 25th inning guy?
The ten-man pitching staff includes Tanaka (the starter) and two extra starters for long relief purposes, giving Girardi a normal seven-man bullpen. For one individual game, that should be plenty. The pitching game plan is pretty simple too, right? Get at least five innings from Tanaka, then turn it over to Wilson, Betances, and Miller. Warren is the next "trusted" reliever. If Girardi has to start dipping into guys like Capuano or Bailey or Shreve, something's gone wrong.