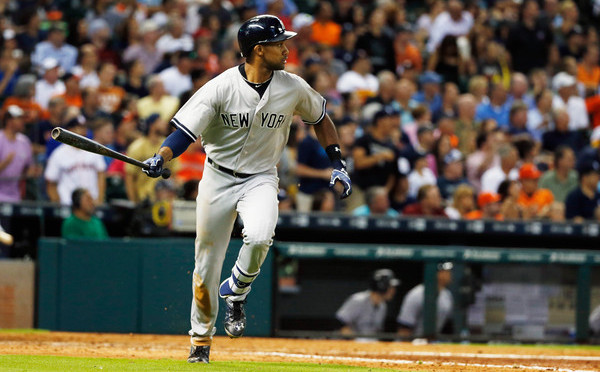 By fourth outfielder standards, the Yankees struck gold this season with Chris Young, who carried his late-season success in 2014 over into 2015. The Yankees quickly re-signed Young to a one-year contract last offseason, but last week he told Dan Martin and George King it is "too soon" to know whether he will return to the Bronx next year.
"I didn't know what was going to happen this year or what opportunities I would have," said Young. "I think I did a good job of taking advantage of the chances I got. I've made some good adjustments since coming here toward the end of last year and did the things I need to do to become productive … We'll see what happens, but I've enjoyed being here."
Young, 32, hit .252/.320/.453 (109 wRC+) with 14 home runs this past season. Believe it or not, he actually played in 140 games this year, but only 77 of them were starts. He came off the bench to pinch-hit or replace Carlos Beltran defensively in the other games. Young's primary job was to hit lefties, and he put up a strong .327/.397/.575 (162 wRC+) batting line against southpaws in 2015.
Despite a miserable August — .122/.234/.268 (40 wRC+) with a 29.8% strikeout rate — Young was actually better in the second half (119 wRC+) than the first (103 wRC+). That surprised me. I guess that ugly August made it easy to overlook his productive September (122 wRC+). Young was also fine defensively as far as catching the ball goes. His arm? It was … not good.
The Yankees have two left-handed hitting starting outfielders plus a switch-hitter in Beltran who is more productive against righties. A right-handed hitting fourth outfielder isn't a necessity, but it would fit the roster much better than another lefty. The Yankees have a slew of lefty hitting fourth outfielder candidates, most notably Slade Heathcott, Mason Williams, Ben Gamel, and even Dustin Ackley.
Young figures to try to turn his productive season into a multi-year contract — Scott Hairston, another righty hitting fourth outfielder, turned his huge 2012 season with the Mets into a two-year contract — but I can't imagine the Yankees will go for that. My guess is they will look for the next Chris Young this offseason, a guy coming off a down year with a chance to bounce back in a platoon role.
The list of right-handed hitting fourth outfielder candidates set to hit free agency this winter includes Rajai Davis, Chris Denorfia, Jonny Gomes, Steve Pearce, and Drew Stubbs. They're the most notable. The Yankees are going to want a good defender so they can replace Beltran in the late innings, which rules out Gomes and Pearce. There's always the non-tender and trade markets too.
Young did a fine job for the Yankees this summer — he was streaky as hell, but very productive overall — though he strikes me as the type of player they won't overpay to keep. It's the whole "let him walk a year early rather than a year late" line of thinking. If they can bring Young back on another one-year deal, great. My guess is he'll be looking for a little more security.