Huge mailbag this week. Nineteen questions. I think that might be a mailbag record. I tried to go rapid fire and keep the answers short, but I didn't always succeed. Anyway, email us any questions at RABmailbag (at) gmail (dot) com.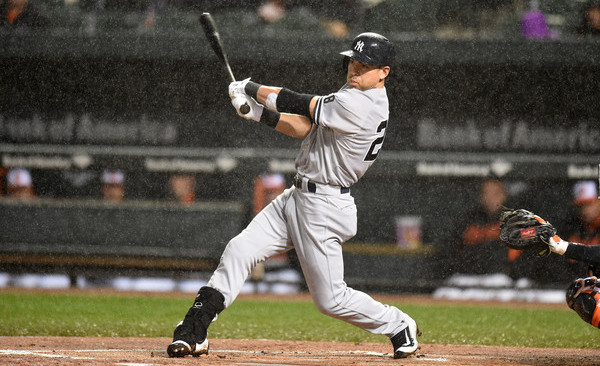 Justin asks: I'm on board with going all in on Heyward … But what would it take to move Ellsbury instead of Gardner? What teams would have any interest? I'm full aware this is not how the current Yankee brass operate.
If there's one thing we've learned the last few years, it's that no player is untradeable. We've seen plenty of bad contracts (Carl Crawford, Prince Fielder, Josh Hamilton, etc.) moved and I'm sure there are several teams out there that would like to have Jacoby Ellsbury at the right terms, though my guess is those terms are not $21M a year. The Cubs are the first team that jumped to mind. They need a leadoff hitter and center fielder — Dexter Fowler's going to be a free agent — and there's the whole Theo Epstein/Red Sox connection. The Mariners, Angels, Nationals, Tigers, Giants, Rangers, and maybe even the Cardinals could all have interest if the Yankees pay down some of Ellsbury's contract.
Justin asks: Who is available as a potential backup SS? I would really love to see a upgrade over Ryan.
Here's the list of free agents. Mike Aviles, Sean Rodriguez, and Cliff Pennington are the only guys who jump out to me as possible backup infielder upgrades. Keep in mind that signing, say, Asdrubal Cabrera to be the backup infielder is not at all realistic. Guys like that will get jobs as everyday players. Backup infielders tend to be very bad. Even in 2009 the Yankees backup infielders were Angel Berroa and Ramiro Pena. Brendan Ryan is a perfectly cromulent backup infielder for a million bucks. It would be nice if Joe Girardi stopped treating him like a legitimate platoon option against left-handed pitchers though.
Jacob asks: Any interest in Mark Trumbo? Could be a nice bench bat who could fill in at first and fake outfield, or do we have to many of those? What would it take to nab him?
MLBTR projects Trumbo to make $9.1M through arbitration in 2016 and that is way too much for a bench bat. New GM Jerry Dipoto had Trumbo with the Angels and traded him away because he had too many first base/DH types, and that's the case with the Mariners now as well. He can try to trade Trumbo but I think he might end up getting non-tendered. While the Yankees could use the righty power, I think they need more versatility from a bench player. (Trumbo's no outfielder.) Greg Bird has a leg up on the backup first base job. I don't see a match between the Yankees and Trumbo given the current roster.
Travis asks: Do you think a 1 for 1 swap of Gary Sanchez (NYY #5 prospect on MLB.com) for Lucas Sims (ATL #7 prospect on MLB.com) is appropriate for either team? I know ATL is smitten with Christian Bethancourt, but it has been said that they are looking for catching and I think Sanchez has more offensive upside and I think adding another good young arm to the system is always a good thing for the Yankees.
The Braves tried to acquire Sanchez at the trade deadline, so we know they like him. Sims is 21-year-old righty who hasn't performed as a pro (4.26 ERA and 4.20 FIP from 2014-15) but has a big arm, running his fastball into the mid-to-90s with a promising breaking ball and changeup. He's a project pitching prospect, basically. A guy with a great arm in need of refinement. In a vacuum, I think Sanchez for Sims is a fair trade based on value. I'd rather hang on to the power hitting catcher though. Those are hard to find. The minors are full of dudes with huge arms and not much else.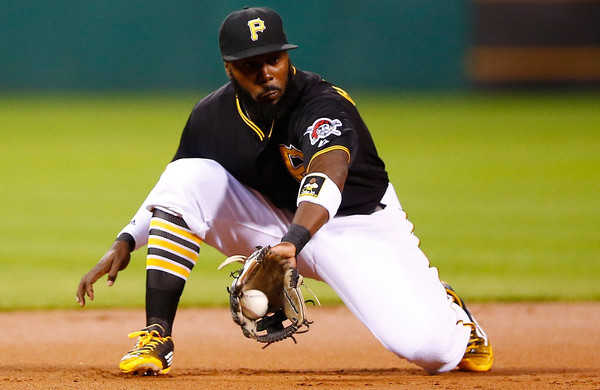 Chris asks: Any chance they could trade for Josh Harrison from Pittsburgh as a Ben Zobrist type player who can play multiple positions? I know they have made a few deals with Pittsburgh so maybe another one to get a much needed utility player. What would it cost them? Is he worth it?
Harrison, 28, broke out last year (137 wRC+), signed a big contract (four years, $27.3M), then was injured and ineffective this year (100 wRC+). He can play all over the field and play almost every position well, so that's a plus, and he's a right-handed hitter with no platoon split. I definitely think Harrison could be a fit as a Zobrist type. I'm not sure if the Pirates will trade him though. Jung-Ho Kang isn't due back from his leg injury until May, and they're going to cut ties with Neil Walker at some point, either this offseason or when he becomes a free agent next year. They'll need Harrison for infield depth. I like the idea but I'm not sure if the Pirates will make Harrison available.
Jason asks: Justin Upton is 28 and is probably never going to become the type of player he has the potential to be. He's a pretty good baseball player though. The Yankees have a crowded outfield especially if Aaron Judge is in the mix, but what are the chances the Yankees make a run at a guy like Upton? He's going to be 28 next year and likely will command 5-6 years maybe more. Does it make any sense?
It does make sense, definitely, but the Yankees seem to value defense highly these days, and Upton's a butcher. I have no idea what happened to him defensively. He was excellent with the Diamondbacks, a center fielder caliber defender, and now he's a really bad left fielder. Upton fits the lineup well as a right-handed bat though. The same circumstances as signing Heyward apply to Upton: you've got to pay him a lot of money and (probably) trade an outfielder to make room. If the Yankees are going to spend big on a free agent, I'd prefer Heyward, then Yoenis Cespedes, then Upton.
Mark asks: If Hal called to ask your personal opinion on what to do with Michael Pineda – either keep him and hope he will eventually mature into a solid and dependable solid #3 or #2 starter or trade him this winter while he still is arbitration eligible for the next two seasons – what would you tell him?
This is a tough one. My head says trade him because he's probably never going to be a 200+ innings guy, but my heart says keep him because he still has a lot of potential. Pineda did not have a great year this season (4.37 ERA and 3.34 FIP) and he again landed on the DL. I can see both sides of the argument. Trade him now because his value really might not get any higher. Or keep him and hope the ERA starts matching the FIP. If Pineda were on another team, I get the feeling a lot of fans would like the idea of the Yankees bringing him on board even with the injuries.
Andrew asks: What are the chances the Yankees trade Brett Gardner in the offseason? With Slade Heathcott playing very well in a small sample size plus the outfield depth in the minors it seems to make some sense.
Small. There's no reason to expect Heathcott to stay healthy — also, he had a 90 wRC+ in Triple-A this year — and I have little confidence that someone like Mason Williams or Ben Gamel could replace Gardner's production. I mean, I know Gardner had an awful second half, but by WAR he was still a top 30 outfielder this year and has been over the last few years. There are 90 (!) starting outfield spots in MLB, remember. That's not to say trading Gardner should be off the table. But trading him to clear a spot for Heathcott or whoever else? Nah ah.
Pounder asks: What impact do you think defensive shifts have on evaluating minor league prospects, both defensively and offensively?
Oh there is definitely an impact. Teams do shift in the minors nowadays — the Yankees do it for certain, how else are the infielders going to learn to play out of position? — and we can barely analyze MLB shifts properly as outsiders, so doing it in the minors is impossible. More than anything, I think it hurts the way ground ball pitchers get evaluated. There might be more noise in their numbers, both good and bad. One guy could really benefit from the shift while another gets burned, even though the guy getting burned may have a better sinker and more command. It just means we have to take the numbers with an even bigger grain of salt. The scouting reports are that much more important.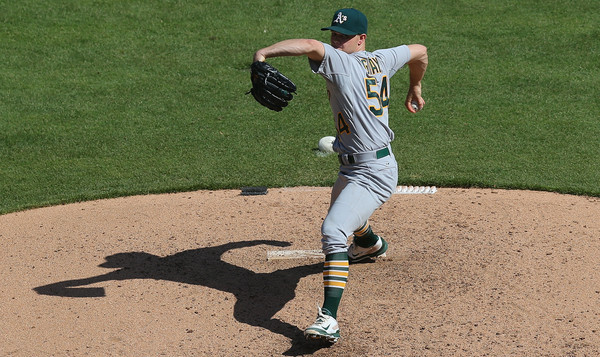 Benjamin asks: I'd really like the Yankees to target both Tyson Ross and Sonny Gray this winter. Would an offer built around Pineda, Judge and Sanchez be enough for Gray? The idea of a Gray-Tanaka-Ross-Eovaldi-Severino rotation is what dreams are made of.
I can't imagine that would be enough for Gray, an ace with four years of team control remaining, but then again I thought it would take much more to get Josh Donaldson than what it did, so who knows? I'd greatly prefer Gray to Ross — Ross isn't my cup of tea, he walks a few too many batters and throws a scary amount of sliders (44.9%!) for a starter, which seems like a breakdown waiting to happen — and I'd trade Pineda, Judge, and Sanchez for Gray in a heartbeat. The Donaldson trade was really, really bad. I also don't think it should skew our perception of what it'll take to get a star player from the Athletics. The Donaldson trade is an outlier compared to Billy Beane's other moves over the years. He tends to do very well with his deals.
Elliot asks: In relation to your post on Samardzjia, if the Yankees signed a free agent where forfeiting the first round pick is a no brainer (a la Jason Heyward), do you think it would make the Yankees more inclined to sign Samardzija (or another FA with a QO attached) as its only giving up a second round pick, or less inclined as the team doesn't want their first pick of the draft to be in the third round (or later)?
More inclined, definitely. That's actually what the Yankees have done the last few times they spent big. They gave up three draft picks when they signed CC Sabathia, Mark Teixeira, and A.J. Burnett a few years ago, and they gave up three more picks when they signed Ellsbury, Carlos Beltran, and Brian McCann two years ago. Giving up the first rounder is the tough one. But, once you do that, might as well keep spending and give up the second and third rounder too. It's better to do it all in one year than to keep giving up your first rounder every winter.
Sean asks: What about Austin Jackson to play the "Chris Young" Role for next year?
It could work. I'm not a huge Jackson fan but he is a good defender and does have a history of hitting lefties, and that's what the job calls for. Jackson is still only 28 though, and my guess is some team will give him a chance to play everyday the next few years. He seems a little too young to settle for a fourth outfielder role right now.
Dan asks: Take out your Yankee fandom for a moment: what are the realistic chances of the Yankees signing Jason Heyward? 20%?
Less than that. I'll say 5%. Realistically, how many teams can afford him this offseason? Maybe ten? Not all of those teams are going to be looking for outfielders either. I don't expect the Yankees to aggressively pursue Heyward for two reasons: 1) Hal Steinbrenner wants to get under the luxury tax threshold in the near future and another big contract will make that tough, and 2) the Yankees have a full outfield with outfield prospects on the way, and they want to continue giving their kids chances. They absolutely should go after Heyward in my opinion. I'm just not at all confident it'll actually happen.
Vincent asks: Do you think it's likely that the Yankees will attempt to reduce Nova's salary through arbitration as they did with Esmil Rogers last offseason? What is the lowest amount that they can reduce it to?
No. Rogers was very bad and the Yankees basically said take the pay cut or we'll non-tender you, and chances are Rogers would have only gotten a minor league contract as a free agent. Ivan Nova has much more value than that. He's an average-ish starter who had a bad year coming off Tommy John surgery, that's all. The maximum pay cut allowed by the Collective Bargaining Agreement is 20%, which means Nova would be going from $3.3M to $2.64M. That's not happening though. Nova has no reason to accept that. If the team tries to get him to take a pay cut, he should tell them to get bent and go to arbitration. No way would the panel side with the Yankees and cut Nova's salary. It's never happened and I don't think it ever will. That's not how the system works.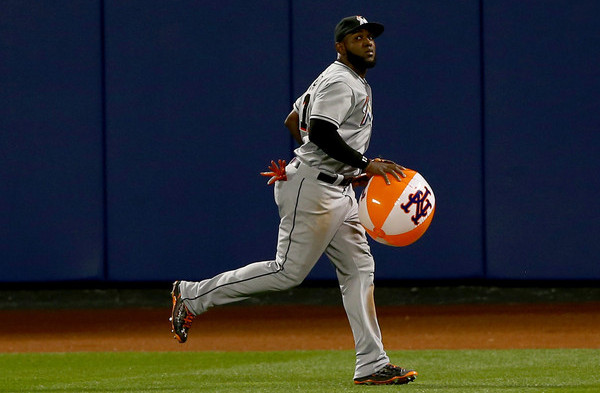 mlox44 asks: What would you think of trying to acquire Prado and Ozuna from Miami? Prado would fit perfectly as 3B, 2B, even LF option against some lefties, and maybe even play SS in a pinch. I know Cashman didn't want to lose him. And Ozuna seems like a classic Cashman reclamation type move. He could be in the Chris Young role for a year, and maybe they can rebuild him enough during the season to then move Gardy or Ellsbury after 2016. No idea what it would take to get them, though.
It could work. The Marlins are definitely going to trade Marcell Ozuna after he called the team out for sending him to Triple-A to delay his free agency this summer. He's only 24 and a year ago this dude was a 4-ish WAR player with 26 doubles, 23 homers, a 115 wRC+, and strong center field defense. And he's a right-handed hitter too. I feel like he needs to play everyday at this point of his career though. Nursing him along as a fourth outfielder probably does more harm than good. Prado is Prado. A league average or slightly below average player who people always seem to think is better than he really is. I'm not sure Ozuna's a fit unless they trade an outfielder. Prado fits anywhere.
Travis asks: Would LHP Scott Kazmir be a good target for the Yankees?
Yeah I think so. This is year three of his comeback and he's performed well, though he has faded big time down the stretch each year. Given all the arm injuries he dealt with earlier in his career, he might only be able to handle 150 innings at this point. Kazmir's still young, he's only 31, and he's had success by reinventing himself as a two-seamer/changeup guy — he's not the four-seamer/slider guy he was with the Devil Rays years ago — so I do think he'd be a good target. He's not a workhorse though, and I'd prefer someone you could count on for 200 innings next season.
Chris asks: Would Beltran be appealing to other teams if the Yankees covered enough salary? Could he be traded for a competitive balance pick at the end of the first round, then sign Heyward to replace him? The picks would be close to equivalent and the upgrade would be tremendous. If the $$$ is a problem for the Yankees, trade Gardner and play a youngster in left. I fear that Gardner's legs will begin to break down soon. That will help with the youth movement and make the money a bit easier to digest.
Maybe. Carlos Beltran has a full no-trade clause though, and he's wanted to be a Yankee forever, so I don't think he's going anywhere. What teams even have room for him anyway? I have to think only AL teams will be interested, and if Beltran does waive his no-trade clause, it'll only be for a contender. So that means the list of trade possibilities is the … Angels, Tigers, Royals, Orioles, Rangers, and Astros? An intradivision trade isn't happening, so forget the O's. The Royals value defense too much and they already have a DH in Kendrys Morales. So that means there about four realistic trade possibilities for Beltran. I just can't see it.
Peter asks: Is there enough data (and opinion based on observation) to project Greg Bird against Kris Bryant for performance and expectation? They seem to have similar plate approaches, although obviously hit from opposite sides of the plate, and represent the two IF corner positions.
No, there is no comparison. Sorry. Bird's awesome, but he's no Bryant. Bryant has Bird's approach with legit 40+ homer potential, and he does it while being at the platoon disadvantage the majority of the time. Also, Bryant is a good fielding third baseman and Bird is a bad first fielding first baseman. There's no comparison. Bird is very good and the Yankees are fortunate to have him. Bryant's just on another level. Bird is cool just the way he is. No need to talk ourselves into thinking he's on par with someone like Bryant.
Mitch asks: What would you think of Brett Gardner being traded to the Angels? I looked it up, and their LF situation was terrible this year – their LFs who got the most PAs were Matt Joyce, David Murphy, Shane Victorino, Dan Robertson, and Collin Cowgill, none of whom put up anything approaching a 100 OPS+. I don't know the Angels farm, but I imagine Gardner would have to be a pretty good fit for them, right?
Here's the problem with trading Gardner to the Angels: what do the Angels have to offer the Yankees in return? A back-end starter prospect like Nick Tropeano? That's pretty much it unless you want a bunch of low level lottery ticket prospects. I could totally see Billy Eppler trying to bring Gardner to Anaheim to play left field, I just don't know what the Angels have to offer the Yankees to make it worthwhile. They're not going to trade Andrew Heaney and I doubt top prospect Sean Newcomb would be on the table either. There's not much they can offer the Yankees for Gardner.