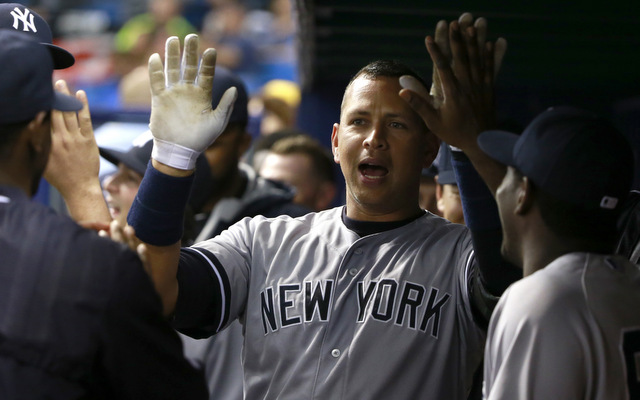 The regular season is over and for the first time in three years, the Yankees are going to the postseason. They finished 87-75 and clinched a wildcard berth. Under the old setup, the Yankees would be playing the Royals in the ALDS as the wildcard team. Under the current system, they have to play the Astros in the wildcard game first. Should be fun. Intense, nerve-wracking, nail-biting fun. Here are some end-of-season thoughts.
1. Alex Rodriguez returned to the Yankees this year and hit .250/.356/.486 (129 wRC+) with 33 home runs. That is pretty awesome. Much better than I expected coming into the season — I was hoping he'd be league average with 15 homers or so! — given his age, long layoff, and hip issues. A-Rod offered nothing tangible beyond his bat — no defense, no base-running, nothing — though he did seem to be a good clubhouse dude. Rodriguez has always gone out of his way to help young players and stuff. All in all, I don't think A-Rod's return could have gone any better this season. Yeah, it would have been nice if he were able to play the field once in a while, but I'm happy with a highly productive DH.
2. Greg Bird did a tremendous job filling at first base, especially as a 22-year-old kid thrust into an everyday job for a team in a postseason race, but the Yankees really missed Mark Teixeira down the stretch. They missed his bat against lefties — Bird started strong against southpaws but that didn't last, so he went 5-for-31 (.161) against lefties in the final month of the season — and they missed his middle of the order presence. Having Teixeira in that cleanup spot allowed everyone else to slot into a more appropriate lineup spot. Brian McCann, for example. He spent a lot of time batting fourth after Teixeira went down after spending most of the season batting fifth. It doesn't seem like a huge difference, but it was. Everything seemed to fall into place behind Teixeira. The Yankees lost a lot of thump (and defense!) when he went down.
3. Brett Gardner has always been a better first half player — he has a 115 wRC+ in the first half and an 88 wRC+ in the second half in his career — but his second half slide was extreme this year. He went from .302/.377/.484 (137 wRC+) prior to the All-Star break to .206/.300/.292 (67 wRC+) after the break this season. Huge drop off. The ultra-plugged in Jon Heyman reported last week the Yankees are concerned about how Gardner tends to wear down during the course of the season given his all-out style of play, and I'm not sure what the team can do about it going forward other than giving him more days off early in the season. Maybe start him five times a week instead of six or seven? The Yankees could tell Gardner to turn it down a notch, but that rarely works. It's in his DNA to play all-out. Either way, Gardner's massive second half slide took a big bite out of the offense. The lineup works so much better when he's seemingly getting on base two or three times a night.
4. Gardner's slump short-circuited the top of the lineup, but not nearly as much as Jacoby Ellsbury being a complete non-factor following his knee injury. He hit .324/.412/.372 (124 wRC+) in his first 170 plate appearances, got hurt, missed seven weeks, then hit .224/.269/.332 (61 wRC+) in 331 plate appearances after returning. The end result was a .257/.318/.345 (83 wRC+) season batting line with 24 (!) extra-base hits. Ichiro Suzuki hit .281/.314/.364 (85 wRC+) with the Yankees. That's what the Yankees got out Ellsbury this year. Ichiro production. Awful. Given the five years and $110M left on his contract, the Yankees have to hope Ellsbury never fully recovered from the knee injury and that's what dragged his production down, and that he'll be ready for Spring Training. Because if he was fully healthy and he put up those numbers … yikes.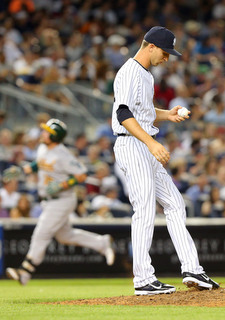 5. The decline of Chasen Shreve was a huge late-season blow to the bullpen. Shreve was excellent for most of the season, especially so when his role was expanded during Andrew Miller's month on the DL. His problems started in early-August and gradually got worse, so much so that Shreve was unusable come the end of the season. It really got out of hand. Shreve went into August with a 1.77 ERA (3.16 FIP) in 40.2 innings, including a 25.5% strikeout rate and a 13.2% walk rate. He allowed three homers and three of 23 inherited runners to score (13%). After August 1st, Shreve had a 6.11 ERA (8.96 FIP) with a 21.9% strikeout rate and an 18.8% walk rate in innings. He allowed seven homers and 12 of 20 inherited runners to score. Gosh. He really collapsed. Shreve's confidence has to be shot and I can't imagine the Yankees will carry him on the wildcard roster at this point. (I know I projected him to be on the wildcard roster last week, but I can't see it now.) Losing Shreve in the middle innings really thinned out the bullpen down the stretch. It hurt.
6. I think I've said this before but it's worth repeating: the bullpen shuttle was a good idea given the plethora of bullpen arms in Triple-A, but constantly swapping guys out didn't allow any of them emerge as reliable relievers. They were throwing two or three innings at a time, then being sent out for a fresh arm. Having a perpetually fresh reliever in the bullpen was great! The Yankees really needed it for much of the summer. None of those guys had an opportunity to get consistent big league work though, and by the end of the season Joe Girardi didn't know who he could and couldn't use. It was impossible to evaluate those guys based on a smattering of innings — among the shuttle relievers, Branden Pinder led the way with 27.2 innings and no one else had more than 15.2 innings — and as a result, we still don't know anything about their ability as MLB relievers. We learned nothing about them in 2015.
7. There is no denying the Yankees had a very ugly finish to the season. They won one of their last seven games despite playing relative bottom-feeders, and they looked terrible in all phases of the game. The offense was inconsistent at best, the rotation was not good, the bullpen was very shaky, and even Girardi's decisions constantly backfired. Even the good ones. Everything that could go wrong did go wrong. They limped to the finish, no doubt about it, but how we feel about the team seems to change from one day to the next. We'd all feel pretty confident right now had the Yankees finished with the same 87-75 record, but instead started slowly before surging into a postseason spot in the second half. I wish they would have been able to hold onto that seven-game lead and win the division, but, all things considered, this was a pretty successful year for the Yankees. Not too many picked them to contend.
8. Late last night the Angels officially announced they have hired Yankees assistant GM Billy Eppler to be their new GM. He had been considered the front-runner for weeks, so this was no surprise. Apparently the two teams just waited to make sure they weren't going to face each other in the postseason before announcing the hire. Eppler is the second person in the last week to be named a GM after cutting his front office teeth with the Yankees — the Braves (finally) named assistant GM John Coppolella their GM a few days ago; he spent the 2002-06 seasons wearing a few different hats for the Yankees, including director of baseball operations — and the Yankees' third significant front office loss in the last two years. Two years ago scout Bill Livesey left to become a special advisor with the Pirates, and last October scout Gordon Blakeley left for an assistant GM job with the Braves. Livesey and Blakeley were advisors as much as scouts. They were with the organization a long time and had trusted voices. Aside from bringing in Jim Hendry three years ago, the Yankees tend to promote from within to fill front office roles. They seem to grow their own assistant GMs and department heads. Eppler was Brian Cashman's right hand man and losing him is a blow to the front office, but at the same time, it wasn't a surprise. It's been clear for a while he would get a GM job at some point. I'm sure the Yankees have already planned for the shifting front office dynamics.
8a. Quick and related note: I'm looking forward to seeing which current and former Yankees farmhands Eppler targets now, either in trades or as minor league free agents. That always happens, someone takes over as a GM and brings over a lot of his former favorite players, and there's no reason to think it won't happen with Eppler and the Angels. The Halos have a bad farm system and major depth issues — they had Jo-Jo Reyes (!) in the bullpen this weekend — so I'm sure Eppler will bring in some ex-Yankees to plug holes.
9. Alright, so what was your favorite moment of the season? I think the best individual game of the season was August 14th in Toronto — that was the Carlos Beltran pinch-hit three-run homer game, the one that ended with the Miller-Troy Tulowitzki battle — but the best game and favorite moment are usually different things. A-Rod's 3,000th hit was very cool, so was his 660th home run to tie Willie Mays for fourth place on the all-time list. Remember that? It was a pinch-hit game-winner over the Green Monster. The McCann walk-off homer through the fireworks on July 3rd was awesome. Stephen Drew's early-season grand slam against the Orioles? Michael Pineda's 16-strikeout game? I know I'm missing a bunch of obvious memorable moments. The first one that jumped to mind when I thought about my favorite moment of the season was A-Rod's 3,000th hit, so I'll go with that.