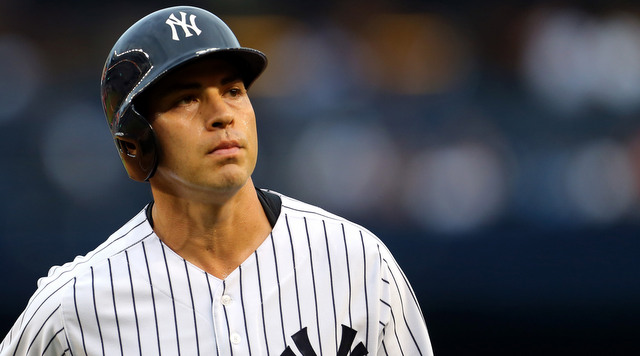 Two offseasons ago the Yankees decided to let Robinson Cano walk as a free agent, opting to let some other team pay for his decline years after getting what were likely the best seasons of his career. The Yankees had been on the other side of that move far too often the last few decades. They were usually playing for decline years after the player peaked elsewhere.
It was a wonderful change in philosophy that lasted no more than a few days. Soon after they learned Cano would not be accepting their final offer, the Yankees acted quickly to sign Jacoby Ellsbury to a seven-year contract worth $153M. Fair or not, the Yankees are considered to have replaced Cano with Ellsbury. He was the next huge money free agent they signed. Ellsbury's first year in pinstripes went well. The second? It was a disaster, and I don't think that's overstating it.
Back to Leadoff
Due to injuries and whatnot, Joe Girardi was forced to use Ellsbury as his No. 3 hitter for much of last season even though he's totally miscast for the role. This year, with Derek Jeter retired and the No. 2 lineup spot freed up, Girardi was able to move Ellsbury back atop the lineup without batting Brett Gardner seventh or eighth or something ridiculous like that. He could bat his two best table-setters atop the lineup.
Spring Training was actually a bit of a mess for Ellsbury. He went 7-for-35 (.200) with one extra-base hit and only appeared in 12 Grapefruit League games due an oblique strain. He missed the final two weeks of camp but did heal up in time for the start of the season. Ellsbury was on the Opening Day roster and in his usual leadoff spot come the start of the regular season.
Leadoff Dominance
Ellsbury managed to play in a few tune-up games at the end of Spring Training, but he hadn't played regularly since mid-March, so it would have been understandable if he came out of the gate a little slow. He did take an 0-for-4 on Opening Day, but, after that, Ellsbury was a leadoff dynamo. He reached base four times in the second game of the season (two hits, two walks) and 39 times in his next 19 games (!).
Despite hitting for very little power — he had three extra-base hits (two doubles and a homer) in April — Ellsbury was a dominant, game-changing force atop the lineup. He hit .321 with a .406 OBP in April, stealing eight bases and striking out only 14.6% of the time. Ellsbury's best game of 2015 came at his old stomping grounds, when he went 4-for-4 and reached base six times at Fenway Park on May 3rd.
It happened so damn long ago that it's easy to forget the Yankees had some trouble scoring runs early in the season. Ellsbury and Gardner got on and Alex Rodriguez and Mark Teixeira drove them in. That was it. That was the offense. No one else was hitting, so if that didn't happen, the Yankees didn't score. Ellsbury scored 24 runs in the team's first 30 games. He didn't even play in two of them. That's how good he was early in the season.
Through the first 40 games of the season, Ellsbury hit .324/.412/.372 (124 wRC+) with 14 stolen bases, a lot of walks (11.2%), and not a lot of strikeouts (13.5%). That was on top of his typically stellar defense. Ellsbury wasn't hitting for power — he had four doubles, a homer, and no triples in those 40 games, so yeah — but he was doing everything else. Hitting for average, getting on base, stealing bases, catching the ball … everything. Ellsbury is a heck of a player when he's at his best.
The Knee Injury That Changed Everything
On May 19th, against the Nationals in Washington, Ellsbury swung at a pitch and apparently caught his spike in the dirt. He tweaked his right knee, and while he stayed in the game to run the bases, he eventually had to be taken out. Here's the play:
It looked innocent enough. Just a little tweak, nothing he couldn't walk off, right? We see hitters take swings like that and shake their leg afterwards almost every day during the season.
The injury was bad enough that the Yankees placed Ellsbury on the 15-day DL immediately after the game. Didn't even wait until the next morning. An MRI showed a knee sprain. The cool thing is Slade Heathcott was called up to replace Ellsbury, so prospect junkies like myself loved that, but damn yo, the Yankees couldn't afford to lose Ellsbury. He was killing the ball.
The Yankees never did give a firm timetable for Ellsbury's return other than to acknowledge he would miss more than the minimum 15 days. Come the end of May he was still limited to low-impact work in a pool. It wasn't until June 5th that Ellsbury did any sort of baseball activity, and even that was only dry swings. He ran the bases for the first time on the 10th and took full batting practice for the first time on the 15th.
It wasn't until June 29th that Ellsbury started a minor league rehab assignment. He got three at-bats as the DH with High-A Tampa that day, took the next day off, then played six innings in center field the next day. Ellsbury needed two days off after that because of what was being called general fatigue. He played two more minor league games on June 4th and 5th, then rejoined the Yankees on the 8th.
All told, the knee injury sidelined Ellsbury for 49 days and 43 team games. By time he returned, the Yankees had played more games without him (43) than with him (41). Ellsbury has a history of getting hurt and staying hurt. He's a slow healer and we saw it this summer. It's not that he suffered setbacks or anything like that, it just took him a while to get healthy enough to pass his rehab milestones.
Never The Same
Believe it or not, Ellsbury went 6-for-17 (.353) with a home run in his first four games back after the knee injury. It looked like he was going to pick up where he left off before getting hurt. That wasn't the case though. Ellsbury fell into a deep slump and it lasted pretty much the rest of the regular season. He went 11-for-57 (.193) in 14 July games after the All-Star break.
Aside from the occasional mini-hot streak — Ellsbury went 12-for-28 (.429) in six games from August 13th to 18th, for example — Ellsbury was a major drain on the offense down the stretch. He returned from the injury and hit .224/.269/.332 (61 wRC+) in his final 74 games and 331 plate appearances of the season. Just take a second to wrap your head around that. I'll wait.
…
Okay, back. We aren't talking about a small sample or some arbitrary endpoint here. There's nothing arbitrary about coming back from an injury. That's a half season's worth of playing time as one of the very worse hitters in baseball. In fact, a total of 143 players had at least 250 plate appearances from July 8th — the date Ellsbury returned from the DL — through the end of the season. Among those 143 players, Ellsbury ranked …
134th in AVG
137th in OBP
134th in SLG
… and that's awful. He was legitimately one of the ten worst hitters in baseball after coming back from the knee injury. Ellsbury was so bad down the stretch that he didn't even start the wildcard game. Think about that. In year two of a seven-year contract worth $153M, the Yankees determined Ellsbury was not good enough to start a winner-take-all game. Yikes. Worst of all, it was absolutely the right decision. He was that bad.
Between the great start and miserable finish, Ellsbury hit .257/.318/.345 (83 wRC+) with seven homers, 21 steals in 30 attempts (70%), a 7.0% walk rate, and a 17.2% strikeout rate in 2015. For reference, Ichiro Suzuki hit .281/.314/.364 (86 wRC+) in two and a half years with the Yankees. That's what the Yankees got from Ellsbury overall this season. Ichiro production.
I thought Ellsbury's defense took a step back after the knee injury, which is understandable. One of his legs had been compromised. He wasn't bad defensively by any means, just not as good as he can be when fully healthy. All told, Ellsbury was worth 1.9 bWAR and 0.9 fWAR in 2015. He fell literally one plate appearance shy of qualifying for the batting title, but, if he had, he would have ranked 38th and 46th among 55 qualified outfielders in bWAR and fWAR, respectively.
Before & After
Something changed following the injury. Ellsbury was great, then he got hurt, then he was opposite of great. Here's a breakdown of his performance before and after the injury. Let's see if this shows any sort of red flags. (I included his 2014 stats for reference.)
| | Contact% | Chase% | GB% | FB% | Pull% | Oppo% | Soft% | Hard% | BABIP |
| --- | --- | --- | --- | --- | --- | --- | --- | --- | --- |
| 2014 | 86.5% | 27.8% | 41.8% | 33.5% | 38.0% | 25.4% | 17.0% | 28.4% | .341 |
| Pre-DL | 87.5% | 30.7% | 47.2% | 28.0% | 38.4% | 27.2% | 23.2% | 22.4% | .379 |
| Post-DL | 83.2% | 34.2% | 44.3% | 32.0% | 37.6% | 26.9% | 24.1% | 20.4% | .261 |
Ellsbury chased more pitches out of the zone and made less contact after the injury, but the difference isn't extreme. His batted ball profile didn't change a ton either, a few percentage points in either direction, which is normal year-to-year — or this case, pre-DL to post-DL — fluctuation. The changes aren't significant enough to be a real red flag in my opinion.
That's good! You want Ellsbury's underlying performance to be the same. He was awesome in the first half. Do it again! The fact he swung at more pitches out of the zone suggests to me Ellsbury wasn't comfortable at the plate, either physically or with his approach. I'm going to go back to this image I posted a few weeks ago: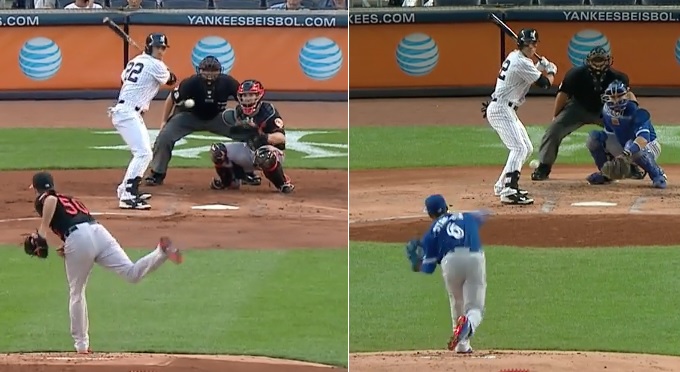 The screen grab on the left is from May, right before Ellsbury landed on the DL. The screen grab on the right is from September. They both show the instant Ellsbury's front foot hits the ground as part of his leg kick.
The difference is pretty significant even though all of this is happening in the blink of an eye. In May, Ellsbury's foot landed when the pitch was almost at the plate, and his body was rotating to uncork his swing. In September, his foot touched down almost as soon as the ball was out of the pitcher's hand. He hadn't even begun to load his swing yet. His swing was mostly arms.
Simply put, Ellsbury's timing was off. Either because he was protecting the knee after the injury — that can happen subconsciously — or because he was a mechanical mess. The screen grabs capture something the stats don't really show. Ellsbury was not right at the plate. He wasn't putting himself in the best position to hit — I guess it's more correct to say he wasn't putting himself in the same position to hit as he had been earlier in the season — and that may explain his second half swoon.
Looking Ahead to 2016
There's little chance the Yankees will trade Ellsbury this offseason. He has five years and another $110M or so left on his contract, and the team would have to eat a lot of that to facilitate a deal. His value is as low as it's going to get. It's not the worst contract in baseball but it is climbing the list. No doubt about it.
At this point the Yankees can do nothing but hope an offseason of rest will help Ellsbury get over whatever plagued him after returning from the DL. That's where they're at: hoping he was hurt and will be healthy come Spring Training. For now, there's little reason to think the Yankees won't go into the 2016 with Ellsbury as the everyday center fielder and leadoff hitter.